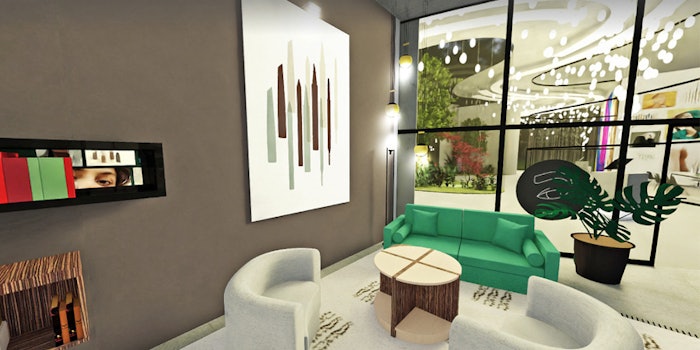 Schwan Cosmetics has opened a digital campus for customers. The campus offers various rooms and, within them, the opportunity to explore the company's capabilities.
Related: Schwan Cosmetics Unveils New Corporate Identity and Design
Access is possible either via a salesperson or, for individual support, via the customer login from any device and location.
Lilian Haetinger, project lead, said,"We realized that we needed a new way of communicating, something that creates a lasting impression and makes products tangible." 
Previously: Schwan's Cooling Concelaer
Haetinger continued, "Therefore, we continue to develop the digital campus and add new content permanently, giving insights not only into our product portfolio but also into key information about Schwan Cosmetics worldwide. Creating our digital campus has been an exciting and challenging journey for the whole team. Since most trade shows in 2020 had been postponed or cancelled, we wanted to make sure that our customers get the best experience possible when visiting the platform."
Thomas Krasser, senior vice president business development, said, "Through our new brand positioning Mindful Beauty, we aim to offer added value to our customers, so they can connect with Schwan Cosmetics and our teams. The launch of our digital campus is another milestone to interact with our customers in a more meaningful way. Not only do we provide exclusive access to the latest innovations, but also the opportunity to experience the entire world of beauty that Schwan Cosmetics has to offer our partners."