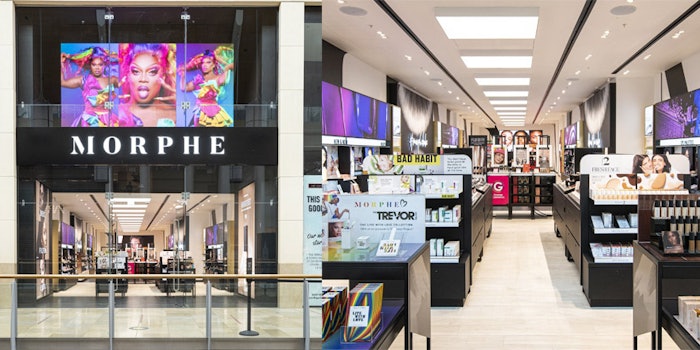 Morphe has opened a store at St David's in Cardiff, a U.K. retail and leisure destination.
Related: Report: YouTube, Morphe Cut Ties With James Charles
The 6,820 sq ft space is the brand's first store in Wales, joining St David's in time for the destination's beauty and well-being focused event, "Be Your Beautiful," taking place in mid-July.
Morphe St David's also carries brands such as Iconic London, SUVA Beauty, Frank Body, NABLA Cosmetics, P.Louise, Beauty Bakerie and more, with expert advice from certified beauty artists.
Kahla Broussard, vice president, retail sales and operations at Forma Brands, said: "We are thrilled to have opened our first Welsh store here at St David's, alongside so many other premium international brands. Cardiff is a key UK city for Morphe, and we look forward to welcoming even more Morphe fans to our growing brand family."
Speaking on behalf of the St David's partnership, Russell Loveland, senior portfolio director for Landsec, added: "The beauty industry remains one of the fastest growing sectors, and the opening of Morphe at St David's highlights our ongoing commitment to deliver here exactly what our customers want. We are very pleased to have welcomed yet another dynamic and influential brand to our retail portfolio; opposite the equally exciting Zara, Morphe is an excellent addition to the line-up at St David's."