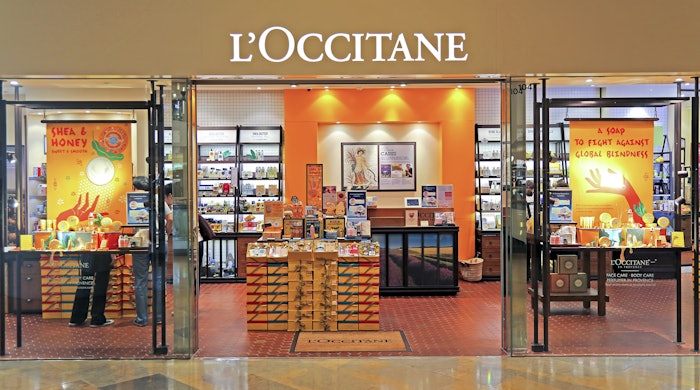 L'Occitane has announced its interim first half fiscal year 2023 results, which showed net sales expanded 29.3% to €900.5 million, driven by the initial inclusion of recently acquired brands Sol de Janeiro and Grown Alchemist, and the decent growth of the group's key brands.
Operating profit reached €87.0 million, an increase of 10.3% compared to the previous year.
This was the second consecutive year of record interim net profit, totaling €63.9 million, an increase of 5.4%.
Retail sales grew 4.4% at constant rates during the period, despite trading with 121 fewer stores compared to the previous year.
Meanwhile, online sales also continued to grow, with its online sales comprising 29.4% of the whole. 
André Hoffmann, vice-chairman and CEO of L'Occitane, said, "Despite the challenging environment, the proven resilience of our business ensured that we continued to maintain strong growth momentum and achieve another record interim profit. Meanwhile the next phase of our ongoing transformation into a multi-brand and geographically-balanced organization was marked by the unveiling of our new corporate mission: With empowerment we positively impact people and regenerate nature. Although current macroeconomic headwinds are likely to continue and lead to cost ramifications in all parts of our business, we are highly focused on executing a strong holiday season. In line with our corporate mission, we have a clear and collective focus on the triple bottom-line—our people, the planet and profitability—and remain committed to harnessing the inherent strengths of our brands to deliver sustainable growth and profitability."
Corporate Mission Statement
L'Occitane has also announced a new corporate mission statement, "With empowerment we positively impact people and regenerate nature."
The new corporate mission is said to represent the next phase in L'Occitane's transformation into a geographically balanced, multi-brand group. 
The group created a sustainability committee and each member of the leadership team has signed a letter committing to be a steward of the company's mission.
Chairman Reinold Geiger said, "The most meaningful way to make a difference in this rapidly changing world is to work together. In that sense, the mission is what links and drives us: a genuine desire to have a positive impact on both people and nature."
Hoffmann added, "The essence of the mission has always been fundamental to our business. However, as we continue to grow and welcome new brands on board, we recognize the importance of underlining our shared ambitions. We believe this is the perfect time in our evolution to introduce a new corporate mission that resonates with and involves all our stakeholders. As a group of synergistic brands, our clear mission will enable us to move forward together in a spirit of collaboration, mutual respect and unity."