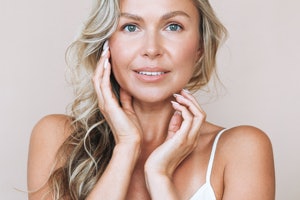 Lustriva is a complex that combines bonded arginine silicate with magnesium biotinate, a superior form of biotin and silicon, to promote healthier-looking hair and skin. Magnesium biotinate is a novel complex of magnesium ionically bound to biotin.
In pharmacokinetic studies, both magnesium biotinate and bonded arginine silicate show superior absorption of biotin and silicon, respectively. For hair, Lustriva has been clinically shown to significantly increase growth in as little as three weeks.
In addition, Lustriva has been shown to improve skin's appearance. A small 160 mg dose of Lustriva taken daily for 12 weeks provided a reduction in the appearance of fine lines and wrinkles significant and improvements skin texture1.
Lustriva is self-affirmed GRAS and is easily formulated into a variety of dietary supplements and functional food/beverage applications including ready-to-drink (RTD) beverages and dry mixes, gummies, capsules, tablets, and more.
1vs baseline 
>>>Fill out the form below to get more information and request a sample.<<<