333 W 39th Street
Suite 702
New York, NY 10018
United States
Company Summary
Cosmopak works with emerging and established beauty brands to develop and manufacture products their customers love. From concept to market, we provide reliable support throughout all stages of the supply chain.
Our areas of expertise, from our 20 years of experience, encompass packaging and formulation solutions across all beauty categories with a focus on accelerating a brand's entry to market. We sweat the tough stuff, so our clients don't have to.
Full Turnkey & Packaging Solutions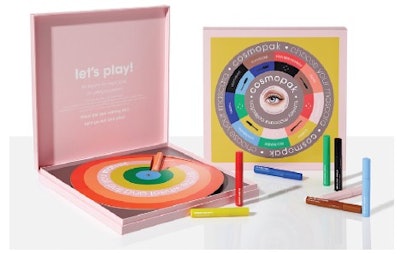 Our team can either manage the entire supply chain process or provide specific manufacturing solutions.
• turnkey: full turnkey solutions enable faster market entry without sacrificing quality and create a streamlined, simplified supply chain
• packaging: design, develop and manufacture on trend packaging perfectly suited for formulas
Our Services
• Concepting: we start from scratch or a provided brief, to help perfect client concepts
• Design: our in-house creative team visually collaborates with clients to design show-stopping products and packaging
• Product Development: we develop and test the many aspects of a cosmetic product to ensure everything goes right
• Formulation: our formulation team creates custom, high-quality formulas with the world's leading labs
• Production: a mature and sophisticated supply chain and operations function allows us produce to the highest quality standards, while manufacturing on time and within budget
• Logistics: we ensure products are delivered where it needs to be, on time
Product Categories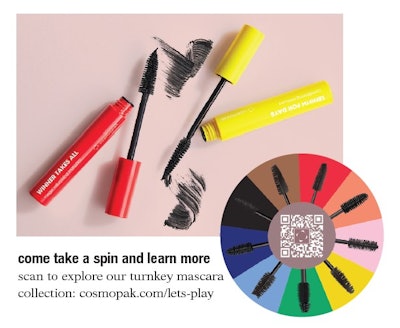 • Airless
• Bags, boxes, accessories
• Bottles, tottles
• Brushes, applicators, tools
• Compacts
• Droppers
• Jars
• Lipsticks
• Sticks, pens
• Tubes
• Vials
• and more!
Cosmopack Offices
New York Offices
333 W 39th Street, Suite 702
New York, NY 10018 USA
1-516-767-9119
33 Main Street
Port Washington, NY 11050 USA
1-516-767-9119
Los Angeles Office
11858 La Grange Avenue1st Floor, Suite A
Los Angeles, CA 90025
1-310-393-5511