MMP Inc
3470 South Clinton Avenue
South Plainfield, NJ 07080
United States
For over 35 years, MMP, Inc. has been recognized as a versatile and reliable source of raw materials and specialty products for the cosmetic and personal care industries.
MMP develops purified vegetal extracts and natural-derived compounds with innovative cosmetic activities. A range of pure flavonoids and endogenous sterols offer multiple functions in personal care, skin and hair care.
MMP's innovation also focuses on novel formulation aids with 2 patented self-emulsifying bases to facilitate formulations of elegant skin care, natural polymers and sensory enhancers.
MMP's new product catalog presents our multifunctional actives and functional ingredients per their classification and properties in the following categories: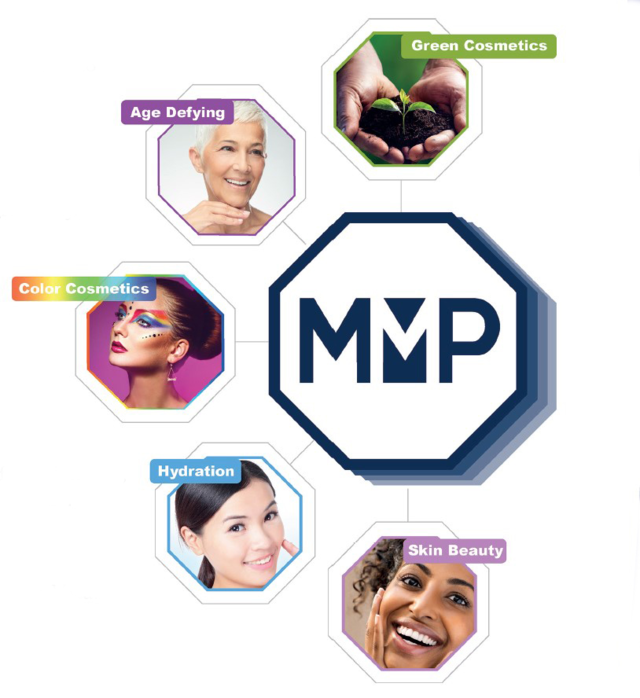 Green Cosmetics:
MMP innovation continues to focus on sustainable actives, clean formulation aids, including natural alternatives to petro-based and animal-derived products.
Vegeluron® Gel Natural polysaccharide
Skin'ential® HA-FE Acetyl Glucosamine
Age Defying:
To accompany the skin along life, MMP's Age Defying actives protect and stimulate the skin to age gracefully.
Apigenin 80 MM Fibroblast & GAG booster
Guava Extract Collagen booster
Color Cosmetics:
MMP offers multifunctional formulating aids to help with color dispersion, binding, and stability for the desired rheology and sensory feel to your colorful formulation.
Matte Lite® PRP Multifunctional binder
Clearogel® ACR Adhesive for long wear
Hydration:
As moisturization remains the primary benefit in skin care, MMP continues to develop innovative ingredients for dry skin.
CrystalCast® MM Liquid Crystal Emulsifier
Phytosterol MM Vegetal sterols
Skin Beauty:
MMP's Skin Beauty line helps reveal the natural beauty for smooth, radiant, healthy-looking skin.
Clearobact® SN Skin rebalance
Flav'ential® BLM Skin brightening
In addition to our product line, MMP, Inc. is the exclusive distributor in the USA and Canada for:
Cobiosa - exotic specialty oils and natural actives (COSMOS)
Immudyne - proprietary yeast extracts, Worldwide distribution
Jover - multifunctional formulation aids
Sisterna - natural sucrose esters (Ecocert/COSMOS, NPA certified)
Sollice - innovative functional actives
MMP Europe
3 avenue René Laënnec
72000 Le Mans, France
+33 (0)2 43 39 91 45
sales.eu@mmpeurope.com
www.mmpeurope.com