HK Innovers
Kolmar Korea 61, 8-gil,
Heolleung-ro, Seocho-gu,
Seoul 06800
KR
HK Innovers is the number one ODM company in Korea. Hankuk Kolmar acquired US PTP, and Canadian CSR, to form the group called HK Innovers. HK Innovers specializes in cosmetics, pharmaceuticals, and health-functional foods. The Company provides total service, from trend direction, product development, and manufacturing to logistics management based upon global, industry-leading technology and quality control know-how. HK Innovers is known for its extensive network, collaboration with raw material companies, and superior convergence expertise.
Technical Prowess: The Cornerstone of HK Innovers' Success
HK Innovers leads the largest corporate-owned R&D team in Korea, with 400 researchers (comprising approximately 30% of the company's employees).
R&D Complex
HK Innovers' R&D Complex comprises 10 R&D labs. The company's labs provide the support for all R&D processes required for product development, ranging from formulation to material research, fragrant materials, and package research. 

Convergence of Cosmetics, Pharmaceuticals and Health-Functional Foods
HK Innovers founded the world's first Convergent Research Center addressing Cosmetics, Pharmaceuticals & Health-Functional Foods. HK Innovers acquired CJ HealthCare, the health foods and pharmaceutical company, in 2018, creating HK inno.N. The company pioneers new products in medical cosmetics.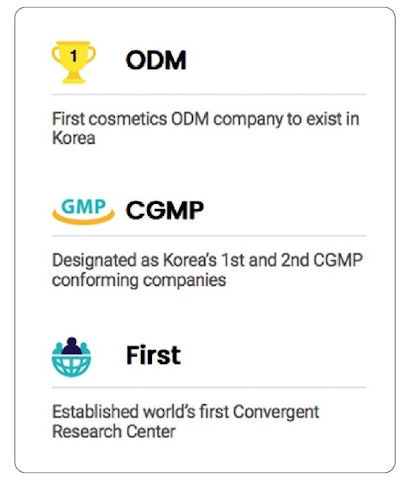 Some of HK Innovers' Key Areas of Expertise:
Outstanding Sun Care technology
Fundamental Skin Care technology
Unique hybrid Skin Care + Color technology (marble pact, foundation stick)
Differentiation with Food-Tech Convergence
Specialty in dewy powder formulas
HK Innovers has global operations in Korea, China, Canada, and the US.
For more information, contact Taehee Kim, Head of Overseas Sales.
Email: [email protected]
https://www.kolmar.co.kr/eng/
Contract Manufacturing Services

(Color Cosmetics, Fragrance, Hair Products, Skin Care, Sun Care)