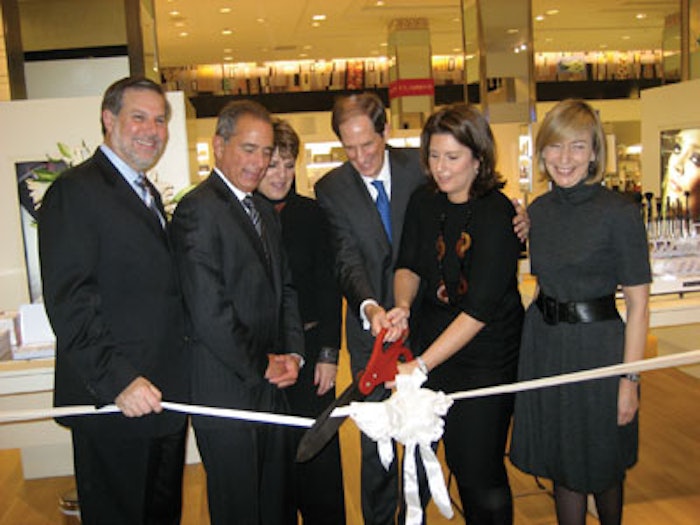 Michael Gould, chairman and CEO of Bloomingdale's, recently introduced Nicky Kinnaird, founder and creative director of Space NK, at the opening of the Space NK Apothecary at Bloomingdale's 59th Street location in New York City. The celebratory breakfast and store preview marked the inauguration of a multiyear arrangement to open beauty boutiques in nine Bloomingdale's locations across the U.S., including one in New York's Soho neighborhood and one in White Plains, New York. On the West Coast, boutiques will debut across Newport Beach and San Francisco, California.
"We at Bloomingdale's are the only people in the U.S. to have this brand—Space NK," said Gould at the ribbon cutting ceremony. "We met and fell in love with the passion and concept that Nicky Kinnaird had for the brand. This is a seminal moment in the beauty book of Bloomingdale's."
The Space NK Apothecary mirrors the design and feel of the existing Space NK locations, which offer a hand-selected mix of beauty brands created by innovators in their fields, including Annick Goutal in the fragrance category, Eve Lom and Nia 24 in skin care, and Diptyque and Anthousa in home care.
"Never had I dreamed when I opened my shop in Covent Garden that I would bring Space NK to the aisles of Bloomingdale's in New York," said Kinnaird.
Kinnaird also announced the makeover of the iconic fine fragrance Laughter to celebrate the brand's 15th anniversary. In addition to the eau de toilette, Space NK launched an eau de parfum and a solid perfume, with bottles and packaging the result of collaboration between Kinnaird and designer Fabien Baron.
New Business Model Launch
Gemini Cosmetics, the fragrance licensing company that created the Izod and Tommy Bahama fragrance brands, has launched a new division under the aegis of Zinger International Group. Frank Fazzinga Jr., chairman and CEO of Gemini Cosmetics, will serve in the same roles at Zinger. The holding company—which includes Grace Beauty, a distributor of fragrance brands previously sold at department stores and now moving into mass distribution, and the recently launched Icon business, which will serve to develop new and existing mass and prestige brands, intends to go beyond simply licensing.
In an interview with GCI magazine, Dana Kline, newly appointed president of Icon, discussed the venture, explaining how the company will work with brands such as Coty Beauty's Nautica to develop their retail business. Kline emphasized Icon's strategic positioning for its new business model: "Icon was created for department stores and specialty stores in the prestige market. The Icon logo is actually the queen chess piece, which has particular significance for the company," she said. "In chess, the queen is the piece that can move in any direction. This is a business model that we think is right for this time, and we can help develop and distribute in all areas."
In addition, Kline noted that Icon is further differentiating itself by erasing the lines between sales and marketing by emphasizing service and training and providing complete brand transparency that includes the creation of an Icon Business Report (IBR).
The IBR will provide information on each brand, noting strengths and weaknesses, as well as updates on the state of the economy, direction of the industry and specific sales information by retailer and brand.
"From idea inception to product execution, Icon is offering the programs, strategies and relationship building that will bring new ways to drive our beauty business and make brands more profitable," Kline said. "Icon has invested in diverse and highly talented people who understand how to execute flawlessly and will help business grow to get to the next level."
CEW Continues Women in Beauty Series
Carlotta Jacobson, president, Cosmetic Executive Women (CEW), welcomed Gina Drosos, president of global personal beauty, Procter & Gamble Beauty, to CEW's Women in Beauty series October 2008 event at the Harmonie Club in New York City. Drosos described her 20-year career at P&G, leading its skin care, cosmetics, deodorant and male personal care brand segments.
Described by Jacobson as a professional "with an uncanny knowledge of the industry and a wonderful resource for women in the industry," Drosos discussed the importance of getting results, collaborating in business by inviting new ideas into the process and being persistent.
"P&G's mission statement is to make consumers' dreams real," Drosos said, "and it's been a blessing to work in a company that values diversity. Diverse teams can help you see your blind spots and help you create balance."
Regarding the current economic meltdown, Drosos said, "We always want to offer products at good price points, and we are trying even more to keep our value strong for consumers." She added that she has observed retail outlets traditionally known for value becoming stronger as consumers spend more time at the shelf to determine quality and value. Also, she has noticed consumers having less of a "grab-and-go" mentality. "While super premium segments are holding, it's more important to emphasize third party credentials to consumers, to let them know they're making a good choice," she said. Drosos noted that listening to consumers is essential. "Finding ways to harness consumer participation is key, and social responsibility is more important than ever," she said. "When women are voting with their pocketbooks, they want a brand that represents them."
Drosos concluded her presentation with an assessment of the growing importance of naturals as an enduring trend and the rise of at-home treatments and devices for skin care.
In November, CEW invited additional speakers to join its Women in Beauty series. Ruth Sutcliffe, senior marketing director and fragrance designer, Coty, LLC, and Isabel Ryan, director, creative fragrance development, Avon Products, Inc., spoke at the Harmonie Club.
Sutcliffe noted that while consumers are spending less now due to the current economic downturn, Coty is continuing to work with top-shelf performers. Regarding celebrity fragrances, she added that the company is working with Tim McGraw on a new celebrity fragrance and that consumers continue to buy such aspirational products. Ryan cited the Avon Bond Girl 007 fragrance, and agreed: "The consumer still wants a piece of the stardom that goes with celebrity."
Both also touched upon the momentum of certain fragrance notes—Sutcliffe referred to the new Halle Berry fragrance, with its woody accords—and the growing interest in bringing more sensuous, comforting notes into the category. "I love that we're tapping into warmer, more European fragrances," Ryan said.
ASP Awards Perfumers
The American Society of Perfumers (ASP) presented its annual Perfumers Choice Awards at the Tribeca Rooftop in New York City, acknowledging outstanding individuals, consumer products and corporations in the U.S. fragrance industry—with winners selected by their peers.
The featured guest of the evening, Tony Sirico, who played the role of Paulie "Walnuts" Gaultieri on the HBO series The Sopranos, co-created the IFF-formulated cologne, Paolo per Uomo, from American Dream Fragrances. The scent was brought to fruition by IFF's Jerry Caiazzo, vice president, senior perfumer, and Laurent Le Guernec, senior perfumer. Paolo per Uomo is a woody musk, accented with an oriental touch—including notes of anise, Italian bergamot, amber, patchouli, sandalwood and vanilla, with a final top note of cognac, that Sirico said "put the Bada Bing" in the composition.
Passions also ran high during the ASP event as the Perfumers' Choice Awards were announced. Among the winners were Estée Lauder's Beautiful (IFF), named women's classic fragrance, and Fahrenheit by LVMH (Symrise) won the title of men's classic fragrance. For the full list, read "Highlights from the 2008 Perfumers' Choice Awards," covering the event on www.GCImagazine.com.
Sniffapalooza's Fall Ball
Sniffapalooza held its New York City-based Fall Ball to the delight of fragrance aficionados from around the world. Organized by founder and director Karen Dubin, and executive operations manager Karen Adams, the event provided a weekend of sensory surprises for passionate perfume fans.
Event speakers and presenters included Joe Garces of Robert Piguet Parfums; Ulrich Lang of Parfums Ulrich Lang; Avery Gilbert, author of What The Nose Knows; perfumer Roxana Vill of Roxana Illuminated Perfume; Rainer Diersche, director, Linari GmbH; Patricia Namm of Brandy Perfume; Natasha Cote and Irina Burlakova of Seven Skies; Brian Kurtz of L'Artisan Parfumeur; Gerald DuBose, poet, perfumer and creator of niche fragrances; and numerous other distinguished representatives of the industry.
Saturday's uptown adventures began at Bergdorf Goodman with breakfast and new fragrance launches—including Prelude to Love by Kilian, Tom Ford's White Patchouli, Guerlain Les Charnals, Chanel Les Exclusifs. Special sniffings at Takashimaya followed, and featured Neil Morris for Takashimaya New York, Yosh Olfactory Sense and The Pink Room. Afternoon sniffing followed at Henri Bendel, where such creations as Juliette Has a Gun's Citizen Queen were featured. The day concluded with a 60th anniversary party for the Fracas fragrance at Spafumerie.
Sunday included stops at Bond No. 9 New York to try the new Andy Warhol Lexington Avenue fragrance, Soho's Le Labo perfumery and Lafco New York, where Linari Fragrances' new fragrance (Angelo di Fiume and Vista Sul Mare) where featured.
The L'Artisan Parfumeur shop in Soho also offered a sampling collection for attendees, as well as showcasing its newest introduction, Fleur de Liane, and the limited edition Mure et Musc, based on L'Artisan's original 30-year-old signature fragrance.
The denouement followed at Aedes de Venustas, where the creative team welcomed the Sniffapalooza group to its West Village emporium, featuring a beautifully edited selection of scents—including Aedes de Venustas' own eau de parfum by L'Artisan Parfumeur, Molinard, Andy Tauer's Vetiver Dance and Serge Lutens Serge Noire.
Breaking Fragrance Clutter
The Fragrance Foundation presented "Breaking through the Clutter in the World of Fragrance" at New York City's Hearst Tower. As fuel for the discussion, the panel tackled NPD Group research findings that showed 360 women's fragrance brands were available in 1997, with each averaging sales of $5.3 million, while 1,160 women's fragrance brands, averaging sales of $1.7 million, were on shelves in 2007.
Terry Molnar, executive director, Sense of Smell Institute, presented the evening's panel—which included Gene Pressman, co-author of Chasing Cool and former creative director, head of merchandising and co-CEO of Barney's New York; Greg Anderson, an executive on the leadership team of Bartle Bogle Hegarty Advertising Agency, which has developed campaigns for Axe; and Polly Blitzer, founder and editor in chief of beautyblitz.com, an online beauty magazine. Amy Marks-McGee, president of TrendIncite LLC, moderated the panel.
Anderson emphasized the importance of capturing time and attention with media strategy, content and context, citing the recent Axe "Gamekillers" campaign—which changed the nature of the dialogue around deodorants from sweat reduction to the dynamics of the mating game. He also noted that new media creates opportunities for dialogue. Blitzer added her perspective, opining that new media buzz via online beauty sites offers attainable, sharable and no-cost response. "As an editor, you have to create something that really touches your audience," she said.
Think Tank on Portability
The Fragrance Foundation's discussion on portable fragrances as a new market segment began as part of its ongoing Think Tank series. Foundation president Rochelle Bloom addressed attendees with news that among the top current consumer requests is portability, especially for fragrances in 15 mL sizes that fit neatly into handbags and travel easily through airports. While many retailers today don't want to carry 15 mL sizes, she said, "a sale of 15 mL is a sale nonetheless, and can lead to repeat purchases." And to Bloom, listening to consumers' needs is of the utmost importance. Her Think Tank panelists agreed, placing additional emphasis on the growing demand for accessible and easy-to-use fragrances and personal care products. Panelists included Joelle Guedalia, vice president of marketing/creative, Falic Fashion Group, who holds responsibility for duty-free stores in the Americas; Lisa Hoffman, president, Lisa Hoffman Beauty, whose products offer portability and luxury in fine fragrance; and Pamela Vaile, president, Pamela Vaile Associates, who worked closely with Hoffman in developing her portable products.
Guedalia discussed the popularity of a variety of compact portable product formats, including solid fragrances, roller balls, rechargeable vaporizers, minis individually packed in folding cartons, and lastly, gift sets that combine both fragrance and bath and body products. In addition, duty-free airport destinations are becoming sleek, modern retail outposts, where both men and women can purchase high-end fragrances and more. "Duty-free is a quick sale, and travelers expect us to do the thinking for them, providing competitive prices and quality fragrances," Guedalia said. "It is becoming a high-end luxury shopping experience."
Hoffman's experience with packing for an extensive travel agenda was the impetus for the creation of her product line. She considered organizing her beauty regimen into 10-day packets for one of her trips and soon realized that travel meant portability. This encouraged her to develop a line of luxurious, yet portable beauty products and fragrances—the Lisa Hoffman Variations Fragrance Collection, co-designed by Givaudan perfumers.
Vaile credited Hoffman as someone outside the industry who has been able to view fragrance differently, ultimately creating portable, travel-friendly collections that fit modern women's needs. "Portability is critical to us as an industry," Vaile said. "It is an underdeveloped segment of our business, and it's a place for product innovation."
Clarins Launches New Antiaging System
At a press luncheon in New York City's Le Bernardin Restaurant, Caroline Pieper-Vogt, senior vice president, group business development, Clarins, introduced the skin care brand's spring 2009 product launches, beginning with Bright Plus HP Intensive Brightening Botanical System. "Antiaging is not just about fighting lines and wrinkles, it's about being beautiful from the inside out," she said, noting the product's intensive two-step brightening botanical system. Step one in the regimen, the Skin Renewal Concentrate, is formulated with snow lotus from the Himalayas, to neutralize free radicals; lotus zymbiosome, to help inhibit the growth factor stem cell factor (SCF), the main factor behind the multiplication of melanocytes and the uncontrolled production of melanin due to stress; and highly stable vitamin C to boost synthesis of collagen fibers. Step two, the Brightening Concentrate with patented HP Lock-Around System, contains a slow-release vitamin C derivative, as well as alchemilla and raspberry extracts and biotin. The products will launch in March 2009 and will retail for $155. In addition, Pieper-Vogt discussed Clarins' new High Definition Body Lift, which targets cellulite and features blue button flower. The formulation also aims to stop further excess fat storage, which results in the appearance of cellulite. Also launching in March 2009, the product will retail for $65. Additional spring launches include HydraQuench Cream SPF 15, HydraQuench Moisture Replenishing Lip Balm, Nature Temptations Spring Color Collection and the Instant Beauty Perfectors Emergency Kit.