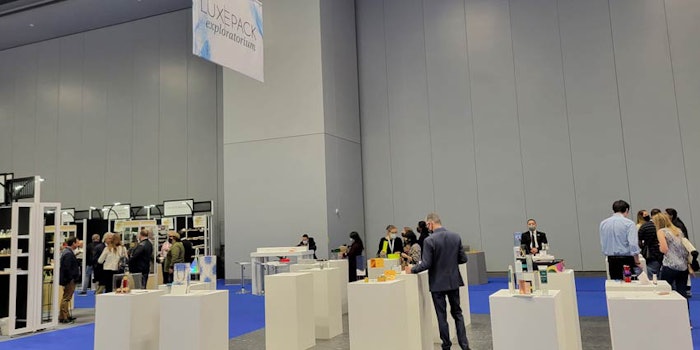 After several pandemic-driven delays, Luxe Pack New York finally took place October 27-28, 2021 at the Javits Center, featuring a bustling attendee presence and more than 150 exhibitors. As this and several other recent shows illustrated, beauty events are back!
(For a photo gallery from the show floor, visit our Facebook page.)
The event foregrounded the key sustainability issues featuring the beauty and packaging industries. 
For example, a keynote from TerraCycle CEO Tom Szaky offered a frank assessment of the state and future of sustainability and packaging.
Meanwhile, Jeb Gleason-Allured, content director of Global Cosmetic Industry, led "Climate-Positive Beauty," a panel discussion offering real-world insights into what it really takes to reduce or even neutralize the eco-societal impacts of the industry.
The session included Brad Farrell, CMO, Beekman 1802; Maggie Kervick, head of sustaina­bility & CSR for Kiehl's (L'Oreal); Freya Burton, chief sustaina­bility officer, Lanzatech; and Monica Becker, director, beauty, personal care and household products, Cradle to Cradle Products Innovation.
Meanwhile, Luxe Pack New York's "In Green" awards honored sustainable packaging innovation.
Up next, Luxe Pack Los Angeles and MakeUp in Los Angeles will return February 23-24, 2022 at the L.A. Convention Center.