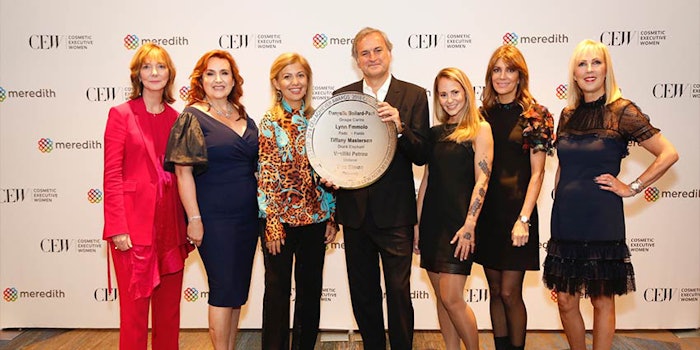 Cosmetic Executive Women (CEW) celebrated its new milestone of more than 10,000 members around the world as it presented its 2018 CEW Achiever Awards, which celebrate key industry accomplishments, including both indie and legacy beauty brand leaders.
Honoree Lynn Emmolo, chief global officer of skin care powerhouse Rodan + Fields, set the tone when she highlighted the opportunity female leaders have to lead differently and passionately. She noted that the overall number of female CEOs is still stagnant and that this presents a challenge to women to make change and bring newness by example by challenging the status quo and loving what they do.
Further reading: 2017 CEW Achiever Winners
One status quo challenger was Shoval Shavit Shapiro, founder and chief creative at fragrance "ink" brand Amkiri. Shapiro was recognized for her broadening of the use and impact of fragrance. In creating what she called the first visual fragrance, Shapiro noted that Amkiri was created to make visible perfume's signature, while also allowing each user to create their own designs.
Similarly, Tiffany Masterson, founder and chief creative officer of indie game-changer Drunk Elephant, declared that what she didn't know was her biggest strength and that following her gut—including refusing to change her brand's unconventional name—was the foundation of her company. Notably, Masterson thanked her consumer for their support, declaring, "You are the boss of me."
Flashback: The Future of Leadership, Circa 2010
Danyelle Boilard Paul, EVP and general manager, Groupe Clarins USA, discussed the importance of grabbing opportunities as they emerge and to follow passions, while Tara Simon, SVP merchandising at Ulta Beauty, stressed the need to deliver newness and exclusivity to the consumer, while warning that today's beauty industry is "not for the faint of heart."
Honoree Vasiliki Petrou, global EVP prestige at Unilever, was praised by the founder of Dermalogica, Jane Wurwand, who noted that Petrou doesn't act like someone from a multinational, but rather behaves like an intrapreneur, pairing the spirit of an entrepreneur with the scale of a multinational. Petrou, for her part, encouraged attendees to be bold and allow themselves to be uncomfortable.
Finally, Marc Rey, president and CEO of Shiseido Americas, was honored for his role in advocating for female leadership. Carlotta Jacobson, who introduced Rey, noted that CEW was honoring a man because, as men are a key ally in helping change the underrepresentation of women among leadership positions. Rey noted that women in leadership is not only the right thing to do but the smart thing to do, arguing that a healthy gender mix in leadership boosts performance and happiness within an organization.