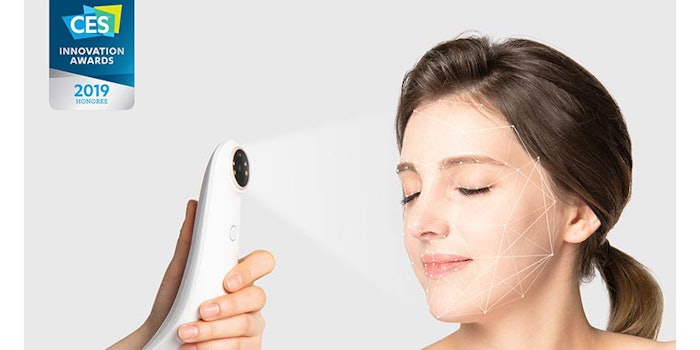 The 2019 Consumer Electronics Show (CES)  will be held Jan. 8-11 at the Las Vegas Convention Center; here's what you need to know about skin care technology being presented at the event.
Lumini
Samsung Electronics C-Lab spinoff lululab received the CES Innovation Awards in the biotech sector.
The company's Lumini AI skincare assistant was selected as the "Innovation Honoree" in the "Fitness, Sport and Biotech" category ahead of the event. The device scans and analyzes the user's skin condition in 10 seconds, and recommends the most suitable cosmetic products.
Lumini quantifies skin conditions based on six criteria—wrinkles, pores, skin trouble and melasma—and recommends the best solution. It systematically manages the user's skin condition based on skin-related data, helping them to improve their skin in the future.
"Lumini is the first AI technology-based beauty solution that allows you to complete a skin test in only 10 seconds by taking photos, without ever touching your skin," said CEO Yongjoon Choe. "By collecting big data on skin types related to ethnic origin, and environment, we aim to transform Lumini into an AI solution that recommends customized lifestyles and foods for all kinds of users."
Lululab will present a new product line up at the event; the company's demo will take place at the Las Vegas Convention Center's South Hall 3, Booth 32000.
Ioniq
Ioniq will present its Ioniq One sprayer and app at Sands, Hall G, Booth 51725 (Eureka Park Marketplace). Founded as a corporate start-up within Wagner Group, Ioniq transforms skin care products into droplets which evenly spread onto the body. The liquid is automatically attracted to the skin using field lines between the device and skin, creating an attraction so strong that droplets can be sprayed evenly and skin care products can be applied onto the whole body without the need to rub it in.
Atolla
Atolla co-founder and CEO Meghan Maupin will present "Delivering Future Health Through Skin Science" on Jan. 9 at 2:00 pm in the Design & Source Pavilion. Atolla utilizes machine learning to analyze skin, using that information to create a personalized serum. Users can track their skin progress over time.
Synapse
Product development firm Synapse will chat with brands investing in AI and AR with the goal of creating customized products and experiences; they will be located at Booth 44337.
Olay's unveilings will include three new features to the U.S. version of the Olay Skin Advisor, all set to go live in 2019. Check out more information about the innovations—and our exclusive interview, Dr. Frauke Neuser, Olay's principal scientist—here.
update: Opté Precision Skincare System
Procter & Gamble's P&G Ventures will showcase Opté Precision Skincare System (Opté).
Opté scans, detects and corrects hyperpigmentation with precision application, using proprietary technology to treat only the small areas that need correction without covering skin that doesn't.
The system is comprised of a precision wand and precision serum. The wand utilizes blue LED scan lights to maximize contrasts in skin melanin; an integrated digital camera which captures 200 skin images per second; a minicomputer precise color algorithm which microprocesses 70,000 lines of code to determine the size, shape and intensity of each skin spot; and a micro serum jet printer which deposits the serum on each spot to achieve precise coverage.
"By partnering with leading scientists and experts across industries, we have been able to create a first-of-its-kind, digitally-advanced skincare device that is visibly transforming the look of skin," said Leigh Radford, vice president and general manager of P&G Ventures. "Opté provides Procter & Gamble with an entirely new category of digital skincare to explore and a technology platform from which to innovate. We're thrilled to introduce Opté on a world stage such as CES."
It is one of the first brands to emerge from P&G Ventures, which partners with startups and innovators to create new businesses to solve everyday problems in new P&G categories. P&G Ventures will display and provide live demonstrations of the Opté Precision Skincare System at the P&G booth (#42131) from Jan. 7-11.
Neutrogena
Neutrogena will present its "most personalized skincare product ever," the Neutrogena MaskiD. The 3D-printed sheet mask allows users to snap a selfie to create a precise, multi-dimensional map of their face, providing the exact measurements and shape of their nose, space between the eyes and lips, and other unique characterizations.
The Neutrogena Skin 360 system creates a virtual dermatologist to analyze the skin's need, recommended what ingredients will be most beneficial where. Then, using a proprietary 3D printing process, ingredients are printed onto the custom-fit hydrogel mask on the exact zones where they will deliver the greatest benefit for that individual.
Neutrogena MaskiD will be sold exclusively on Neutrogena.com to consumers in the United States beginning in Q3 of this year.
"Neutrogena is already globally recognized for delivering topical skincare solutions at the nexus of science and technology," said Michael Southall, global R&D lead Johnson & Johnson Consumer Inc. "Neutrogena MaskiD marks one step towards a new model of product development where we find innovative uses for the latest technology, such as digital imaging, skin analysis, and 3D printing, to give consumers new ways to achieve their best skin ever."
Procter & Gamble
Along with the Olay Skin Advisor and Opté Precision Skincare System, Procter & Gamble will present SK-II's Future X Smart Store, which offers facial recognition and gesture-driven "phygital" experiences; the Heated Razor by GilletteLabs, which features a warming bar that heats up in less than one second to give the user a "hot towel shave" experience; and Airia, a smart home fragrance system utilizing capillary action and heating technology to establish scent-enhancing ambiance.
 "We are at CES because we want others to see how we are leading in applying technology to consumer-packaged goods, and how we are sharing our experience and resources in partnerships that bring new products to life," said chief information officer Javier Polit. "We are open for business this week, and we are also hopeful that this showcase of our own innovations opens the door to new ideas and new experiences that will ultimately benefit the consumer."
P&G is exhibiting in booth 42131 at the Smart Homes area of CES, located in The Sands Expo Convention Center.
L'Oréal/ La Roche-Posay
My Skin Track pH by La Roche-Posay, a wearable sensor and companion app which measures the skin's pH levels to create customized product regimens for skin care. A small, thin, flexible sensor is placed on the inner arm for 5-15 minutes, until the center dots take on color; then, the wearer opens the My Skin Trach pH app and photographs the sensor. Reading the pH measurement as well as the wearer's local sweat loss, the app then makes product recommendations.
Created by L'Oréal in partnership with Epicore Biosystems, My Skin Track ph was named a "Best of Innovation" winner in the wearable technology products category.
"This new prototype represents the next step in La Roche-Posay's beauty tech journey. We are committed to bringing scientific progress directly to consumers, to help them take great care of their skin," said Laetitia Toupet, global general manager La Roche-Posay.
Coty unveiled the Wella Professionals Smart Mirror, which takes hair from consultation to aftercare. Powered by the CareOS operating system, the mirror gives users the opportunity to try hair colors on via live AR, use facial recognition to retrieve past looks, and capture every angle of their hair in 360° video.
The technology is part of the CareOS Artémis connected Smart Mirror, which was named a CES 2019 Innovation Awards honoree. It was co-created with Wella Professionals hair stylists and salon owners; nearly 1,700 stylists and clients were surveyed, revealing that they desired more personalized consultations in the salon, and better connections outside of it. As such, the technology can run on any connected advice, including tablet or mobile phone, for salons of any size.
"We are incredibly excited about this breakthrough innovation, allowing hair professionals, the original image and change makers in beauty, to take their consultation with their clients to the next level," said Laura Simpson, Coty Professional Beauty chief marketing officer. "With the new Wella Professionals Smart Mirror, clients can have an even more customized session with their stylist, visualize their desired color before application, as well as maintain the relationship and service after the salon visit. Co-developed with stylists, with this new tool we are enabling them to build stronger consultations and relationships with their clients, which is critical in our industry."