Federal Package
8100 Powers Boulevard
Chanhassen, MN 55317
United States
For more than 40 years, Federal Package Network® has been the preferred contract manufacturer for leading beauty and personal care companies. We are certified organic, FDA approved and made in the USA. We provide turnkey solutions for contract manufacturing including research and development; formulation; blending and filling; decorating and retail-ready packaging; as well as health and beauty containers.
Containers:
We design and manufacture propel-repel containers, from .07 oz. to 3.0 oz. in size. Our injection molding and automated assembly is done on site at our facility. All our containers can be molded in any color combination including clear, natural and shimmers, and can be finished with a variety of decorating options. In addition, we partner with jar and tube manufacturers to provide a full line of container options.
Lip Balms
Deodorants
Sunscreen Sticks
Skin Barriers/Protectants
Skin Sticks
Our new Eco Smart® containers are an earth-conscience sustainability solution for the global personal care market. This proprietary technology enables plastic components to break down in biologically active landfill, marine or other environments. Eco Smart is a direct upgrade to our existing line of world-class products with no change in form, fit, or function. It is fully recyclable and can also be made with PCR, PIR or Bio-based resins.
Formulation:
Our R&D staff has extensive experience, qualified to help you develop a personal care formula for a wide variety of health and beauty products. Select one of the products in our library of base formulations and adapt it or customize a formula from the ground up for something that is uniquely your own.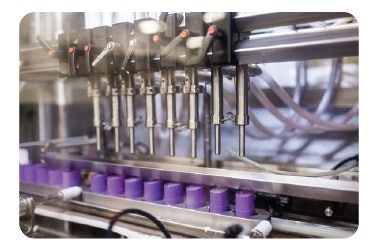 Deodorants
Sunscreens
Lip Balms
Anti-Chafe
Foot Balms & Creams
Body Lotions & Creams
Skin Conditioning Ointments
Hair/Beard Pomades
Sensitive Skin Formulations
Skin Barriers/Protectants
Skin Sticks
Natural
Organic
Vegan
Clean Beauty
Skin Protectants
Gluten Free
Cruelty Free
Reef Safe
Compounding, Filling & Packaging:
We have the equipment and capability to compound and blend all types of formulas with an emphasis on quality control at every step. This means that all jobs, both complex and simple, are engineered with cost, speed and practicality in mind. We operate flexible filling lines to meet capacity needs, to ensure you get your product to market on-time and in-budget.
Anhydrous hot pour and waxes
Water based lotions and creams
Multiple modular filling lines: Lip Balms, Deodorants, Lotions/Creams, Skin Sticks, Sunscreens
Tube Filler 3/8" up to 2 3/8" diameter
Tamper Proof Seals
Labels: Front/Back and Wrap
Bundling
Shrink Sleeves
Cartons
Laser lot coding
Contact for Follow-Up
Sarah Grobel
Director, Sales & Business Development
Office: 1-952-658-7593
Mobile: 1-612-730-8787
sgrobel@federalpackage.com