Element Packaging
Mizner Park 327 Plaza Real, Suite 240
Suite 240
Boca Raton, FL 33432
US

Element is a global resource for innovative solutions, known as a trusted source in the selection of "Smart" materials, exceptional design, quality manufacturing and cutting-edge turnkey solutions. Our expertise in beauty, color cosmetics, skincare, wellness and the home care industries provide some of the most influential brands a valued resource for innovative problem solving. Element offers numerous end-to-end solutions, ensuring excellence in quality and speed to market.
Element has dedicated contract manufacturing partners to best suit the directive and price structure for the project. North American based manufacturing, utilizing state-of-the art facilities combined with chemists and formulators to deliver the best quality and cost-efficient solutions.
Responsible manufacturing practice and sourcing of raw materials provide the highest quality and best performance in formulations and active ingredients. A full R&D staff offering testing and compatibility specific to your needs. Element's global footprint makes it easy to source cutting edge technologies and best in class materials to offset supply chain and economic challenges.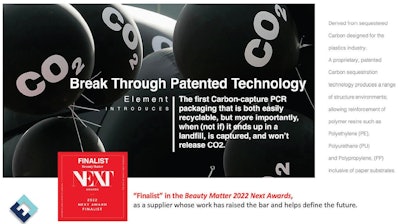 Element announces the First Carbon Captured PCR packaging available today for a better tomorrow.
Packaging Components Manufacturer
Contract Manufacturing Services

(Aerosols, Antiperspirant/Deodorants, Aromatherapy, Balms, Bath & Body, Capsules, Cleansing Materials [Towelettes, Wipes, etc.], Color Cosmetics, Cosmeceuticals/Nutraceuticals/Supplements, Cosmetic Brushes & Applicators and more)

Marketing and Brand Management Services

(Brand Imaging/Building, Design Services)

Packaging Services

(Design Services, Printing, Offset, Testing)

Private Label Services

(Bath & Body, Color Cosmetics, Hair Care, Oral Care, Skin Care, Sun Care, Turnkey)

Packaging Components

(Ampoules, Applicators, Disposable, Biodegradable, Bottles/Jars, Box Board, Box Board-Leatherette, Brushes, Cosmetic, Brushes, Mascara, Eyebrow & Nail, Cans, Cartons, Folding and more)