Global Cosmetic Industry® magazine—Innovations That Drive Brands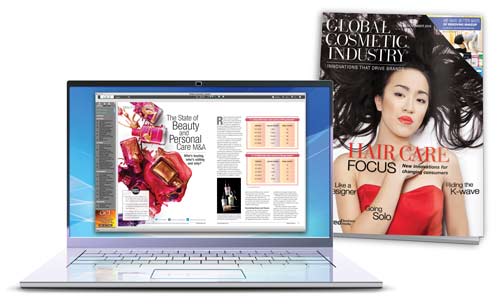 Missing that piece of the puzzle?
Subscribe to Global Cosmetic Industry magazine and start collecting all the pieces needed to build up your beauty brand. Global Cosmetic Industry is the preferred resource for US-based marketers, brand managers, manufacturers and executives in the beauty industry.
Global Cosmetic Industry magazine–print or digital–is your source to:
Gain strategic business and marketing insight
Be inspired by new ideas
Track regional and global trends
Find new products and innovations
Discover developing technologies
The global marketplace at your fingertips–FREE!
Current Issue:
Topics discussed:
4 Ways to Expand the Hair Care Regimen, Getting the Gen Z Beauty Consumer Mindset, Top Trends in Facial and Body Skin Care, Are We Using the Wrong Descriptions for Textured Hair Care?, What US Women Want in Lash & Brow Products, By Generation
View the entire table of contents from this issue.
Recent Issues