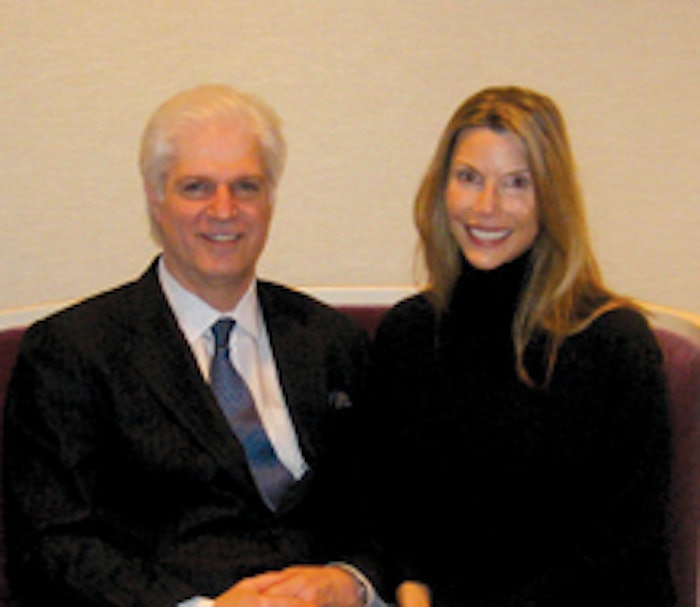 On February 28,
Steven Victor
, dermatologist and founder of Steven Victor Cosmeceuticals, and
Anna Rhodes
, president and co-founder of the same, launched
stevenvictormd: Beauty Through Science
at Saks Fifth Avenue in New York City. The facial care line developed by the cosmetic dermatologist consists of six botanically based products, including an antiaging cleanser, a growth factor serum, intensive wrinkle repair, eye repair and bio-nutritive cream and serum. Each product contains multiple active ingredient complexes designed to work together to ensure the skin's receptivity to each treatment. In addition, each product contains up to five ingredient complexes to deliver antiaging benefit.
According to Victor, the facial regimen offers restoration and replenishment of all layers of the skin, with the multi-benefit products working in synergy. After spending two years to develop the formulations, he noted, "We're all about the results. With Eye Repair and Bio-Nutritive Luxury Cream, you don't need multiple products. Unlike Charles Revson's adage of 'hope in a jar,' today, we are selling real science in a jar, and consumers want to know about this."
Victor stressed the importance of training and education in conveying the potential of the line, noting that the formulations are based on scientific evaluation and analysis and have the support of serious skin care professionals. Victor noted that his cosmeceuticals line is expanding—now offering 57 products, including specific formulations for the men's market, African-American consumers and other diverse skin care needs—and will continue to grow. "As technologies change, the line will evolve," said Victor, who will be the keynote speaker at the Cosmeceuticals Conference on June 11–12.
The line is also featured at Harvey Nichols in the UK, Bliss Catalogue and online at www.Blissworld.com.