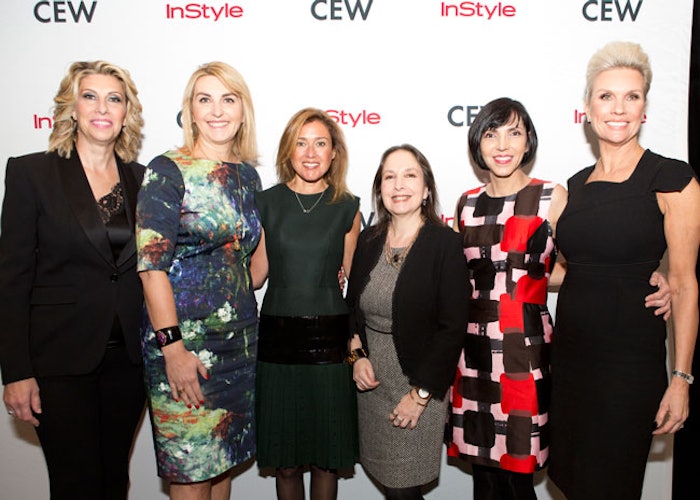 On Friday, October 18, 2013, CEW celebrated its annual tribute to beauty industry honorees, with its CEW Achiever Awards luncheon. Held at New York's Waldorf-Astoria, the event recognizes the achievements of industry leaders who have raised the bar in beauty, cosmetics and personal care.
Sheri McCoy, CEO, Avon Products, Inc., gave the keynote presentation, emphasizing the role the honorees play in paving the way for tomorrow's leaders. "Leadership is both a science and an art," she said, noting the importance of understanding what consumers want, knowing people, and knowing what motivates people. "Leadership is not only about our achievements today, it's about knowing that what we're doing now can impact those sitting in the room today so that they can be up here five years from today."
CEW president Carlotta Jacobson introduced the Corporate Empowerment for Women Award to Unilever, citing Unilever as a company that works to enable women's development as female executives through mentoring, respecting career/family balance and by introducing such positive campaigns as the Dove initiative, empowering women to reach their full potential.
Gina Boswell, executive vice president Unilever, personal care NA, accepted the award on Unilever's behalf, noting that Unilever continues to "recognize the importance of gender balance, with a 50/50 gender balance across all levels in the company." Ashley Boyce, associate brand manager, Unilever personal care NA, acknowledged Unilever's ability to make her "a more conscious global citizen," as she worked with "a group of strong, smart professionals in a company that encourages individuals to bring their whole selves to work."
Individual Winners
Jill Scalamandre, senior vice president, Philosophy, Coty Prestige Skin Care, Coty Inc., and chairwoman, CEW Board, introduced the Great Idea Award for Fragrance Innovation, welcoming Nicholas Mirzayantz, group president, IFF, Inc., who presented the award to Karen Dubin, founder and director, Sniffapalooza. Mirzayantz noted Dubin is a lifelong fragrance lover who created Sniffapalooza for fragrance enthusiasts to celebrate fragrance as an art. "Today, Karen Dubin is reaching a half million people, from aged 8 to 92, a significant demographic," he said.
Dubin noted that she had loved fragrance since she was four years-old, when her grandmother had brought her soaps and perfumes from abroad. She said Jean Patou and Joy had forever changed her, discovering her developing olfactory sense early one in life. "I'm an equal opportunity fragrance lover," she said, sharing her passion for all things fragrance. She thanked her partner, and fellow fragrance lover, Karen Adams, with whom the organization has grown to a new level, saying that "to be rewarded for following my passion is unbelievable." In closing, Dubin said, "My mantra is making the world smell better, one person at a time."
The 2012 Achiever Award Honoree, Karen Buglisi-Weiler, global brand president, MAC, who was unable to attend last year's event, due to Hurricane Sandy, was awarded her honor this year. She was presented her honor by John Demsey, group president, The Estée Lauder Companies, Inc., who crowned her "the ultimate glamazon." Demsey, who had worked with her at Revlon, has known her for 25 years and worked with her at MAC, attributed the success of the brand to Buglisi-Weiler.
Buglisi-Weiler acknowledged the challenges of raising three sons as a single mom and balancing a career with her family. She thanked her father for his example. "My father was a military man who taught me the value of dedication and perseverance." She also thanked Demsey for his support of her career. "Live your life with passion and you will inspire people just be being yourself," she said.
Chris Elshaw, CEO, Revlon, introduced Julia Goldin, global chief marketing officer, Revlon, saying, "Julia has an appreciation for all things beautiful." Elshaw described Goldin as "the modern embodiment of glamour, a great runner in the Revlon Walk/Run, a Kilimanjaro climber, a tenacious businesswoman with a tough job and two children, and a mentor to her team." Goldin, who as a relative newcomer to CEW three years ago, said she was delighted to find people so open, warm and friendly and offered advice, wisdom and friendship, noting she felt humbled in this group of women.
"I realized that it is important to focus on how to recognize potential in others and be less focused on me. It's important to walk with the team, to set the goal and then to walk with the team. It all sounds like an American dream, but it's also a Russian melodrama," said Goldin, referring to her Russian roots. "It's important to know what you really want and then work for it. When I wanted to work in Japan, people didn't see it, but I love a challenge, and I know there's always a solution. Take a deep breath, be patient, listen to other people and you'll find a solution," said Goldin.
In remaining a good leader, Goldin advised, "Stay a little hungry and dissatisfied. Complacency can kill success; and, remember, you can't do it alone. I'm lucky to have a fiercely intelligent and beautiful team at Revlon, and their focus and trust inspires me every day."
Key characteristics emerged as a thread among this year's honorees, with empathy and collegiality strong among them. David Greenberg, president, Maybelline, zeroed in on the essence of outstanding leadership in any industry, in his introduction of Carolyn Holba, senior vice president of marketing, Maybelline New York, Garnier USA and  Essie Nail Polish. "Achievers in any industry are those few who inspire the rest of us. They raise the bar high; they keep it there. After working in Ford Motor Company, Carolyn Holba found her way to beauty. Because she so deeply understands people, she developed razor sharp insights that—combined with empathy, integrity and support for her colleagues—have contributed to her success today," he said.
Holba said, "I love getting up and going to work everyday. My failures have made me a better person. If you are true to who you are, you accomplish wonderful things in your career." She also thanked her teams at Maybelline, Garnier and Essie, and thanked CEW, describing the organization as unique in its ability to foster the goals of women in the industry. "The journey is filled with thrills and chills, and I'm lucky to come from a very good place, with parents who taught me the power of dreams and working for what you want to be. My father told me I could be whatever I wanted to be and to never underestimate the power of possibilities."
She concluded, saying, "Any obstacle can be overcome. What you say and do really matters to people, and your team has expectations of you. That giving and teaching is what I try to do every day. I have the privilege of working with and mentoring my team. It's important to remember, it's not the load that you carry along, it's how you carry it. Never lose sight of what you can be."
Lynn Greene, group president, The Estée Lauder Companies, presented the Achiever Award to Agnes Landau, senior vice president, global marketing, Clinique, citing Landau as a collaborator with a combination of "humanity, spirit, style and elegance." In accepting the award, Landau noted the incredible support The Estée Lauder Companies had provided for her as she balanced career and family, and discussed the role of family in shaping her career.
"Many careers are made not only because of talent but because of mentoring," said Landau, adding that she pursued her MBA and her career with enthusiasm. Landau credited Lynn Greene and Fabrizio Freda, CEO, The Estéé Lauder Companies, who she acknowledged as "the ultimate teachers," with providing guidance in her career. "Organizations that mentor, teach, inspire and care are truly unique; that is the spirit of the Lauder Companies and the Lauder family. Because I have been blessed with so many great mentors, it is my duty to be a mentor to my Clinique team."
Mally Roncal, president, Mally Beauty, introduced Claudia Lucas, director merchandising, beauty, QVC, with an unbridled look at the honoree's talent and humanity. "Claudia's honesty comes from the love she has for her customers. She is a visionary, a leader and a soldier, and QVC is all the better to have her," said Roncal. In a video tribute, Laura Geller, founder of Laura Geller Beauty, concurred, saying, "Claudia knows how to set you up for success."
Lucas, acknowledging the honor philosophically, said, "I moved from London to New York 10 years ago, and I realized I had a big learning curve ahead of me. I learned the importance of always remembering to focus on your customer. A career is broken up into many chapters, and as your career includes a family, it also makes you a great multi-tasker, and ultimately made me a better leader." Lucas acknowledged the contributions of her team, her daughter and the CEW organization, which she credited as "wonderful resource for women and men."
At the conclusion of the luncheon, Jill Scalamandre announced the CEW and QVC collaboration, Beauty with Benefits, raised $988,000 in just two hours to benefit CEW Foundation's Cancer and Careers organization. She thanked all the brands and QVC for the successful collaboration.
Event sponsors included InStyle, IFF, Arcade Marketing, BeautyInc, Poise, DSM, Laura Mercier, Ulta, Walgreens, Wells Fargo, Manpower Group, Beauty Gotham, Publicis Kaplan Theater, Philosophy, Laura Geller, Martin Kartin and Company, WWD, Digital Therapy, Suite K, Consultancy Media, and Kaplow Communications.