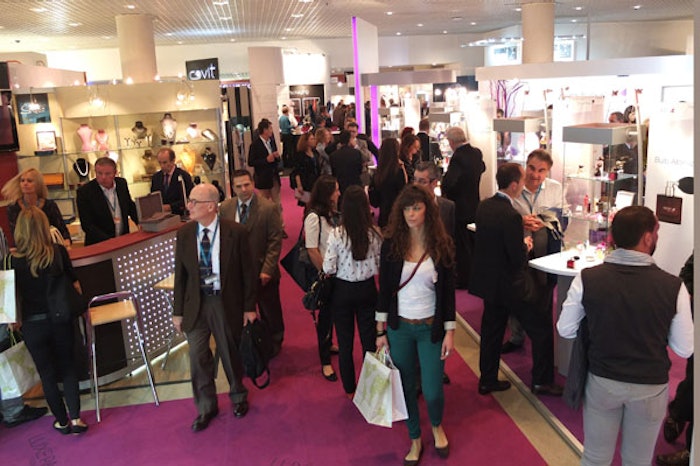 At a particularly dynamic year for Luxe Pack Monaco, happening October 24–26 2012, the event attracted more than 7,000 attendees and presented innovations from 370 exhibitors. The strong growth in visitor numbers and dense business exchange helped Luxe Pack Monaco 2012 maintain its presence as an essential event for creative packaging professionals.
A record figure, 7,022 visitors visited the show, an increase of 10.5% over 2011, and beyond the record numbers, the quality of visitors was more present than ever as international beauty brand decision-makers came in droves during the three days of the show. Fragrance and cosmetics was the largest sector represented among visitors followed by the alcohol and spirits, delicatessen, fashion accessory, jewelry and watch, pharmacy-health, leather goods, tobacco, writing instruments, table art, and decoration sectors. The show's internationality was confirmed by 52% of foreign visitors from 68 countries, with significant presences from the U.S., Russia and South America.
Speaking about the importance of beauty packaging in front of a full house, Luxe Pack Monaco's guest of honor Mary Lewis discussed design principles she uses as a guide in her everyday work. First win the eye, the heart, and then the mind, she noted as a simple truth that she appreciates not only as a design principle but because that is the reality of life. It is how people buy and not just a marketing pitch. "Luxury has acquired a social conscience, a new mortality and democracy. Beauty is no longer in the eye of the beholder; it comes from within," Lewis said.
During the conference on "Luxury Packaging and Sustainable Development—The New Alliance?," experts in sustainable development and responsible luxury laid the groundwork for reviewing analyses, the relevance, and specificity of a sustainable development initiative in the luxury sector. Groups such as LVMH and large houses such as Chanel and Guerlain have shown good sense in moving toward product packaging with eco-design and have illustrated case studies and innovations discretely but thoroughly carried out. Other topics industry experts weighed in on during the show included designing packaging for a product to be sold online, understanding emerging luxury markets to better adapt packaging, producing exceptional packaging, and associating sensory perception with luxury.
Additionally, many exhibitors had saved launches for Luxe Pack Monaco, and a wealth of innovations, new products, applications and materials were unveiled on the stands and in the Luxe Pack Innovation Forum area and workshops. The 2012 Luxe Pack In Green prize was awarded to Favini for its Crush paper make with 15% of organic food waste.
Another highlight of the event, the Luxe Pack Monaco Trends Observer has become an essential strategic planning tool for brands. The experts on this committee came together for the show in conjunction with Formes de Luxe magazine and unveiled four revamped trends.
"Pink lights up," in which the color pink is the symbol of happiness, reflecting how the color has matured.
"Hyper materials" being used to reproduce the effects of another material, reflecting the technical advances of industrial exhibitors.
"My little show off," reflecting how, although the ostentatious is outmoded, luxury is still displayed.
And "back to front" because, as consumers are increasingly informed, brands now display signs of their reliability and quality on the front of their products.
The next edition of Luxe Pack Monaco will take place from October 23–25, 2013 at the Grimaldi Forum in Monaco. Additionally, Luxe Pack Shanghai takes place April 23–24, 2013, at the Shanghai International Convention Center in Shanghai, and Luxe Pack New York happens May 15–16, 2013 at the Metropolitan Pavilion and Altman Building in New York.