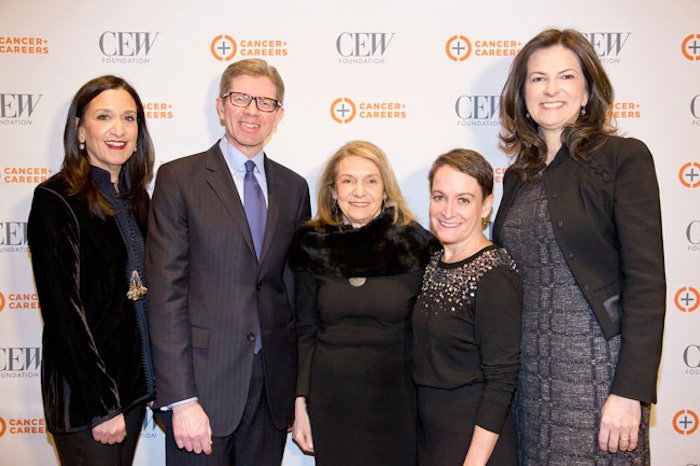 Patricia Willis Photography
CEW's Beauty of Giving luncheon is a mainstay of the holiday season. The 2014 event, held at New York's Waldorf-Astoria and presented by the Cosmetic Executive Women Foundation (CEWF), celebrated individuals and companies for their philanthropic achievements and their commitment to the foundation's charity, Cancer and Careers, which empowers and educates working people with cancer.
This year, CEWF honored QVC for its generosity and commitment, noting that its partnership with QVC, which began in 2013, has raised more than $2.2 million through its QVC and CEW Present Beauty With Benefits events. The events, which allow viewers to shop a selection of products knowing that 80% of the purchase price goes to benefit Cancer and Careers, has been a great success. According to Carlotta Jacobson, president, CEW, "When you combined QVC and their brand-building strategies with Cancer and Careers, the response was beyond our wildest expectations. Over half million products were donated by companies to us for the Beauty With Benefits segments." Brands that donated included Clarins, Bare Minerals, Clarisonic, Sonia Kashuk, Tarte, Tweezerman, Perricone MD, Peter Thomas Roth and Strivectin.
Jacobson presented the award to Mike George, president and CEO, QVC, Inc., who said, "One of the things I learned over the years at QVC is that when the QVC team is passionate about something, the best thing I can do is get out of their way. This was the case with QVC's collaboration with CEW and Cancer and Careers, so women can not only buy cosmetic products but also be touched by the amazing stories the women tell. Claudia Lucas, beauty director, QVC, and those who developed this idea have really impacted our customers and allowed them to make an amazing difference."
George also thanked the women who were courageous enough to tell their stories on QVC, saying "By working with CEW and their strong network, we aim to generate more awareness and support for Cancer and Careers and for the men and women balancing work and cancer. Our giving mission is to promote the success and empower women through our Beauty With Benefits events. Over the next decade, 18 million people will be survivors of cancer. How blessed and fortunate we are to have an organization like Cancer and Careers to make a difference."
Heidi Manheimer, chair of CEWF and CEO of Shiseido Cosmetics, America, said "There is a common theme that unites everyone in attendance at this event, and what unites us all is our work. This is especially challenging when your life is turned upside down by cancer." Manheimer cited the role of Cancer and Careers in supporting working women with cancer, and thanked the sponsors of the day's event, including Self, Robertet, It Cosmetics, Mary Kay, Orlandi, Perricone MD, Philosophy, Tweezerman, Alden Image, Beauty Inc, Consultancy Media, Kaplow, Suite K and WWD.
Kate Sweeney, executive director of CEW Foundation said, "The CEW Foundation is extremely fortunate to have such strong support from the beauty industry for Cancer and Careers. QVC has championed Cancer and Careers on so many levels, and we are so grateful for our partnership that enables us to change the lives of cancer patients and survivors."
Sweeney acknowledged the Founding Sponsors: Avon Foundation for Women and Genentech, a Member of the Roche Group; and the Platinum Sponsors: Laura Geller, QVC, and Tweezerman; Gold Sponsors: Chanel, Elizabeth Arden, The Estée Lauder Companies, Firmenich, Laura Mercier, L'Oréal USA, Self, Shiseido; and Silver Sponsors: Allure, Bare Escentuals, Bath & Body Works, Bloomingdale's, Cos Bar, Johnson & Johnson, Kaplow, Macy's, Nordstrom, P&G Beauty & Grooming, Sephora and Target.
Sweeney also acknowledged this year's Beauty Editors' Closet sale, which raised $78,000 for Cancer and Careers, saying, "The Beauty Editors Closet Sale does what Cancer and Careers does best: giving back by being creative. Together, we really are helping survivors be the boss over cancer."
Festive Auction Raises Funds
The luncheon concluded with a live auction, with proceeds benefiting Cancer and Careers. Auction prizes included a Customized Skin Transformation Package donated by Dangene, The Institute of Skinovation; Santa Fe Spa Retreat from Purity of Elements; Condé Nast's Little Black Book: Fashion &Design Package; Condé Nast's Little Black Book: Awards-Night Edition; Breathtaking Four Season Resort Nevis Vacation from Self; Iconic Santa Monica Beach Getaway, contributed by Meaningful Beauty by Cindy Crawford; Grammy Awards Hollywood Experience, contributed by Sonia Kashuk and Target; and a Luxury Getaway to Parrot Cay, Turks & Caico, from Spa Week.
The 2014 Beauty of Giving Luncheon raised $735,125, which included sponsorship and table/ticket sales as well as the Live Auction, which raised $46,000, and the Fund-A-Need initiative. Auctioneer Swett initiated the Fund-A-Need portion of the program following the Live Auction. It was the event's most successful Fund-A-Need to date, raising $94,000. Total attendance at this year's luncheon was more than 700.