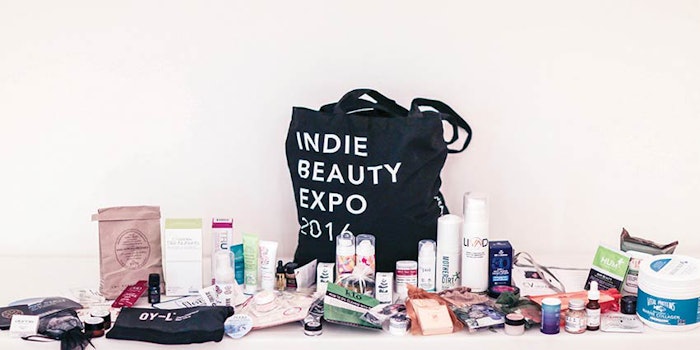 Why does indie beauty mattter?
The global beauty industry is expected to produce revenues of $461 billion by 2018, up from $379 billion in 2013, according to a report from Research and Markets*. In particular, growth is being driven by niche and prestige brands.
"Consumers have a heightened interest in a personalized approach to beauty and in their choice of beauty products," said Karen Grant, global beauty industry analyst, The NPD Group**, in a 2015 market analysis. "This is opening the door to brands that have a specific, fine-tuned beauty focus … rather than more generalized expertise in a broader category, like makeup or skin care. Looking across the total measured market for prestige beauty reveals just how dynamic this trend has become, and how brands that previously would not have been considered as major players are carving out their space in the minds and wallets of beauty consumers."
NPD found that prestige makeup growth outpaced that of prestige skin care and fragrance last year, especially online.
Grant concluded, "In large part, the rise and success of the more niche, boutique style brands can be attributed to the online environment, which has given these brands a louder voice and broader reach. While brick and mortar is still the major channel for prestige beauty product sales, online and other total measured market channels such as mid-tier are providing new and smaller brands a platform to tell their unique stories and engage with a meaningful base of consumers. This is creating entirely new opportunities, a new view of the competition and is altering the dynamics within the industry."
Recently, contributor Ada Polla visited the second-annual Indie Beauty Expo in New York to seek out the latest round of innovators shaping this exciting beauty segment. —Editor
Day one, also known as Shop Indie, sold out and consisted of more than 900 consumer attendees. Brands got to expose consumers to their products—and sell. Day two was open to trade professionals and presented brands the opportunity to build relationships with buyers and retailers.
In addition, there were speakers and panelist, bringing guests exciting presentations from the founder of Clarisonic, actress Kimberly Elise, Nadine Abramcyk of TenOverTen, Blair Lawson of Goop and Annie Atkinson of She's in the Glow.
I also ran into friends from the industry while walking the floor, including Pilar of Studio Organics, Dr. Robb Akridge of Clarisonic (who spoke on a panel sharing his experience about launching a brand from a Denny's breakfast table and its eventual sale to L'Oréal), the team from Cosmetic Executive Women, and more.
iBE is bringing the show to other cities, including Los Angeles and a number of locations in the Southern United States. I attended the show for the first time on day two and had a number of meaningful encounters and conversations—below is a review of my favorites.
1. Skinvolve
My eyes were first drawn to Skinvolve because their banner highlighted three sisters in business. Being in business with my own three sisters, how could I not go learn more?
I met brand cofounders Christine Saleh and Lena Saleh, who told me that their oldest sister is the inspiration behind their brand. She had two babies and was struggling post-pregnancy to get back to her pre-baby shape.
So the sisters launched their brand, which consists of seven firming and tightening products, some of which are natural and others organic. Their products are made in Miami, are vegan and cruelty-free, and feature primarily caffeinated ingredients to help firm and tighten the skin. I have fallen in love with their Body Karate Cream.
Perhaps the most surprising brand I came across was Pottymints. The name made me do a double-take and wonder if my interpretation (mints for the toilet) was correct. It was. I met Matthew, who works with his sister on this family-owned brand (yes, another sibling concept).
They'd created dissolvable air freshener tablets for the toilet, which work on contact with water and keep working after flushing. The brand is 18 months old and launched at Cosmoprof North America in 2015, where it won the Trendsetter award. Certainly, an original concept.
3. SwissPerfection
Just like I can't help stopping at a booth highlighting three sisters, I can't help but stop at a booth with a sign saying "Swiss." At the SwissPerfection stand, I met Sophie Trolliet, who was at iBE to launch the brand in the United States.
The brand, which was created for the Asian market, is well-known in Korea and Japan. However, 40% of its online sales come from American consumers, hence the expansion into the U.S. market.
Trolliet told me about the family story of this brand, which was created by the head of Clinique La Prairie in Montreux, Switzerland, Gregor Mattli, whose father, Armin Mattli, purchased the company in the 1970s. The company launched a clinic, and later a brand, featuring animal cellular extracts.
Mattli's son is a vegan, however, and so the executive realized the power of vegan products. As a result, Mattli has evolved the brand's ingredient strategy to focus exclusively on plants, specifically Iris germanica. The company now has 50 SKUs, mostly for the face.
I then ran into an industry friend I have not seen in years, Erin Williams, creator of Erin's Faces. I met her in 2008 when she was working as a makeup artist and running her first business, a listserv for beauty brands and beauty freelancers.
Today, she has her own makeup brand, which started with a brush—the perfect makeup brush she always wanted, but never wanted to pay $60 for. Foundations followed, for all skin tones: Erin's Faces has always been based on the concept of inclusivity. Her mineral liquid foundations are beautiful and feel like silk. Willians said she loved the show, mostly because she got to meet many of her 8,000-plus Instagram followers.
A number of hair brands were also present, including Arrojo, the brainchild of celebrity stylist Nick Arrojo. His three salons in NYC are always packed, filled with beautiful clients and creative stylists, and his line, which comprises shampoos, conditioners, styling and finishing products, has been expanding beyond his salons' walls. The brand's cult product is the ReFRESH Dry Conditioner, which treats and detangles hair when wet or dry.
I left the event feeling energized by all of the entrepreneurs defining the niche beauty industry today.
Ada Polla ([email protected]) is the co-creator of the Swiss antioxidant skin care line, Alchimie Forever, which launched in the U.S. in 2004. Her strategic focus and implementation have yielded double-digit annual revenue growth for the company. Polla holds an MBA from Georgetown University, majored in art history and political science at Harvard University, and graduated magna cum laude with a Bachelor of Arts degree in 1999. She is also a Global Cosmetic Industry editorial advisor.
*www.researchandmarkets.com
**www.npdgroup.com