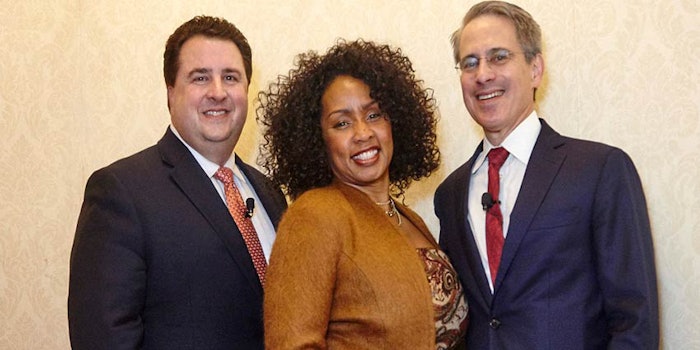 Why did U.S. prestige beauty grow 7% last year (total: $16 billion), compared to the 2% rise seen in mass (total: $21.7 billion)?
Previously: CEW and The NPD Group Forecast and Assess
"Prestige is up everywhere," said NPD's Karen Grant during CEW's Global Trend Reports event, The NPD Group's 2015 Year in Review & Trend Forecast. In fact, North America saw 14% growth, Europe 8% and South America 26%. On the other hand, mass beauty was flat or, at best (as in the United States) up in the low single digits.
"We're also seeing hyper-personalization, using more apps or even push notifications for coupons, so it's mobile as well as facilitates the shopping experience."
Read part one of our coverage: Consumer Spending and Beauty's Biggest Retail Threat
Don Unser, Group President, The NPD Group, noted that, "Prestige beauty is the fastest growing industry of any other industry that we [NPD] track or Nielsen tracks, hands down ... [I]t has the highest growth if you look it in a three-year [time horizon] as well."
Grant explained that all prestige beauty categories grew last year, led by makeup, which rose in the double digits in North and South America, and 8% in Europe. Some brands grew as high as 59%, she said, with the fastest rise coming from brands such as L'Oreal, Milani, NYX and ELF.
Further reading: How Amazon and Prestige Beauty Are Reshaping Sephora
Natural and clinical skin care, meanwhile, grew 10% in the prestige skin care category, compared to the 1% gain in the general skin care market.
In mass, lip was the top performer for makeup, and body was the top performer for skin care.
Grant noted, "When you look within the countries, half of the countries did better than they did last year. But more than that is the fact that you see more green [positive growth] in 2015 than you see in the 2014."
Poor performance in France, she explained, was of course impacted by the Paris attacks in November 2015. She added, "Within all of the countries that we tracked, except France, all of the categories of beauty were actually positive."
In the mass channel, Grant said, "We're definitely seeing a change in the experience, whether it's Target using iPads in terms of the shopping experience … or even in men's what's going on at Rite Aid. We're also seeing hyper-personalization, using more apps or even push notifications for coupons, so it's mobile as well as facilitates the shopping experience."
But what is mass? What is prestige?
"More than ever what we're seeing is this blurring of lines," said Grant. Referring What is to a tagline used by Walgreen's LOOK Boutiques, she added, "we live like prestige, but our address is a drug store."
Grant continued, "If you look at the prices that are selling within the prestige space, where we're seeing some strong growth is actually in products under $10 and under $20. We're also seeing some of the higher end of course, too, but it was interesting to see the fast growth that is in there."
In fact some brands like Ipsy, Beauty Box and Beauty Army are selling in both the prestige and mass spaces.
While all prestige channels have performed well, Grant said that online sales rose 26% in 2015 (total share: 12% of sales, rising to 14% during the holidays). Skin care dominates 41% of online sales, she added. Makeup is the biggest category tracked by NPD and dominates brick-and-mortar.
Importantly, Grant noted, "In terms of the actual additional dollars being brought in, [online] represented almost half of the additional dollars brought in during our holiday season. That's how important [and] dynamic the online space was."