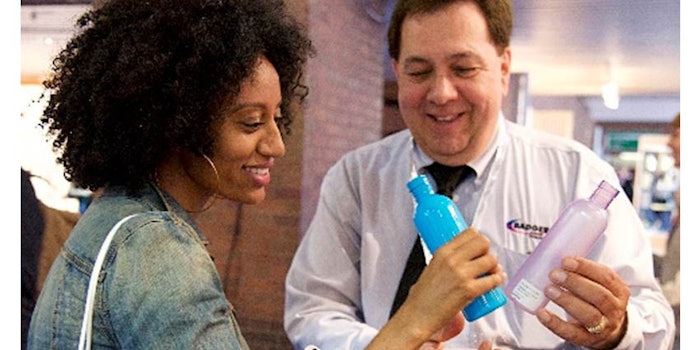 Luxe Pack New York held its 16th annual exhibition at New York City's Pier 92.
More than 3,500 industry professionals attended the show, which featured 240 packaging suppliers specializing in premium packaging for cosmetics, fragrance, fashion, fine food and more.
This year sustainable packaging products and solutions were front and center, including 20 participants in the "In Green" awards. Golden Arrow won for its luxury molded fiber packaging created from bamboo and bagasse, which eliminates the use of thousands of tons of plastic packages, and James Cropper for their CupCycling.
"We're delighted to have won the Green Award at Luxe Pack New York for the second year running," said James Cropper market sector manager, packaging Stefan Pryor. "With CupCycling, we've developed a scalable and innovative solution to the issue surrounding coffee cup waste in the UK, and since launching last year, we've brought many major brands on board – both those supplying used cups for recycling and those using the resulting fibre in their packaging. By using this high-quality, eco-friendly fibre source, brands are able to enhance their sustainability credentials while enriching their brand story and appealing to new and existing customers: a win-win."
Hosted by Instagram influencer Anjelika Kour and judged by a panel of industry experts, finalists included:
Best in Green Product:
API Group—"Transmet Technology"
Nate Packaging—"Cutting Edge Compacts"
RPC Bramlage—Ecosolution
U&I Worldwide—"Water soluble foam"
Best in Green Initiative:
Billerudkorsnas—"CO2 Initiative"
Golden Arrow—"Water recycling"
The two-day event also featured a conference program consisting of 11 sessions, addressing topics including luxury industry pain points, the new demand for sustainable packaging, influencer marketing and future trends. Speakers included packing and design experts from companies such as Estee Lauder, L'Oréal, Shiseido and many more.