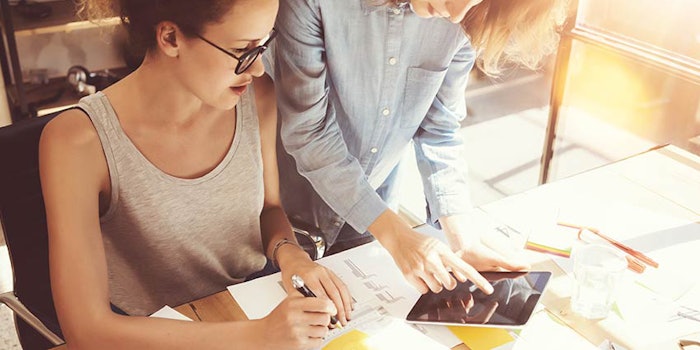 Serial entrepreneur Alisa Marie Beyer will discuss how she built and sold her latest company, Coastal Salt & Soul, in three years during "Entrepreneur's Corner: Get the Real and Raw Story" at Cosmoprof North America's 2018 exhibition.
Global Cosmetic Industry editor in chief Jeb Gleason-Allured will moderate the panel, which will also feature Matt Allison, founder and CEO of The Barrett Group. With 75% of beauty companies failing within the first 18 months—and many entrepreneurs suffering from anxiety and bleakness throughout the process—Beyer aims to inspire others with her own story of success.
Related: Cosmoprof North America Introduces Beauty Vanities
She will discuss the ways in which she gained access to capital, managed decision fatigue, faced cash-on-hand crises, recovered from setbacks and, finally, found the right deal maker to get the job done. Additionally, she will share her pitch deck, providing a formula for what entrepreneurs should include in their own.
"Entrepreneur's Corner: Get the Real and Raw Story" will commence Sunday, July 29, from 9–10 am. Cosmoprof North America's 2018 exhibition will be held July 29–30, 2018, at Las Vegas' Mandalay Bay Convention Center. For tickets and more information, visit http://cosmoprofnorthamerica.com/education/
Joining Alisa during the session will be Barry Shields. Barry grew up in Pittsburgh, PA. Graduated from Miami University in 1981 with a BS in Business with a concentration in marketing while playing Division 1 baseball. Moved to Chicago out of college and joined DDB Needham Advertising as Account Executive on SC Johnson and Anheuser Bush brands. Graduated in 1983 Northwestern University Advanced Advertising Studies.  
Career progression included the recruitment to Cover Girl Cosmetics as Sr. Brand Manager, then to VP Marketing at T. Rowe Price responsible for Mutual Fund and Discount Brokerage marketing then recruited to Balfour/Commemorative Brands as VP Marketing & Sales Retail and Commercial Divisions. In 1998 recruited to Del Laboratories as VP Marketing Sally Hansen. In 2000 recruited to Revlon as VP Marketing for Ultima II and Streetwear brands and returned to Del Laboratories in 2003 as VP Customer Marketing & Category Management.
Barry at Del Laboratories participated as a senior manager on a variety of transition teams thru the Kelso Private Equity acquisition in 2005 and the Coty acquisition in 2008. During the time Barry was at Del he held the following positions; VP Marketing, SR. VP Customer Marketing and Category Mgt and SR. VP International.
When Coty purchased Del Laboratories, he was asked to continue his role as SR. VP Global. At Coty managed 64 countries, reporting to him were International Marketing and Product Development teams in Paris responsible for the globalization of brands and compliance. Also managed regional marketing and sales staff in London responsible for the commercial sales of the UK, European and Russian distributors and in New York managed the global finance, brand marketing, and customer service staff for this stand-alone Coty commercial business division.  In the team were 3 Managing Directors; 1) Latin America, 2) Middle East, Africa and Asia and 3) Europe. Additionally, managed International logistics & supply chain team based in New York.
In the summer of 2010 after 2.5 years left Coty Beauty and founded Innovative Beauty Group (IBG) with Bruce Kowalsky.
Innovative Beauty Group developed and launched a variety of exclusive brands for CVS while creating the mass color cosmetics brand Pixel and Shades of the Season.  A sister company to IBG was formed in 2015 called Beauty Partners LLC. Its purpose is to create, manufacture and market a Target exclusive brand called defy & Inspire.
In addition, Barry and Bruce are the creators, managers and owners of Red Carpet Manicure. In March of 2011 created a joint venture with a Southern Calif. manufacturing partner to launch the first ever at home DIY LED Gel Nail Polish System called Red Carpet Manicure.  RCM was successfully launched chainwide at ULTA Beauty in September of 2011 with a small end cap and 45 items. Today RCM is the global leader in this category with distribution in 16 countries. RCM's flagship account ULTA enjoys today 4 linear feet of space with 185 items. The RCM brand is in distribution in many of the finest premium global retailers such as HSN and Nordstrom in the US to Harvey Nichols, John Lewis, Debenhams, Marks & Spencer and Sally Beauty in the UK to Liverpool in Mexico.