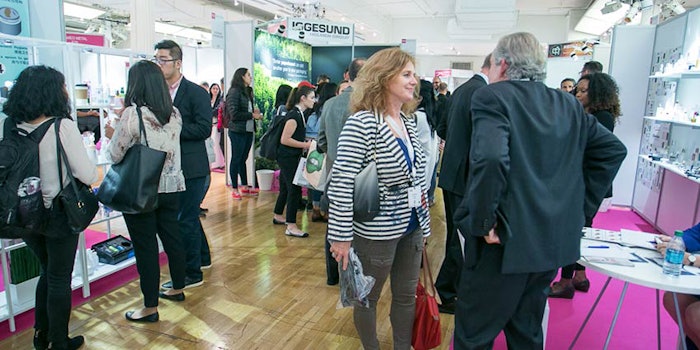 ADF&PCD New York, the event dedicated to the aerosol, dispensing, perfume and cosmetic packaging and design communities, has announced that 150 suppliers have signed up for its 2018 show.
These include:
APR Packaging—Which will launch its new patented twist open/concealed nozzle airless package;
Iggesund Paperboard—The company will showcase its Metalprint Digital, developed in cooperation with HP Indigo, which runs without a priming step;
Formulate Solutions—Will debut its eN2fused Whipped Lotion Technology, designed for fast absorption and ease of application; its gas-infused formulate creates millions of microbubbles that rapidly expand when dispensed;
Corpack—Will launch Sughera, a material consisting of synthetic rubber-blend mixed with ground pieces of natural cork; the new material (70% cork, 30% rubber blend) uses less petroleum-based materials while giving the component a natural look and feel;
Anomatic—The anodized aluminum packaging manufacturer will debut a vacuum metallization (PVD) system which applies a thin layer of metal on top of another material, such as plastic; those who visit the company's booth will be able to learn about this innovation and its wider capabilities;
AFA Polytek North America—Will present Flairsol, its next generation trigger-based dispensing technology; and
Apollo Industrial—Which will display its full range of packaging for the cosmetics industry, including its cream jar, oil pump, misty spray, foaming pump and dispenser ranges.
Related: The ADF&PCD New York 2017 Innovation Award Winners
Attendees will also have the opportunity to meet new suppliers such as Sibo USA Plastics, which will introduce itself and its range of closures, shoulders and molds to the U.S. market. China-based Jinxing Aerosol Valve Manufacturing will showcase its new actuators, and Hangzhou Xinli Plastic & Hardware will present its latest technical and material developments.
Other suppliers include Aerofil Technology Incorporated – Coster USA, Emerson, Lindal Group, Parcome, Seram, SGB Packaging Group Inc., Toyo & Deutsche Aerosol and Tri Pac; many companies will use the show as the global launchpad for new products.
Additionally, the Innovation Gallery will run alongside the supplier showcase, giving visitors the chance to check out the most cutting-edge and pioneering packaging from the showfloor.
"We have some fantastic exhibitors on board for this year—with the accent heavily on innovation," said Alli McEntyre-Gaharan, event director. "For every packaging buyer, designer or decision-maker trying to keep their brand's packaging ahead of the game, it is going to be an unmissable event!"
ADF&PCD New York will take place Sept. 5–6, 2018 at the Altman Building & Metropolitan Pavilion in New York City.