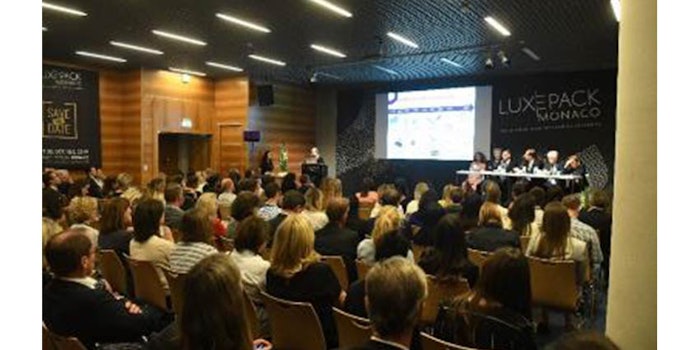 Luxe Pack Monaco was held Oct. 1-3, 2018 at the Grimaldi Forum. Here's everything you need to know.
1. The three-day event was the show's 31st edition
All sectors were represented; perfumery and cosmetics accounted for more than 60%, followed by wines and spirits, fashion, delicatessen, pharmacy and health, jewellery and watches, tableware and decoration, leather goods, tobacco, and writing instruments.
2.  9,280 specialists were in attendance; 53% of them international, from 86 countries
Most of the visitors (78.5%) had a decision-making role, including general management, marketing/communication, packaging development, purchasing, design, production or formulation
3. 470 exhibitors presented, of whom 55 were presented for the first time
Among the new exhibitors were glassmakers were glassmakers including Brazil's Wheaton, O-I Europe of the United States, Blue Glass from Sweden, France's Les Cristalleries de St Louis and Steklarna Rogaska of Slovenia.
4. More than 1,800 people attended the show's conference programs, an increase of 24% over 2017
Among them: Smart Packaging, hosted by Global Cosmetic Industry editor in chief Jeb Gleason-Allured, which addressed the latest packaging innovations and technologies, how brands can offer consumers enhanced functionalities and uses and the best methods for data collection and consumer relations.
The largest audience—more than 500 people—was found at the session dedicated to sustainable development, during which business and industry leaders including Laurent Boillot (president and CEO of Guerlain) and CSR and sustainable development leaders from Chanel, Pernod Ricard, Guerlain, SBM and Prince Albert II of Monaco Foundation spoke on the issues of traceability and transparency.
Other popular conferences included decoding generation Z, Pierre Katz's presentation on brand identity and packaging solutions made possible by additive manufacturing.
5. Guests Showed Digital Love
In the digital village, conferences were combined with round tables and exhibitor worskshops, providing guests with an opportunity to learn about the latest digital innovations in the packaging sector including applications, devices, QR codes, virtual reality, NFC, lighting, anti-counterfeiting, consumer relations and more.
6. Approximately 3,000 professionals checked out Luxe Pack Formulation
Additionally, 350 delegates attended the program's conferences and workshops; the numbers are a significant increase over the previous year. Among the highlights: a presentation by Mayumi Tachikawa, founder of the Japanese brand Makanai Cosmetics, new products showcased during "Oh My Cream!," and Bee Nature's "slow formulation" themed to naturality.