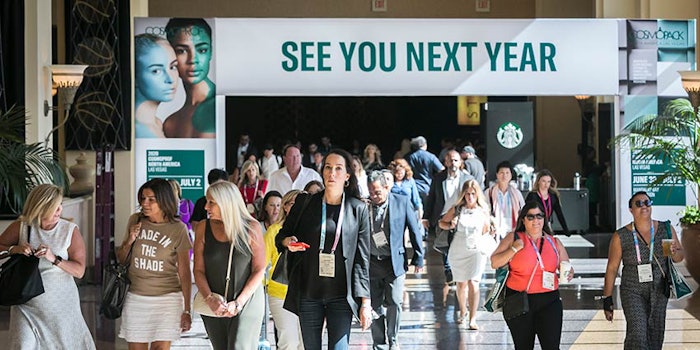 Cosmoprof North America (CPNA) hosted its 17th edition July 28-30, 2019 at the Mandalay Bay Convention Center in Las Vegas.
Here's everything you need to know about the event.
More than 40,000 visitors engaged with the show's 1,435 exhibitors from 43 countries.
All facets of the industry were presented across three main sections: two dedicated to cosmetics & personal care (with growth in the skin care sector) and professional beauty. Within the larger sections, specially curated areas featured products from around the world dedicated to retail, multicultural beauty and green beauty.
Country pavilions from eight countries featured beauty brands displaying "authentic elements, strong heritage and innovation" from their respective countries.
Special show floor areas included: Discover Beauty, Discover Beauty Spotlights, Discover Green, The Beauty Vanities and Tones of Beauty.
The inaugural Cosmopack North America—a "show within a show"—shined a light on the entire supply chain of the cosmetics industry: contract manufacturing and private label, machinery, primary and secondary packaging, applicators, ingredients and raw materials.
Cosmopack programming included the special curated area Discover Pack for brand new exhibitors; the dedicated Buyer Program, featuring R&D, brand executives and product development; packaging-related conferences; and The Factory, an activation that recreated the entire manufacturing process of a cosmetic in real time, featuring select Cosmopack exhibitors.
During the Buyer Program, exhibitors connected with buyers including retailers, international buyers and professional beauty distributors from around the world.
CosmoTalks featured more than 25 seminars and workshops, including "CBD & Beauty: The Next 5 Years," hosted by Global Cosmetic Industry magazine. Speakers included executives and representatives from The NPD Group, L'Oréal, Google, Neiman Marcus, Shiseido and more.
CosmoTrends—a new addition written by trend agency Beautystreams—offered an annual post-show report on beauty trends, spotlight the most innovative products from exhibitors. It was showcased as an installation during the show and presented at CosmoTalks.
During the also new Trend Corner, exhibitors and attendees were able to connect with leading national and international trend and marketing intelligence agencies. Guests learned about market trends, making smarter business decisions, effective strategic development and more. Agencies included Euromonitor International, Kline & Company, The Benchmarking Company, The NPD Group, and WGSN.
The sampling bar Boutique featured products from exhibiting companies, offering visitors the chance to curate their own customized beauty bag created in collaboration with HCT Packaging.
Also of note: YouCam Makeup unveiled its new AI smart beauty at the show, while Alibaba group/Tmall Global exhibited at the show for the first time.
The 18th edition of Cosmoprof North America will be held June 30-July 2, 2020.
Cosmoprof & Cosmopack North America Award Winners
Related: [gallery] Cosmoprof, Cosmopack North America Announce 2019 Award Finalists
Cosmoprof Awards
Hair: 18.21 Man Made—Man Made Wash in Spice Vanilla
Make-Up: Nutracosmetic GmbH—Nutraskin Silk & Smooth Concealer/Nutraskin Super Wear HD Foundation
Skin Care: Acure—Seriously Soothing Serum Stick
Natural & Organic: Bambeautiful—Densifying Foam
Tools & Devices: PMD Beauty—PMD Clean Pro RQ
Cosmopack Awards
Make-Up Formula: Ancorotti—Time to Love
Make-Up Packaging Design: Cosmopak USA, LLC—Quick Release Magnetic Closure Vial
Skin Care Formula: B. Kolormakeup & Skincare S.p.A—Puresun Sun Protector SPF 30
Skin Care Packaging Design: Toly—Boost Mixer
Sustainability: Premi Spa—Refill Collection