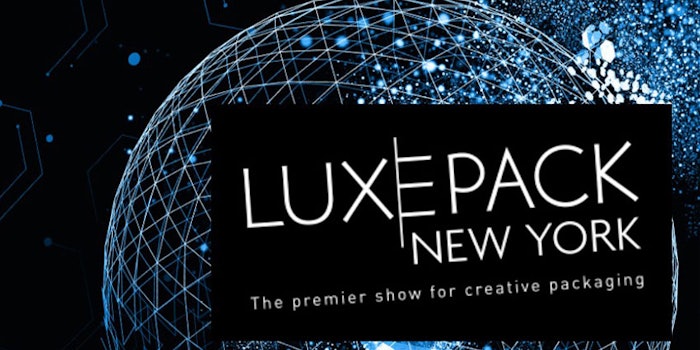 LuxePack New York has announced it will be postponed to July 14-15, 2021 at Javits Center, New York. 
My Luxe Pack
On November 30, 2020, Luxe Pack will unveil its digital platform for premium packaging, My Luxe Pack. The platform will showcase packaging suppliers from around the world. 
Through December 2, there will be digital roundtables featuring talks by brands and experts. They will discuss packaging trends, a redesigned consumer experience and circularity. 
Throughout the year, each exhibitor will upload its packaging solutions, best sellers and innovations to the platform, according to Luxe Pack.
On November 30, brands will also be able to discover the innovations competing for the 2020 Luxe Pack in green Awards. A panel of professionals from luxury brands will meet to study the applications, select the nominees and elect the winners.
Users will be able to vote online for their favorite eco-designed innovation, which will be winner of the People's Choice Luxe Pack in green Monaco 2020 award. The winner will be announced on December 2.
Finally, suppliers and brands will have the opportunity to interact with each other through a messaging and videoconferencing tool that can be used throughout the year.
Fabienne Germond, director of the Luxe Pack trade show, said: "Through My Luxe Pack, our team will be continuing its business facilitator role by supporting suppliers and brands in a model that is complementary to that of physical trade shows. Our desire is initially to maintain the link between our exhibitors and the entire Luxe Pack brand community in an extremely complex time for them to support them in their recovery and then to combine the face-to-face and digital experiences for the benefit of all our customers."