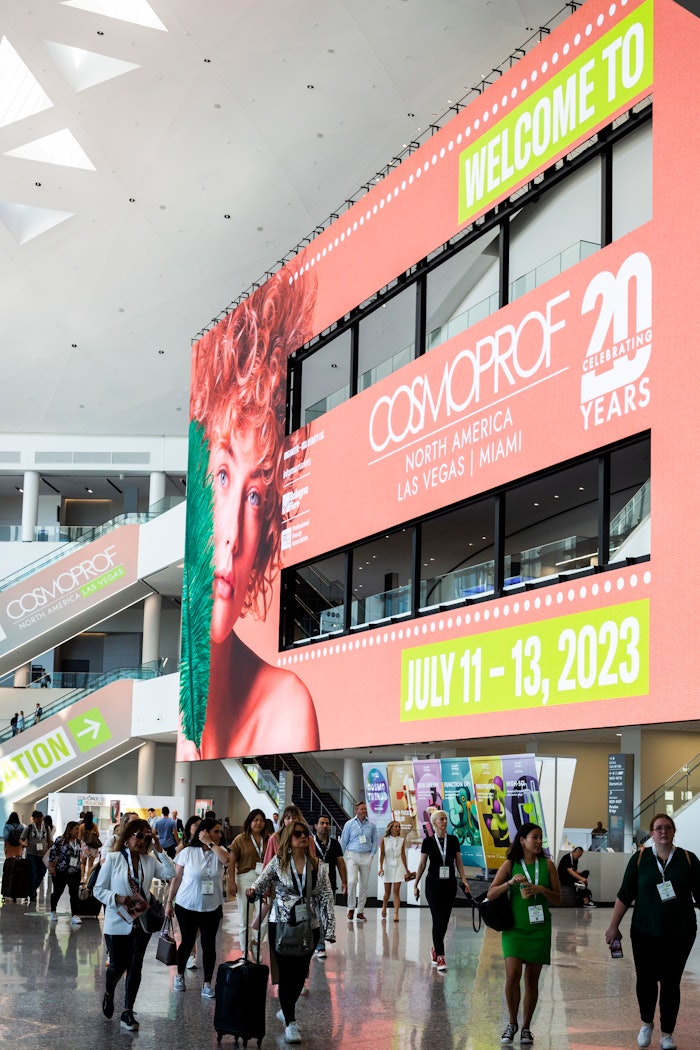 Cosmoprof North America's 20th anniversary edition at the Las Vegas Convention Center from July 11–13, 2023 grew attendance by 20% year-over-year, featuring more than 1,100 exhibitors from 108 countries.
The event also featured the Cosmoprof awards and Cosmopack awards, for which Global Cosmetic Industry content director Jeb Gleason-Allured served as a judge. This year's winners will be displayed at Cosmoprof Bologna in March 2024 alongside other global winners.
Winners of the 2023 Cosmoprof Awards: 
Winner of Makeup & Nail Products: Mani Maker, Nail Polish Grip
Winner of Green & Organic: AG Cosmetics SRL World of Beauty Slim, Shape Body Pants
Winner of Skin & Body Care Products: I.D. Swiss Botanicals, Skin Stress Balancer
Winner of Home & Professional Devices & Tools: Shenzhen Qianyu Technology Co., JOVS 4D Focus Mask
Winner of Hair Products: Nov Natural Organic Vegan, Hair Vinegar Tonic
Winners of the 2023 Cosmpack Awards:
Winner of Formulation: Solesence Beauty Science, Natural Glow Face Oil SPF 40+
Winner of Packaging: Design & Materials: Guangzhou Lisson Plastic Co., Vibration Eye Cream Tube
Look for coverage of show trends in the October 2023 edition of the magazine. 
Cosmoprof North America will next hold its debut Miami show in January 2024, providing an opportunity to connect with Latin America's beauty industry. Thereafter, Cosmoprof North America returns to its historic Mandalay Bay Convention Center home, July 23–25 2024. 
See you there!