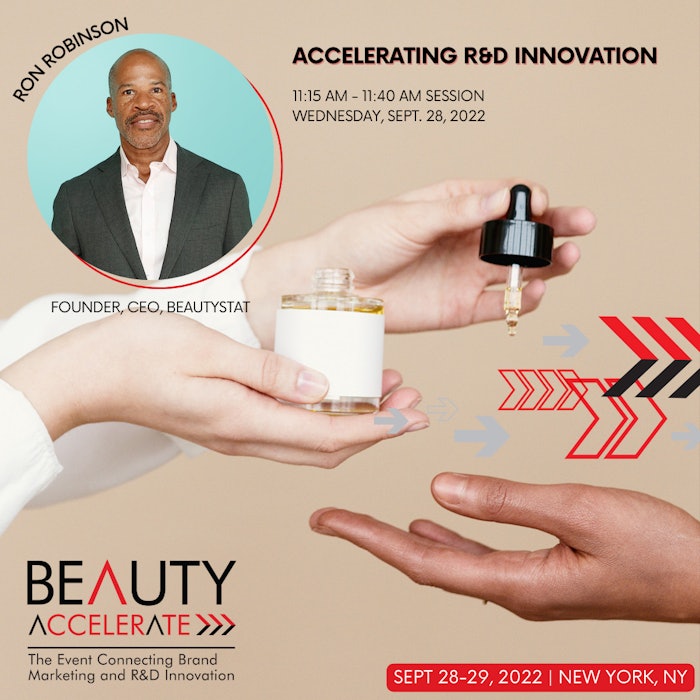 Beauty Accelerate is delighted to announce that Ron Robinson, founder of BeautyStat, will take the stage in NYC to discuss the state of beauty technology. 
Featuring fellow experts Akshay Talati, VP product development research and innovation, Goop, and Peter Tsolis, vice president, skin care R&D, The Estee Lauder Companies, this session will explore the ways in which emerging technologies are making innovation more efficient, while rendering brands nimble enough to respond to shifting consumer and supply chain realities.
Key discussion topics include: high-throughput screening, AI and modeling, and other digital tools for ramping up the pace of new ingredient technology discovery and product development.       
>>>Registration for the event is now open.<<<
Called "TikTok's Most Famous Cosmetic Chemist" by Allure, Robinson's Universal Pro-Bio Moisture Boost Cream has become a favorite among consumers in the know.
Marie Claire noted, "Hundreds of videos featuring the brand's hashtag on TikTok have racked up 6.9 million views and counting, with some users claiming that it has become a staple in their routines after just two weeks of use. Others have noticed that it fades the look of their acne scars and dark spots."
And none other than Hailey Bieber has praised BeautyStat's Universal C Skin Refiner Serum: "It has changed my skin. One of my holy grail products." 
Robinson is a veteran cosmetic chemist with more than 20 years experience in creating innovative, big-selling beauty products for leading beauty brands (Clinique, Estee Lauder, La Mer, Revlon, Avon, and Lancome).
He started his own beauty brand, BeautyStat Cosmetics, in 2019. His brand, already an award-winner, is fast-growing with a star vitamin C serum (Universal C Skin Refiner) that has been named one of the best by Allure, Vogue and Harper's Bazaar.
In the spring of 2022, BeautyStat launched at Ulta Beauty. 
>>>Registration for the event is now open.<<<