Lignopure GmbH
Harburger Schlossstrasse 6–12
Hamburg 21079
Germany
Green innovation Made in Germany
We at Lignopure are passionate and committed to offer sustainable upcycled solutions for the cosmetic industry. Our expertise relies in delivering high quality lignin-based ingredients with multifunctional properties for different cosmetic applications. This is possible thanks to Lignopure's patented particle technology, which fully utilizes lignin, the organic polymer that gives plants their sturdiness and transfers its natural protective properties to enhance multiple beauty products.
Sustainability is key for our business. Our portfolio consists in ingredients from natural and clean non-food competitive raw materials that have been produced ethically with high quality standards. Our team and production plant sit in Germany, were we work closely with our suppliers and innovative production processes to make sure that all our ingredients are safe, reliable, and functional.
The launch of our LignoBaseTM, a ready-to-use ingredient line from renewable vegetal sources that besides being good for the environment, boosts key protective elements of multiple cosmetic products. LignoBaseTM also simplifies the skin tone formulation process due to its natural brown hue while giving a smooth finish on skin.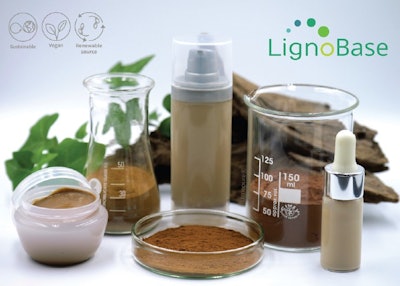 Major Markets:
Clean beauty
Natural products
Vegan products
Skin Care
Sun Care
Color cosmetics
Sustainable beauty
Key Personnel
Joana Gil Chavez – CEO
Wienke Reynolds – CTO
Daniela Arango Ospina – CPO
Gabriela Meza Armenta – Sales & Marketing
Juliana Carrizosa Landazabal – Product Development
Cosmetics/Personal Care Ingredient Supplier
Cosmetic Ingredients

(Actives, Balancing-soothing, Color Cosmetics, Colorant, Skin/Body, Specialized, Sun Care)