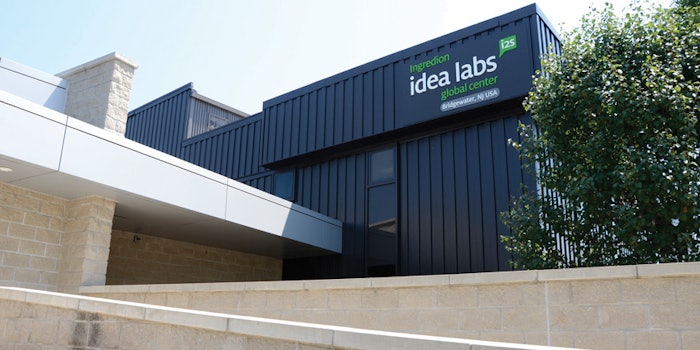 Global food and personal care consumers alike are increasingly demanding natural, plant-derived and familiar ingredients in their products, and seek out brands that offer transparency on the label and beyond. At the same time, products are becoming hyper-segmented, creating new speed-to-market challenges for manufacturers of consumer goods. Those manufacturers—whether due to organizational size or general budget constraints—no longer feature many critical in-house innovation resources. As a result, more than ever, suppliers are required to deliver more complete, natural, sustainable and clean label solutions to their customers.
Ingredion, an ingredient and formulation solutions provider, has expanded its operations to address the changing innovation needs of the food, beverage and personal care industries. The company leverages its 100-plus-year legacy in natural ingredient technology to convert grains, fruits, vegetables and other botanical sources into value-added ingredients for foods, beverages and personal care products. In addition, its beauty and home business features dedicated applications, product development, marketing and business development resources, and shares R&D and sensory teams with the food and beverage group.
Cooperative R&D and sensory groups allow Ingredion to quickly identify cross-application opportunities for its ingredients and technologies, including natural biopolymers, aesthetic modifiers, emulsifiers, proteins and fruit juice concentrates. The food/beverage and beauty/home groups have developed dedicated sensory lexicons, as well as sensory capabilities, including consumer panels that allow researchers to test new concepts for likeability and validate development decisions.
Innovations for Clean Labels
"I think most companies want to use more natural ingredients, but it can sometimes be challenging because the performance isn't there, or the materials aren't cost-competitive," says Kristen Presti, director of Ingredion's Global Beauty & Home group.
By benchmarking new products against conventional market standards, Ingredion is growing its range of affordable technologies, which can allow natural, clean-label solutions to expand from niche to mainstream brands.
"We recently launched a line of [natural polymers] called NativaCarec, which contain five [Ecocert] certified natural or certified organic starches for different aesthetic modification benefits," says Presti. "We use a patented physical transformation process for these materials; we're able to derive unique properties, benefits and process tolerance from [them] without adding any chemicals, so [they have] a clean label INCI name—such as corn starch, tapioca starch or rice starch."
The NativaCare range has already launched in Europe, the Middle East and Africa, as well as North America, and will expand to additional global regions in 2018. The non-ionic natural texturizing powders support the "natural" or "organic" positioning in applications such as baby care, body powder, loose and compact makeup, dry shampoo, creams and lotions, gels and balms, liquid powder, sun care products, body wash and shampoos. In formulations, the NativaCare polymers can boost and stabilize viscosity, enhance spreadability and flowability, create smooth, rich and luxurious textures, and offer improved skin-feel after use. Suggested use levels can vary from 2% to 95%, depending on the format.
Presti explains that the technical crossover of Ingredion materials mirrors that of the market dynamics: "A lot of the trends in the market— almost everything that's consumer-driven in food and personal care—are synonymous in [terms of] consumer needs and the ingredients that are used."
Made-for-Me Products
"Consumers want customized products made just for them," says Presti. "This hyper-customization forces our customers to come out with products much more quickly to meet [consumers'] needs."
Offering a full range of ingredient and formulation lab services allows Ingredion to work with smaller customers or more niche companies that don't have these types of capabilities in-house. This expertise is also critical for larger customers that may find it difficult to launch new projects in a quick fashion.
Tony DeLio, Ingredion's senior vice president and chief innovation officer, explains that customers are "expecting suppliers to provide more complete solutions" and thus become a true innovation partner. He adds, "We're investing in formulation capabilities so we can bring ready-for-market prototypes." At the same time, the company regularly conducts consumer research to help clients understand consumer labeling preferences across global markets.
Sustainability Factors
Customers often assess new materials against sustainability benchmarks, says Presti. However, there is no single defined set of market standards for what constitutes a sustainable material. As a result, customer requirements vary, sometimes even among brands within the same parent company.
That's why Ingredion focuses on a number of sustainability parameters. The company has committed to reducing water and carbon emissions by 10% by the end of 2020 versus the 2010 baseline, in addition to progressing its sustainable sourcing opportunities and their commitment to ethical trade and social accountability.
As sustainability, clean beauty and clean eating, transparency, speed to market and other market forces continue to transform the nature of innovation, Ingredion is pairing 21st-century strategies and a natural ingredient legacy to provide a complete solution.
About Ingredion:
Ingredion's history dates to 1906 with the incorporation of the Corn Products Refining Co. Many mergers and acquisitions later, the company was renamed Ingredion in 2012. As of Jan. 1, 2018, Jim Zallie has succeeded Ilene Gordon as CEO of the company, advancing from his role as executive VP-global specialties and president-Americas. Ingredion, headquartered in Westchester, Illinois, had net sales of $5.8 billion in the 12 months ending September 2017. It operates in more than 100 countries and has built a network of 27 Idea Labs innovation centers around the world, including a flagship lab in Bridgewater, New Jersey.