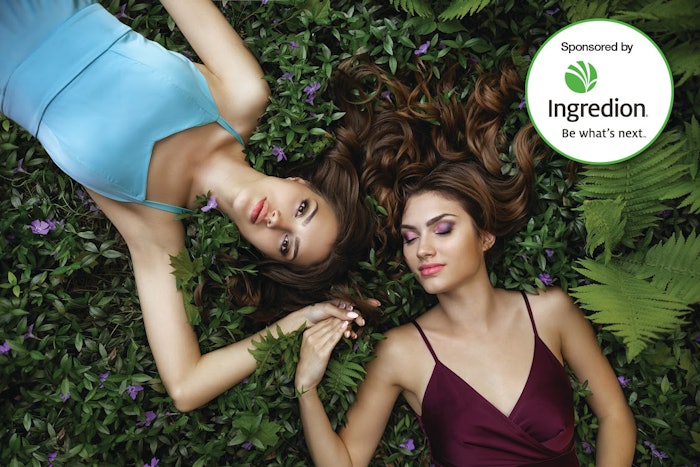 More than ever, consumers demand clean, safe, natural, sustainable and multifunctional cosmetics, which raises the bar on formulations and ingredient technologies.
"We have to go further than clean labels and greenwashing to create products that resonate with today's consumers, who are more knowledgeable and engaged in discussions about their environmental impact than ever before," says Chi Anigbogu, global marketing manager of Ingredion Beauty & Home.
At the same time, however, high performance is non-negotiable.
"For skin care consumers, sensorial benefits are key, both during and post application," says Ashraf Hossain, senior business scientist, Ingredion Beauty & Home. "This need for luxurious textures and easy applications has definitely impacted the color cosmetics world, with more products focused on the consumer experience."
Therefore, brands and their innovation partners must now operate at the intersection of clean, sustainable and effective beauty. Here's what that means for the industry.
A Sea Change in Consumer & Retailer Attitudes
According to Ingredion research, 79% of consumers globally read ingredient lists on skin care productsa, while 38% are willing to spend more on products they consider to be sustainable, environmentally friendly, or ethically sourced and manufactured.
According to NPDb data, 34% of consumers believe it is important for makeup brands to be socially responsible. Furthermore, about 80% of consumers reference vegan, cruelty-free and natural ingredients in online reviews.
Meanwhile, Euromonitor International's "Voice of the Consumer: Beauty Survey 2022" found thatc, between September 2019 and March 2022, "the number of makeup SKUs with at least one environmentally or ethically friendly attribute has increased by 55%."
Employing sustainable practices across the entire production cycle is now expected, from ingredient sourcing to manufacturing, while also positively impacting local communities and offering sustainable packaging alternatives, ways of application and transportation. At the same time, the clean beauty submarket has risen from niche to necessity, with retailers such as Ulta Beauty, Sephora, Target and Credo all releasing their own "clean beauty" indexes, redlining ingredients they've deemed unsafe, either for consumers or for the environment.
"Beauty retailers have taken the lead in regulating and shaping the color cosmetic space," explains Anigbogu. "With new 'clean' or 'conscious' beauty guidelines, a lot of the traditional synthetic ingredients are being removed and replaced. Skin care was the first to move toward natural ingredients, and now the color cosmetics space follows."
She continues, "Shoppers have more confidence than before to choose beauty products that fit their lifestyle and values. Mobile apps that scan product labels, beauty retailers with clean ingredient lists and labeling, and cruelty-free certifications let consumers learn much more about their products and make the best decision for them."
What does all this mean for color cosmetics brands and their innovation partners?
Cleaning Up Ingredient Decks with Safe Alternatives
As mentioned, no-no lists from retailers have driven calls for removing problematic ingredients from formulations. Yet materials such as aluminum and talc have been present in beauty products for decades due to the fact of their high-performance. Replacements are no easy feat. Fortunately, there are solutions.
Going aluminum-free: Consumer concerns related to aluminum in beauty products include everything from cancer risks to skin irritation to nerve damage and beyond. An aluminum-free alternative, Ingredion's FARMAL™ AF 1100 (INCI: calcium starch octenylsuccinate), provides unique benefits to color cosmetics, as well as sun care, skin care and hair care. This biodegradable free-flowing polymer increases viscosity while stabilizing emulsions.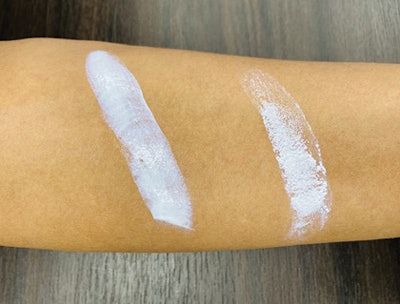 The technology also boosts visibility and coverage, creates silky, dry-to-the-touch sensorial experiences and acts as a light-scattering technology for soft-focus mattifying/blurring effects. FARMAL™ AF 1100 also reduces tackiness and greasiness in high oil emulsions and anhydrous applications for a dry-touch afterfeel.
In addition, the material imparts water resistance and significantly reduces absorption time, making it ideal for color cosmetics and sunscreens. In sunscreens/hybrid color-SPF products, the material stabilizes actives such as titanium dioxide and zinc oxide.
FARMAL™ AF 1100 is sustainably sourced through the Ingredion TrueTrace Non-GMO program, where each ingredient is traced from farm to product to certify its sourcing. It is also a readily biodegradable ingredient (according to OECD 301B). In accordance with the ISO 16128 Natural Index Standard it is classified as "Derived Natural Ingredient."
Swapping out talc: While talc offers excellent sensory benefits in formulations such as color cosmetics, baby powder, deodorants and more, its use in beauty products has declined from a peak of 10,536 launches in 2016 to just 229 in 2020. Part of the reason is the proximity of asbestos in many talc mines, which has led to some talc-based products testing positive for asbestos, a known instigator of respiratory and other health issues.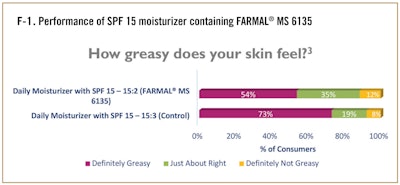 Formulators and brands can get around these concerns by leveraging plant-based non-GMO starches such as Ingredion's NATIVACARE® natural polymers, which are derived from rice, corn and tapioca and can replace talc in cosmetics, baby powders, skin creams and more. These polymers offer up to twice the oil absorption of talc products and are either approved by Ecocert or certified organic.
Meanwhile, Ingredion's FARMAL® MS 6135 multi-functional polymer (INCI: calcium starch octenylsuccinate) delivers additional sensory and texture improvements that help products and brands stand out.
Based on Ingredion's at-home-use test, untrained consumers found that, versus the control, a daily SPF 15 moisturizer containing FARMAL® MS 6135 multi-functional polymer was less greasy and stayed less greasy after a full workdayd. In lab testing of the direct powders, the ingredient showed 25% more efficiency at oil absorption than regular talc, leaving a soft, dry and matte finish on the skin.
Another tool for savvy formulators is Ingredion's FARMAL® CS 3757 sensory polymer, a non-ionic corn starch used to enhance skinfeel and texture by absorbing oil and moisture in product applications. In formulations, this ingredient can reduce undesirable greasiness and oiliness in heavy cream and lotion formulations (F-1).
A More Sustainable Supply Chain
Ingredion recently reduced carbon emissions by using electricity from renewable resources, sustainably sourced more than 95% of the global waxy corn supply and implemented programs in 61% of the communities it operates in to eradicate child hunger.
For its efforts, the company was awarded the globally recognized ECOVADIS sustainability silver rating for 2022e.
Ingredion's portfolio of plant-powered sustainably sourced ingredients helps brands reach their sustainability goals and earn consumer trust. The company's TRUETRACE® program guarantees non-GMO-certified products with traceability from farm to face. In addition, biodegradable ingredients allow brands to formulate sustainably and effectively and deliver on-trend products and solutions for today's eco-conscious consumers.
6 On-trend Clean Label Cosmetics
To put its technology into action, Ingredion's team recently created a range of color concept products that address consumer and market demands such as strong dispersion/brilliance of pigments, long-lastingness, multifunctionality and interest in natural-oriented products.
"When I shop for my color cosmetics, I notice the ingredient lists tend to have many synthetic ingredients or ingredients considered 'unsafe' such as talc," says Kelly Mei, formulation technologist at Ingredion Beauty & Home. "I wanted to create a clean label formulation where consumers can recognize the ingredients and still have the same great results and efficacy as the products they're familiar with."
Anigbogu adds, "We wanted to show how making cosmetics without PEGs or talc or other less desirable ingredients is not only feasible but advantageous. We can achieve brighter products with improved staying power using ingredients like acacia gum, modified starches and plant-based polyols."
1. Luminous Liquid Eyeshadow
This eyeshadow formulation comprises FARMAL AF 1100 for a smooth sensorial effect and a free-flowing powder; FARMAL Xanthan 2312 TC, an easy-formulating gum with high clarity, a differentiated texture and strong suspension power; FARMAL Acacia 1320; and GLYSTAR A-31, a humectant that imparts plasticity to formulations.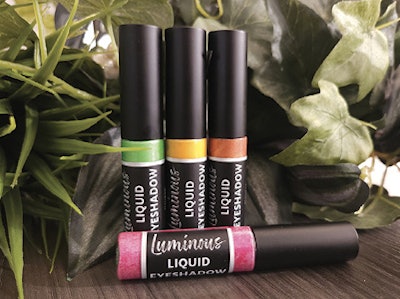 2. Vanishing Skin Tint with SPF 35
Ingredion's vanishing skin tint with SPF 35 is a dry-touch moisturizer for medium to light toned skin with sun protection and sheer coverage that blends quickly and easily into skin. The formulation features FARMAL AF 1100 for a smooth sensorial effect and a free-flowing texture; FARMAL Xanthan 2312 TC, an easy-formulating gum with high clarity, a differentiated texture and strong suspension power; and GLYSTAR A-31, a humectant that imparts plasticity to formulations.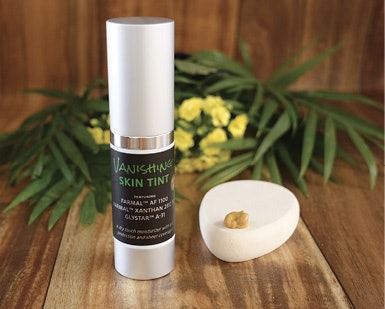 3. Everyday Mascara
The smooth, clump-free Everyday Mascara delivers volume for all-day wear and features GLYSTAR A-31, a humectant that imparts plasticity to formulations; FARMAL Acacia 1320, a plant-based binding agent; FARMAL Xanthan 2312 TC, an easy-formulating gum with high clarity, a differentiated texture and strong suspension power; cellulose gum; FARMAL MD 15, which provides a soft luxurious feel; and FARMAL AF 1100 for a smooth sensorial effect and a free-flowing powder.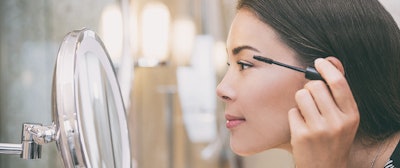 4. Oil Control Setting Powder
This plant-based setting powder blends into the skin for a translucent finish without the ashiness (and problematic associations) of talc. This formulation comprises FARMAL AF 1100, for a smooth sensorial effect and a free-flowing powder, and FARMAL 2IT, a non-GMO tapioca starch ranked highly by sensory panels for its sensorial feel, after-touch, smoothness and silkiness.
5. Made You Look Liquid Eye Color
Ingredion's Made You Look Liquid Eye Color is a 3-in-1 powerhouse—an eyeshadow, eyeliner and highlighter—made with naturally derived ingredients for a smooth, vibrant finish. The formulation comprises FARMAL AF 1100, an aluminum-free, bio-based starch that delivers a silky sensory experience, viscosity building, reduced oiliness and soft-focus mattification. In a mineral sunscreen, FARMAL AF 1100 can improve emulsion stability. The eye color formulation also includes FARMAL Acacia 1320, a plant-based binding agent, and FARMAL Xanthan 2312 TC, a biodegradable polymer that offers clear, non-tacky thickening.
6. Mineral SunnyStick SPF 25
Ingredion's Mineral SunnyStick SPF 25 is a non-greasy, dry-touch formulation that provides sheer coverage.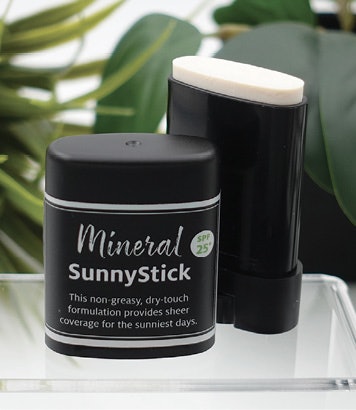 Let's Start Innovating!
The clean beauty toolbox continues to grow, offering formulators and brands to deliver high-performing products that meet the clean, sustainable and efficacy expectations of today's savvy consumers.
Want to learn more? Visit www.ingredion.com or scan the QR code to get started.
For more information, visit www.ingredion.com

Disclaimer:
The above paid-for content was produced by and posted on behalf of the Sponsor. Content provided is generated solely by the Sponsor or its affiliates, and it is the Sponsor's responsi­bility for the accuracy, completeness and validity of all information included. Global Cosmetic Industry takes steps to ensure that you will not confuse sponsored content with content produced by Global Cosmetic Industry and governed by its editorial policy.