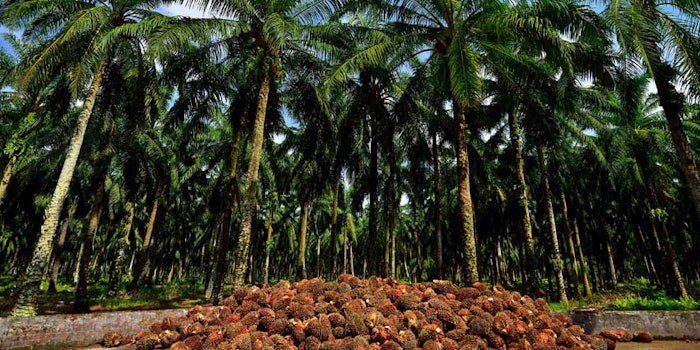 Looking into the future, we know that palm oil is here to stay. Palm and palm kernel oil are superior ingredients for the cosmetic market when done right. Not only do they bring functional benefits to products, they also bring economic progress to producing countries. So, palm oil has the capacity to bring benefits to many.
However, companies need to accelerate the cessation of deforestation and bring exploitation-free ingredients to market. This requires collaborative action. Fortunately, there are initiatives in play behind the scenes in the complex ingredient supply chains of the cosmetics industry, raising the bar on sustainability. 
Demand for Derivatives
Global demand for palm oil continues to grow for a broad range of uses. Many ingredients that are essential for the production of cosmetic products are derived from palm (kernel) oil. These derivatives can be found in approximately 70% of end products in the cosmetics industry.
Sourcing these ingredients responsibly by living up to the "No Deforestation, Peat, Exploitation (NDPE)" commitments is a challenge for the manufacturing companies behind the products, due to the complex nature of the palm oil supply chain.

Improving Palm Cultivation
Living up to our commitments starts at the base of the supply chain. If we want a flow of clean, green and ethical ingredients to our markets, we need good practices in the field. There are multiple initiatives in place to realize this, one of which is certification.
For palm, specifically, there is the Roundtable on Sustainable Palm Oil standard. The Organic, Rainforest Alliance and Fair for Life standards also offer principles, criteria and guidance for sustainable and ethical palm cultivation. This is often enacted crop-by-crop, plantation-by-plantation, farmer-by-farmer. But there are more integrated ways to take this on that we might see more of in the near future.
One way is taking a broader perspective, a landscape-management approach. The focus here is to transition a whole district or province to adopting sustainable practices. This is an effective way because critical issues like deforestation and wildlife habitat loss stretch beyond individual plantations and commodities.
So, instead of a focus on sustainable palm cultivation, other crops and services are incorporated. One concrete initiative is the "Production, Protection, Inclusion" approach, which combines sustainably increasing productivity to make the best use of land, while ensuring a reduction of environmental impact, protection of forests and natural resources, and inclusion of farmers and communities.
Another method for improvement is to focus on climate-smart agriculture, using crop diversity and regenerative practices to draw down carbon, improve soil health and increase farmer resilience. 
One initiative in the palm oil sector is the Regenerative Palm Initiative, which takes a holistic approach to farming. The initiative stems from the belief that palm can play a role as a force for positive change in the regeneration of tropical landscapes while uplifting rural farming communities. This initiative is in an infancy stage but offers a future outlook on how palm can be grown in unison with nature and farming communities.

These initiatives are important steps to making the supply of the crude palm (kernel) oil sustainable. Now, how do we make sure that this oil ends up in our derivatives?

Action for Sustainable Derivatives
The palm derivatives supply chain is complex, featuring farmers, plantations, mills, refineries, traders and oleochemical companies all connected to produce the ingredients. To know what practices were used in the field, we need full insight into the logistical trail of a specific ingredient.
With the Action for Sustainable Derivatives (ASD) initiative, a number of companies in the cosmetics industry have joined forces to increase thetransparency and sustainable transformation of the derivatives supply chains. ASD is a collaboration that seeks to accelerate compliance with deforestation-free and responsible derivatives sourcing. 
The program emanated at the end of 2019 from a recognition that individual supply chain dynamics and overlapping comparable approaches have led to significant duplication of efforts in this area. ASD participants, such as Avon, The Body Shop, Chanel and L'Oréal, aim to scale up efforts towards compliance to NDPE principles.
Communicate and Educate
Consumers demand good-quality cosmetics, yet reject palm oil based on the destructive practices they have seen in the media. Therefore, it is important that your consumers learn about the initiatives in play to improve the industry.
Now that you are diving in, tracing your ingredients back to their sources and creating transparency, you will need to start communicating more about what is happening behind the scenes.
Educate your consumers about your palm oil use, why you use it and how you go about it, and do not shy away from critical responses or questions from your consumers. Instead, make your consumer aware that palm oil grown responsibly is the right solution for product quality, performance and sustainability.
L'Oréal offers a good example, with what they are calling "taking palm oil sustainable sourcing one step beyond." A clear explanation about what they are doing can be read on its website. As a result of its continued action, the company has earned a top ranking in WWF's palm oil buyer's scorecard.
Disclosure statement: Monique van Wijnbergen is director of sustaina­bility and corporate communic­ations at Natural Habitats, a supplier of organic and fair-trade palm oil. She is also a spokesperson for Palm Done Right.
About the Palm Oil in Cosmetics Series:
Part 1: Palm Oil in Cosmetics—Its role and impact. 
Part 2: The Future of Palm Oil—What initiatives are in play to make palm oil derivatives in the personal care and cosmetics industry. A lot of work is going on behind the scenes to raise the bar on cosmetics and sustainability. What can consumers do and how can brands educate them to make responsible choices? (Current edition.)
Part 3: Working with/Sourcing Palm Oil—We interview Gay Timmons, a distributor for palm oil in the cosmetics space and talk to brand owners to gain a market perspective on palm oil and the benefits not only of the functionality of products, but the advantages of supply chain transparency, consumer education and brand advocacy.  (Coming soon.)
Subscribe to the entire series at www.gcimagazine.com/newsletter