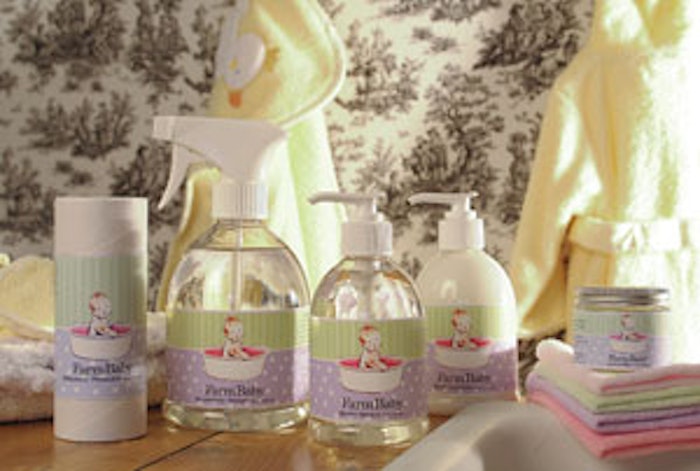 Baby care is one of the fastest-growing sectors of the global cosmetics and toiletries market and will remain so during the next five years, according to Euromonitor International's forecast. The market is expected to expand by nearly $1 billion, reaching $6 billion by 2012. Growth has been fueled by the constant introduction of new brands, product extensions from existing brands and the increasing accessibility of these brands. Notably, the natural niche within this segment has grown as more consumers switch to natural personal care products for both themselves and their babies.
Questions over the safety of a number of cosmetic ingredients took center stage last year—with phthalates, parabens and triclosan all taking their turn in the spotlight. And a widespread and general consumer concern about chemicals in personal care products is pushing both expectant mothers and parents of new-born babies to ante up for personal care products that are free of certain chemicals and synthetic colors, fragrances and dyes. Parents have become particularly concerned about the level of chemicals in baby products—which, combined with environmental issues, are alleged to be factors in the rising rates of baby allergies.
"As a result, we have seen an increase in mothers desiring a healthier, more natural lifestyle for themselves and their families and a lot of newly generated excitement about the increased trend toward products that utilize ingredients found in nature," said Vincent Maupu, product director, Aveeno Baby. "These parents believe that using natural and organic skin care products for little ones is just as important as eating healthy, nutritional foods."
Affordable for Consumers and Buyers
While trends are particularly strong where more affluent parents choose premium priced natural products, parents of varying income are more informed about their children's well-being and tend to choose natural-positioned products from day one. Despite the economy, women have made the purchase of perceived safer products for themselves and their babies a priority. Moms are looking for products that offer functionality—multifunctionality is even better—along with benefits such as ease of use and portability, according to Natalja Millsap, president and owner of Sweetsation Therapy, which is currently working on an organic sun care product for babies.
In addition, she says that peace of mind trumps small monetary savings for many of these consumers. With new brands entering the marketplace all the time, however, consumers may find it is not necessary to sacrifice their pocketbooks to go more natural.
"Consumers choose the best product for the money, and they always should," continued Millsap. "So we try to deliver great product at a reasonable price without sacrificing the quality." Similarly, Sweet Grass Farm launched its FarmBaby line last spring, with the goal to provide affordable, natural baby care to eco-conscious moms. The company is a wholesale supplier that caters to gift shop channels. "Our company strategy has not changed since our founding in 1996," said Debbie Ludington, creator. "We strive to create simple and effective products that are reasonably priced and suitable for everyday use. Ludington notices that buyers in today's economy are switching to the brand because of its order fulfillment policies and the ability to avoid tying up all their inventory dollars. The simple luxuries afforded by baby body care is showing promise, which affects smaller brands such as FarmBaby in a positive way. "Consumers are looking for formulas that are very straightforward and streamlined, allowing them to read the ingredients and immediately get a good understanding of the performance and safety," said Ludington. As a small market player, FarmBaby will continue to focus on pushing wholesale customers to bring in the line. Future products on tap for the brand include a natural sanitizer and a natural/portable wipe system.
Beyond Baby Powder
Growth opportunities for baby care, particularly within the natural category, are not waning. Johnson & Johnson witnessed particularly strong international sales in 2008 in baby care, despite the economy, and is focusing its latest efforts in building up the distribution in order to provide access to the relatively new Aveeno Baby brand to a broader number of consumers. Aveeno did not even enter the baby shampoo segment until 2008, when it launched Aveeno Baby Essential Moisture Shampoo.
Aveeno, too, has stated a commitment to the research and development of new natural-based formulas that will address baby's skin needs more expansively. "There are still many baby skin conditions not currently addressed—such as hypersensitivity and eczema. Moving forward, these are definite areas of opportunity for us," said Maupu.
Pediatrician Natalie Geary, MD, creator of VedaPure, also recognizes the need for products that address overall wellness in children and their parents. The company's first launch was a natural skin care line for babies and children, but it has since expanded to include lines for mothers and fathers—the whole family. "As a pediatrician, my primary focus is children, but it is important to understand that for our children to be healthy, the whole family needs to embrace the ideals of natural health," Geary explained. The concept of overall wellness has led the company to offer nutritional supplements, a remedy for cradle cap made with black walnut hulls and certified organic calendula flowers, an oil for skin infections, and a topical for swelling and bruising.
The Internet and Consumer Loyalty
With greater access to information and a discerning consumer base, complete transparency in labeling and marketing—along with consumer education—is key to commanding consumer loyalty in today's marketplace. But the fact that moms tend to be loyal to the first baby care brands they use is also important. "One of the [marketing] strategies is to propose attractive product offerings to expectant moms in order to introduce them to the breadth of product offerings early in their motherhood," said Aveeno's Maupu.
Another key is to engage and enhance relationships with moms in a way that is relevant to them—and the Internet is an effective tool in this effort. Maupu cites research that shows that 70% of moms today participate in community sites, and 68% of moms rely on word-of-mouth for family-related matters. Indeed, the population of mothers going frequently online is estimated at approximately 32 million, and their Internet usage exceeds traditional media weekly consumption, according to Forrester Research. By liaising with "mommy blogger" communities, brands seek to create a dialogue with consumers, beyond providing functional product benefits, engaging with them on an emotional level so they can better understand this community's needs and concerns. Sweetsation Therapy uses its site (www.sweetsationtherapy.com) as an educational tool, providing consumers with information about ingredients used in the products, where they come from and how they benefit the skin.
"Because people are now able to research products beyond what is advertised, they are looking for products personalized to their interests and lifestyles," said Lyne Appel Downing, vice president of operations, Ecostore, a New Zealand-based brand founded 15 years ago and launched at U.S. Meijer stores in February 2009.
Using the Internet to spread the word about products doesn't hurt either. "We have found our greatest success is through word-of-mouth endorsements," says Downing. "We are fortunate to have customers who are passionate brand ambassadors."
Brands such as Ecostore are fortunate in that many of the emerging trends are the very attributes on which said brands were founded. Yet, consumers are often skeptical of the effectiveness of an eco brand. Goods and services that tie back to an individual's core values—such as the health and wellness of the family—are areas in which consumers continue to spend, regardless of the economy. "Consumers are prioritizing their purchases," explained Downing. "While they are scaling back in some areas, they are continuing to spend on products they are passionate about."