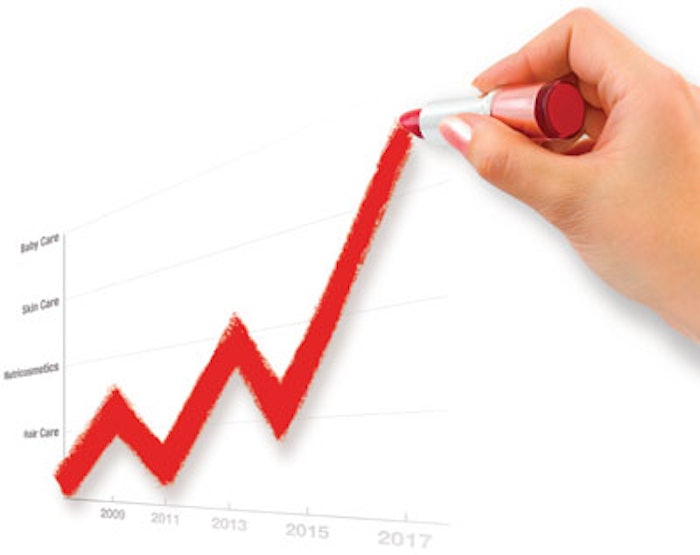 Baby care posted growth of 7% in 2007–2008, up from 5%.
Baby care and skin care are the key product areas that will survive the recession better than other product areas, both with predicted 3% constant value growth for 2008–2013.
Latin American shoppers traded up to more sophisticated bath and shower products, causing a sharp growth rate rise to 14%.
Premium color cosmetics sales were down across all regions, with the notable exception of Latin America's growth of 12%.
BRIC nations are crucial for future growth in the industry, with these nations expected to be the four biggest contributors to absolute growth.
The Chinese personal care market is set to expand by more than $7 billion 2008–2013.
The full force of the global recession was not felt in 2008, but global growth did slow to 5%—down from 6% in 2007. In many countries, media coverage of the economic slowdown only gathered speed during the second half of the year, meaning that consumer spending was largely in line with that of previous years. As the bear market mentality set in among consumers, many beauty product manufacturers posted fourth-quarter results that were far lower than those of the same period the previous year. In 2009, the effects will be far more evident, as growth of only 1% in constant terms is forecast by Euromonitor International.
Deodorants and baby care were the best performers globally in 2008, with growth rates of 8% and 7%, respectively. These two sectors, along with bath and shower, were also the only sectors to outperform their percentage rise of the previous year. Premium cosmetics and toiletries bore the brunt of the impact of decreasing consumer confidence and disposable income and rising unemployment rates. The category's growth rate more than halved from 5% in 2007 to 2% in 2008 as consumers sacrificed luxury brands for mass alternatives.
Emerging Regions Prop Up Global Sales
Few countries have escaped the impact of the global recession, but the 2008 effect was far more pronounced in mature markets such as the U.S. and Japan, both of which posted negative growth of -1% for personal care in 2008. This was partially offset by strong development in numerous frontier regions such as Venezuela (30% growth) and Argentina (29%), but—because the U.S. and Japan are the two single biggest markets for the industry and together account for a quarter of the total global $333 billion—their sluggish results contributed to the global drop in sales. The U.S. and other Western markets were hit by a shift away from premium cosmetics coupled with a rise in private label product sales, as well as by the effects of discounting in premium channels such as Macy's—a measure undertaken to try to entice consumers back.
Baby Care Stays Healthy
The birth rate in 2008 remained almost identical to 2007, yet value sales of baby care products rose significantly. The sector posted growth of 7% 2007–2008, compared to 5% 2006–2007, according to Euromonitor International. This growth can be attributed to the fact that babies are often not the end consumers of these products, particularly baby skin care, with many products bought by adults for their own use. As the global recession set in, female consumers, in particular, traded down from costly eye makeup removers to lower-priced baby oil, often touted by beauty publications as an effective and less expensive alternative, and from standard body lotions to baby lotion. This was evident from a drop in general purpose body care and a rise in baby skin care.
Premium baby care bucked the general trend away from the premium segment, leaping from 7% in 2007 to 11% in 2008, as the boom in natural baby care products drove value sales. Organic baby food has seen a similar immunity to the credit crunch in many countries, as parents refuse to cut corners when it comes to their babies' health.
Bath and Shower Kept Afloat by Latin America
According to Euromonitor International, Latin American shoppers traded up to more sophisticated bath and shower products, and this caused a sharp growth rate rise to 14% 2007–2008—double the 2006–2007 increase. Shower gel is still experiencing strong growth in Latin America because the category remains very small. Penetration is limited to middle-high and high-income households, and even among these, many still use bar soap. The tendency to shower more often and purchase soap with more value-added features, such as moisturizing or antibacterial properties, are the two principle factors that buoyed sales of bar soap.
However, in more mature markets such as North America where the majority of consumers made the transition some years ago, value sales dipped as bath and shower product manufacturers discounted heavily, and price-sensitive consumers simply opted for whichever brand happened to be on special offer or for private label alternatives.
Trading Up in Deodorants Sparks Global Growth
Convenience was crucial in deodorants maintaining strong growth in 2008. In most regions, sales of deodorant sprays increased to produce a global rise of 9%, up 2% from 2007. This was largely at the expense of other formats—sticks and pumps either stagnated or declined.
Because deodorant sprays are typically more expensive and run out quicker than other formats, this generated the higher value sales seen in the sector overall. Latin America was, by far, the biggest contributor in this segment. At 17%, growth here was nearly two-thirds larger than the 2007 rate, fuelled by the widespread consumer transition from cheaper deodorant pumps to sprays. The Natura brand has had a major impact on driving sales of deodorant brands in Latin America because of its higher prices, due to its natural positioning.
Hair Care Hit by Discounting
Thanks to the perception of hair care as an essential rather than luxury product, hair care's growth rate dipped by only 1% in 2008, against 2007's numbers. As in bath and shower, there was widespread discounting in mature markets, and North America actually recorded a decline of 2% as consumers traded down from premium-priced salon hair care products to less expensive brands and private label, a trend that was mirrored at a global level, and salon products was the only category to record a decline in 2008. Sales in the majority of the emerging regions were more promising. The performance of hair care in Asia and Eastern Europe was virtually identical to that of 2007, as penetration of more expensive segmented product types, such as antidandruff shampoo, continued to increase. In China, for example, the share of Head & Shoulders was up from 2007.
Antiagers Defy Trading Down Trend in Skin Care
Although widely regarded as one of the areas of cosmetics and toiletries considered as essential, and therefore more likely to be better able to weather a recession, the skin care sector still took a knock in 2008; its global rate of increase dropped to less than 6%. Consumers clearly prioritize age-prevention above all else, as nourishers/antiagers was the only skin care category not to be hit at global level. Asia was the primary regional demonstration of this prioritization, though consumers there traded down to mass brands such as Olay. In North America, premium skin care products, with the exception of nourishers/antiagers, posted a decline.
Lipstick Theory Falls Slightly Flat
A 2% slowdown in growth of color cosmetics globally, hitting 4% in 2008, indicated that the long-heralded "lipstick effect" theory—which holds that sales of color cosmetics go up during times of economic duress as consumers who cannot afford big-ticket luxuries console themselves with little treats such as lipsticks—is not as applicable in the current recession as in previous ones. On the whole, emerging markets maintained their 2007 color cosmetics expansion rates far better than developed regions—with North America, Western Europe and Asia all showing a drop. As these regions were hit by the recession earlier than the emerging markets, it is evident that sales of color cosmetics are far more closely linked to economic performance than the beauty industry had hoped. For example, Asia was impacted particularly hard due to its high dependency on manufacturing exports to Western countries High-end brands were also hit much harder than their mass counterparts. Premium color cosmetics sales were down across all regions compared to 2007—with the notable exception of Latin America, which bettered its previous results by a third to achieve growth of 12%. The global economic crisis affected consumption in many Latin American countries later than other more developed markets, and countries that have been experiencing fairly strong growth in recent years—such as Chile, Colombia and Peru—have yet to be as strongly impacted as the rest of the globe, although fourth quarter sales in these countries did dip.
BRICs Are Key for Growth
As North America is set to decline in the coming five years, the BRIC nations (Brazil, India, China and Russia) are going to be crucial for future growth in the industry—with these nations expected to be the four biggest contributors to absolute growth, according to Euromonitor International. The Chinese personal care market alone is set to expand by more than $7 billion 2008–2013, and the continued migration of the population from rural areas to large cities as well as the adoption of Western attitudes to beauty will be important for generating this growth. Baby care and skin care are the key product areas that will survive the recession better than other product areas, both with predicted 3% constant value growth 2008–2013. Consumers remain very unwilling to make sacrifices when it comes to their children, and the threat of an uncertain, youth-focused job market will perpetuate the boom in antiagers.
Carrie Lennard is a research analyst at Euromonitor International.