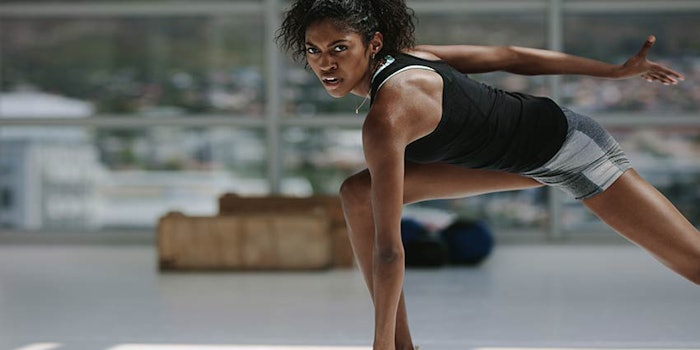 About 33% of surveyed consumers claim social media has made them more self-conscious about their appearance, with almost equal concern displayed among both men and women, said Lia Neophytou, associate analyst at GlobalData, during a presentation at in-cosmetics Global in Amsterdam. Simultaneously, 56% of consumers reported equating a beautiful appearance with health.
These, among other factors, have led to increased interest in all elements of wellness, from exercise to cosmetic products that help people look their best in the physical and virtual realms.
But what are these consumers specifically looking for in athleisure products?
1. Exercise-ready Solutions
Approximately 90% of consumers consider healthy eating to be important for creating a feeling of wellbeing or wellness. Neophytou noted that 69% of surveyed consumers exercise once a week or more, and that 81% consider working out to be important for a feeling of wellbeing.
53% of survey respondents sought a beauty product for a no makeup or natural look.
Among surveyed millennials, 72% reported exercising at least once a week, with 81% expressing interest in beauty and grooming products that are targeted to fitness occasions.
Neophytou added that 45% of Gen X respondents and 38% of surveyed baby boomers are also interested in fitness grooming products, offering a broader spectrum of consumers.
2. Products that Enhance—Not Mask—Natural Beauty
According to Neophytou 53% of survey respondents sought a beauty product for a no makeup or natural look. This necessitates products that allow consumers to apply less of a mask and more of an enhancement for their features.
This naturally supports lightweight makeup formulations, including Tarte Brighter Days and Clinique Fit's range of athleisure products.
3. Multifunctionality on the Go
According to GlobalData's survey, 58% of respondents want pollution defense in their beauty products, and 55% are concerned about sun exposure on health. In addition, 62% of consumers who exercise once a week or more are worried about dry/flaky skin, while 53% worry about excessive body odor and sweat. 
GlobalData's survey also found that 66% of respondents are more likely to purchase products developed for their lifestyle, including those optimized for physical activity and portability.
High-functioning althleisure brands include SportFX's sweat-proof Cool Down Primer and Recovery Gel and Nip+Man's Power Workout Fix Warming Post-Workout Serum, which "helps de-stress the body and soothe tired muscles after work," according to the brand. The serum is formulated with vanillyl to warm aching muscles, as well as ginger oil "for reviving and refreshing benefits."
Brands are also challenged by active consumers to offer products with long-lasting wear, including Sport FX and the forthcoming Mac x Puma collaboration.
Other examples exemplifying these trends include Yuni's complete range of yogi-inspired beauty and personal care, the Supergoop! Barre to Bar Beauty Set, a "set of bestselling beauty basics for girls on the go—in gym bag-friendly sizes" comprising a Defense Refresh Setting Mist SPF 50, City Sunscreen Serum SPF 30, Daily Correct CC Cream SPF 35 in Light/Medium and Perk-Up Lip + Cheek Treat SPF 50.
New Athleisure Trends on the Horizon
Neophytou concluded by discussing a range of emerging trends that will shape the athleisure beauty sector in coming years, including:
Climate-specific products designed to address seasonal/regional variables.
Tech-enhanced brands and experiences, such as tracking UV exposure and hydration with wearables of scanning diagnostics.
Subscription services that offer a customizable and convenient experience for consumers.
Sports nutrition and beauty crossovers, including Protein Water's Skin Maintenance range, formulated withy Peptan hydrolyzed collagen, hyaluronic acid, and vitamins B3, B6 and B7.