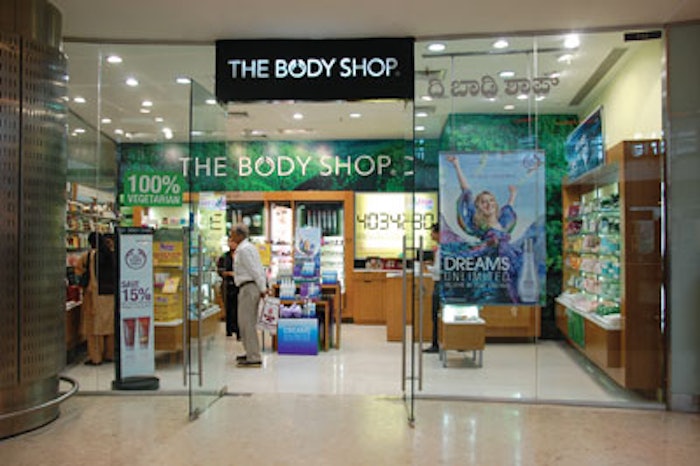 The iconic British skin care brand and retailer The Body Shop has set its sights on India with a fresh approach, helping it get closer to the country's consumers and leverage its brand recall in the market. India is a key market for The Body Shop, in terms of growth potential and size. Due to India's connection with natural beauty products, it has relevance even at a brand level for The Body Shop. The company's ranges—it has more than 1,200 products available there—have been doing extremely well in India, and that is why the company is targeting the country for a 10-times growth rate in the next five years. By 2015, The Body Shop plans to touch the lives of 15 million people in India.
Talking about the connection Indian buyers have with The Body Shop, The Body Shop International CEO Sophie Gasperment says, "The brand awareness is very high here. It genuinely resonates with the consumers here, and we found the fit spontaneously. This is because we are nature inspired, and use natural and organic ingredients as much as possible. Our community trade initiatives have also helped build the brand across the globe and give back to the marginalized communities. People here know that The Body Shop stands for a certain value and is an ethical brand. They appreciate the fact that our products are 100% vegetarian."
In fact, The Body Shop India is an extremely fast-growing venture, registering 30–40% growth every year. According to the company, in The Body Shop's Asia-Pacific awards in 2010, The Body Shop India New Delhi Select City Mall won "Best Performing Individual Store" and The Body Shop India won "Best Performing Market."
To be more aggressive in the market, where a new foreign brand enters every other week, The Body Shop has lowered its prices by as much as 35%, and Gasperment stresses this price adjustment has had a very positive impact for the company, resulting in increases in volume sales. It's caused price-conscious Indian consumers to find a further connection with the brand. "We have continued to communicate the lower-pricing message very aggressively across all our stores, which has been a success for us. We feel that this has been the right decision to continue the expansion of [The Body Shop] in India. We want to make [The Body Shop] the most accessible foreign brand to Indian consumers," Gasperment explains.
That is why Gasperment and her Indian team are focusing in a big way on extending and expanding the brand's reach across the country, as well as on establishing a footprint to India's second and third tier cities. The company already has more than 50 stores in the country, and Gasperment plans to add 100 new locations in the next two years. "We want to be the one-stop beauty shop for the Indian consumers. We have found a great connection with the young consumers," she says, and, in fact, the company reports its expansion is, in addition to touching consumers, is also having a positive impact on the employment rate in the country.
Since its entry into India in 2006, The Body Shop has consistently won awards for its products in the Indian market, as well as for its market performance there. While its skin care products—and its body butters in particular—are highly regarded in terms of delivering results, the company was initially not as successful with its makeup products. To counteract this, The Body Shop's Indian team created a strategy that brought its makeup products to the fore. First, it began defining seasonal makeup trends with limited-edition SKUs in order to help create a look. "The products and colors selected were such that they would pull in the consumers for color cosmetics," explains Gasperment. The company also distinctly highlighted the natural ingredient elements of its color cosmetics, and it was one of the first brands to make skin-beneficial mineral makeup available. "Today, our mineral makeup foundation powder is very popular. It is well-accepted because of the sheer texture and almost natural finish that most women like here," Gasperment says.
In addition, the company also worked on highlighting makeup favorites. Once The Body Shop's India team grasped how much Indian women love to highlight their eyes, it created special eye makeup islands within the stores where walk-in consumers were introduced to hero products and taught application tips. "Here, we showcased eye makeup products and refreshed the theme. This pulled in a young crowd that is more experimental and wants to try new colors and makeup," says Shriti Malhotra, general manager, The Body Shop India.
In the next growth phase, The Body Shop is looking to strengthen its product branding in India and live up to and fulfill its ethical goals and involvement in community service with a hands-on approach when dealing with Indian social causes. "We support global causes and, with local institutions and non-governmental agencies (NGOs), actively seek to make an impact in the lives of the underprivileged. Our community service work is so serious that The Body Shop has a separate division to deal with the causes it espouses. One of the biggest campaigns is Stop Sex Trafficking of Children & Young People. This has been one of the company's most powerful campaigns to date. In the last year, it has already raised not just awareness but has also worked with local NGOs to support the affected group, and it has been able to already get four million petitions for this cause. In India alone, it has sold 10,000 units of the [associated] hand cream, and the profits are channeled to fight the cause," says Gasperment. In addition, the company is also looking at ways to stay eco-conscious. It is now developing products using organically grown ingredients, as well as without sulfates, parabens, colorants or silicones. It has also further improved its packaging to help save the environment, and all its PET bottles are from 100% recycled materials.
Dabur India Eyes Ethnic Hair Care Market in the U.S.
With the acquisition of the African hair care company Namasté Laboratories LLC and its three subsidiary companies—Hair Rejuvenation & Revitalization Nigeria Limited; Healing Hair Laboratories International, LLC; and Urban Laboratories International, LLC—Dabur India is looking to tap into the rising demand for quality hair care products for ethnic hair types in the U.S. market. This $100 million, all-cash deal brokered by Dabur India Ltd.'s wholly owned subsidiary Dermoviva Skin Essentials Inc. marks Dabur's entry into the fast-growing ethnic hair care products market in the U.S., Europe and Africa. According to the chairman of Dabur, The Namasté Group has a complementary product mix that can be easily integrated with Dabur and will also serve as a gateway to the U.S. market for its portfolio of consumer products.
Namasté Laboratories, Hair Rejuvenation & Revitalization, Healing Hair Laboratories and Urban Laboratories have subsequently become step-down subsidiaries of Dabur, and the company plans to consolidate its position in the global personal care market while also strengthening its position in the African market. Gary Gardner, founder and CEO of Namasté, along with an experienced management team, will continue to run the business as a wholly owned subsidiary of Dermoviva Skin Essentials Inc., and The Namasté Group feels this takeover will help Namasté to improve its own brand recall and global footprint.
L'Oréal Professionnel Bets Big with INOA in India
When L'Oréal entered India 15 years ago with its hair colors, the market was new and hair coloring typically meant henna packs. Since then, there has been a revolutionary change in the way women and men in the country dye their hair, and more and more consumers are open to trying both new hair colors as well as variants of colorants. With that knowledge, and because the company has been logging in double-digit growth in its hair color business, L'Oréal Professionnel found bringing its ammonia-free, permanent hair-coloring solution INOA, an R&D breakthrough that uses an oil delivery system to deposit color on the hair shafts without smelling like sulfur, to be an excellent fit. According to L'Oréal Professionnel's India director Philip Giles, this is the first color proven to maintain hair's condition at a level comparable to natural hair, even after multiple applications.
Despite the popularity of hair color, the consumers in India are particularly wary of chemical damage, and women especially do not like the hair breakage often associated with permanent hair color. According to Giles, with the oil delivery system, INOA products can assist in leaving the scalp and hair soft and manageable. And Giles further points out that because oil has a very positive connotation in the Indian context, it makes it easier for the company to push the INOA product in the markets. Although some might find the pricing of the hair color system to be at a premium, Giles feels Indian consumers today have become world travelers, and are aware of brands and products much more than earlier generations were. Equipped with this knowledge, they do not mind spending a few extra rupees if the results are fresh and innovative.
Priyanka Bhattacharya is a writer and journalist covering the beauty, health and wellness industries in India. She is the contributing beauty features writer for several leading Indian women's magazines.