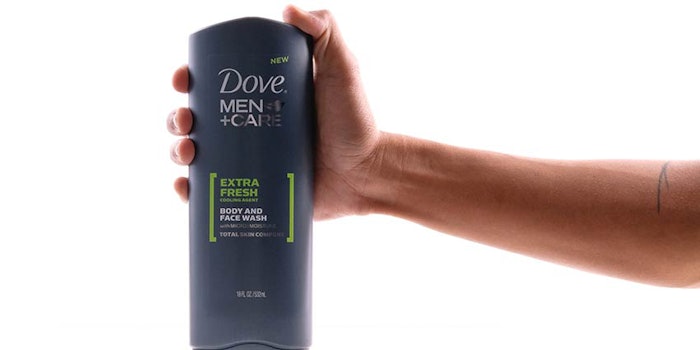 Unilever's Dove Men + Care is the only brand to land to rank as "most loved" both online and offline, based on data collected in Engagement Labs' TotalSocial list.
For the 2019 analysis of more than 600 U.S. consumer brands across a spectrum of industry sectors and categories, Engagement Labs ranked the most loved brands based on net positive conversations happening online (via social media) and offline (via face-to-face conversations) based on its annual TotalSocial Brand Awards series.
Many of the brands on both the online and offline lists are in the beauty category. Aveeno and Olay are among the most positively talked about brands offline, while seven of the 10 top online brands are in the beauty category, including Avon, Mary Kay and Garnier Fructis.
Despite the general strength of beauty brands, several fell off the lists entirely. L'Oréal dropped off the "most loved" offline list, from number eight in 2018 to 34 in 2019; in terms of the "most loved" online list, Estée Lauder fell from eight to 46, and Neutrogena fell from nine to 73.
Most loved brands offline
Nintendo Switch
Gain
Disney World
Lego
Fisher-Price
Aveeno
Marvel
Dove Men + Care
Costco
Most loved brands online
American Family Insurance
Great Value (Walmart brand)
Dove Men + Care
Clean & Clear
Kirkland's
Marketers desire to foster a brand evangelist movement and a community of active brand advocates, because positive consumer conversations about brands can accelerate and grow business. According to Engagement Labs data and analytics 19 percent of all consumer purchases are driven by these kinds of consumer conversations.
"The eclectic mix of brands on our 'most loved' brands list show that brands in any category can earn positive recommendations from consumers," Engagement Labs CEO Ed Keller said. "We also see the potential for brands to improve, dramatically, as Nintendo, Gain and CoverGirl did last year."
Keller continued, "The beauty category has worked hard to engage online influencers, and it shows in the positive discussions these brands receive. It's a lesson for other categories, as well, that they can benefit from proactive social media campaigns."