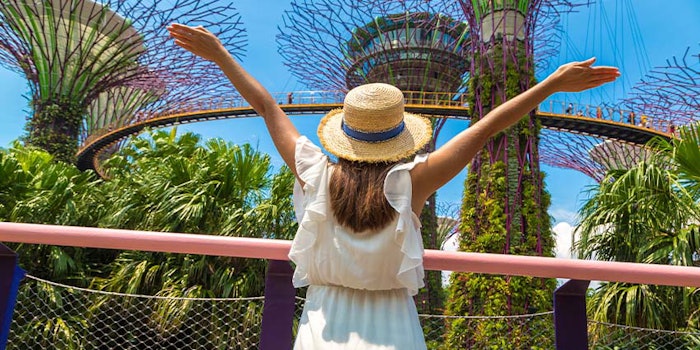 A survey done in September 2020 by the Daily Vanity Beauty Consumer shows the most common opinions of Singapore consumers when purchasing beauty products. The results offer insights into consumer mindsets in Asia and beyond.
Related: How COVID-19 Impacted the French Cosmetics Sector
Daily Vanity Beauty Consumer Survey is an annual study that looks into the behavior of beauty consumers in Singapore, and this is the sixth year it has been conducted; 2,303 respondents took part in this survey. 
According to the survey, Singapore consumers are more likely to purchase beauty products with the following labels (percentages throughout relate to portion offering an affirmative answer):
Dermatologist-tested 71.66%
Paraben-free 58.42%
Tested on sensitive skin 57.88%
Cruelty-free/no animal testing 54.08%
Hypoallergenic 54.08%
Vitamin C 44.09%
Natural 39.7%
Fragrance-free 36.49%
Silicone-free 36.08%
Sulfate-free 34.57%
Other key words tested included retinol 25.23%, niacinamide 23.63%, cica 15.98%, blue light protection 13.51% and vegan 8.93%. 
"Consumers are still largely 'defensive' when it comes to reading labels, preferring to go for products that are perceived to be trusted by professionals or are unlikely to have a negative impact on their skin," said Kristen Juliet Soh, co-founder and COO of Daily Vanity.
When asked about natural skin care's effectiveness, 35.53% believe natural skin care products are more effective than non-natural while 42.86% say natural skin care is the same or less effective than non-natural skin care. 
Another tested segment is influencer's trustworthiness. In the 12-17-year-old-age group, 72.73% trusted influencers and 60% of 18-24-year-olds trusted influencers. While the 25-34-year-old group had 53.22% not trusting influencers, 62.82% of the 35-44 year-old group did not trust influencers. Unsurprisingly, 76.79% of 45-54 year-old did not trust influencers.
Related: Top 10 Cosmetic Brands Of August 2020
Facial cleaning devices have increased in popularity in Singapore, from 15.91% in 2019 to 25.5% in 2020. Those not using one, 22.12%, have considered buying one. 
Other devices, like LED devices, have increased as well from 3.27% to 6.78%; 16.36% having an intention to purchase one. 
The survey concluded with top product brands and places to buy the products. Below are the results. 
Top five places consumers in Singapore buy skin care: 
Watsons 53.07%
Sephora 49.4%
Guardian 43.73%
Shopee 30.22%
Sephora online 29.49%
Top five places consumers in Singapore buy makeup:
Sephora 64.84%
Watsons 46.98%
Sephora online 35.4%
Guardian 34.2%
Shopee 23.72%
Top five places consumers in Singapore buy hair care:
Watsons 50.32%
Guardian 36.86%
NTUC Fairprice 20.97%
Venus Beauty 18.77%
Sephora 17.03%
Top 10 trusted skin care brands:
Innisfree 45.42%
Laneige 41.99%
Cetaphil 37.96%
Kiehl's 37.55%
Clinique 33.61%
Biore 33.24%
The Body Shop 32.28%
Fresh 31.64%
SK-II 31.5%
Bioderma 30.86%
Top 10 trusted hair care brands:
Dove 20.47%
L'Oreal Paris 18.96%
L'Oreal Professional 16.12%
Head & Shoulders 15.2%
Herbal Essences 14.88%
Aesop 14.84%
The Body Shop 14.7%
Innisfree 13%
Shiseido Professional 12.64%
Liese 12.55%
Top 10 makeup brands:
Benefit Cosmetics 36.36%
MAC Cosmetics 36.22%
Innisfree 35.67%
Fenty Beauty 34.94%
Maybelline 34.43%
Bobbi Brown 32.51%
Urban Decay 32.46%
Etude 31.68%
Laneige 31.41%
Dior 30.59%