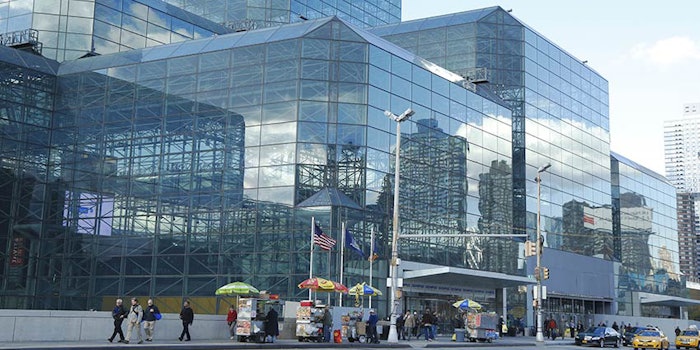 in-cosmetics North America provided a view of new ingredient and demo formulation trends, as well as industry education. During the event, Campo Research highlighted its natural colorants, which are derived from Indian medicinal herbs and come in water- and oil-soluble formats, as well as powders.
1. Product Development in a Fast-beauty World
"Faster Beauty: Decoding Product Development for Marketers and R&D," an intensive education seminar hosted by Global Cosmetic Industry editor in chief Jeb Gleason-Allured and Cosmetics & Toiletries managing editor Rachel Grabenhofer, addressed the confluence of speed to market challenges, product development pitfalls and supplier resources.

The sessions were led by Karen Young (founder, The Young Group), Cherie Buziak (CEO and owner, BeautyEdge LLC) and Mark Chandler (president, ACT Solutions Corp.), who discussed the need for teams to communicate across disciplines to ensure that packaging, ingredients and formulations, and product and brand goals remain aligned throughout the product development process.
They also warned upstart companies to be aware that they don't automatically own their formulas and that such details must be worked out with contract manufacturers or other external innovation partners early on to ensure that the brand has core IP that will later be attractive to investors and/or potential strategic buyers.

Buziak discussed how brands can leverage supplier demo formulas to speed up or inspire innovation, as well as the need to harmonize the vocabularies of R&D and marketing so that communication remains clear
Chandler outlined formulation considerations such as packaging selection, texture, ingredients and more, noting the various ways in which products can veer away from brand missions without clear guidelines.
In addition, Young underscored the value of a well-articulated product brief: without one, teams build in the dark and lose sight of the core brand mission.
2. Jojoba + Tapioca Sensory Effects
Jojoba Desert displayed the sensory effects of its JD Jojoba Silk-Like Powder, a combination of the company's jojoba oil and tapioca starch that creates a non-GMO talc alternative that is compatible with oils, colors, water, emulsifiers and surfactants.
The result is a granular texture that adheres to the skin upon application, offering a soft, velvety feel—without a "dusting" effect. Designed for skin care, color cosmetics and baby products, the powder is natural, vegan and gluten-free, while improving water swelling.
Jojoba Desert's range of demo applications paired its jojoba oils, butters and base creams with the powder to create unique textures. Formulations included a silky body powder, moisturizing lip balm, soothing protective cream and blush.
3. A New Model for Supplier-brand Partnerships
The indie beauty explosion of recent years has upended long-standing beauty industry business models, and ingredient suppliers are not exempt. In August 2018, Lubrizol Skin Essentials made its first-ever equity investment in a beauty brand, the newly-launched One Ocean Beauty. Founded by Marcella Cacci, One Ocean Beauty is a beauty and wellness collection focused on developing clean, clinically-proven and sustainably produced products.
The sustainably produced products contain marine microorganisms and single cells with anti-aging properties sourced from marine environments, which made it the perfect partner for Lubrizol.
During in-cosmetics North America, Global Cosmetic Industry spoke with Patrick Bentley, North American sales manager for Lubrizol's Skin Essentials active ingredients, and Brandon Ford, chief accelerator director for Lubrizol Skin Essentials, about this unique partnership.
Ford and Bentley noted that Lubrizol is working to "make the pie bigger" in its market by supporting unique upstart brands through financing and production support. Ford added that this puts more tools in the value-creation toolbox, creating new competencies beyond ingredient innovation.
By helping promising startup/indie customers get to market faster by leveraging Lubrizol's technology and the nimbleness of a small company, both organizations stand to grow market share. At the same time, investments in startups allows Lubrizol to build a portfolio of brands embedded with the company's technology that can be grown and later sold off to strategic buyers or investors.
4. Get Your Face in Shape
Facial yoga is all the craze, particularly as new evidence on its non-invasive anti-aging efficacy has surfaced. Now, Lipotec has introduced its Gesturecare concept, a suite of ingredient innovations positioned around facial exercises.
For forehead and eye wrinkle exercises to reduce horizontal lines and recover elasticity, Lipotec has suggested pairing solutions comprising its alternative to botulinum toxin, the Argireline peptide, which targets the expression wrinkle-formation mechanism in a non-toxic, needle-free way. Results are reportedly visible within one week, reducing the appearance of deep lines and wrinkles on the forehead and around the eyes.
For exercises to reduce the drooping of eyelids and appearance of eye bags/puffiness, the supplier suggests the application of formulations comprising its Eyeseryl peptide, which it says helps minimize tissue deterioration, fluid buildup and excess fat under the eyes, as well as the appearance of dark circles.
For lip rejuvenation exercises, Lipotec suggests the application of Seacode, a marine ingredient that addresses facial wrinkles by boosting type I collagen. Results are reportedly visible in one week, minimizing the appearance of lipstick lines.
For exercises designed to address cheek lines and sagging skin in the cheek and chin areas, the supplier suggests the application of formulations comprising its Uplevity peptide, which offers a lifting and reshaping effect for the face contour by boosting the assembly of elastin and increasing the gene expression of several types of collagen, proteins such as talin and zyxin, and integrins.
Lipotec recommends its shiitake mushroom-based extract, Actifcol, for exercises designed to tone and lift the neck area to minimize the appearance of loose skin and wrinkles. Actifcol reportedly has potential activity in increasing type I collagen and PLOD1, the protein-coding gene, while also reducing carbamylation of proteins.
5. Award-winning Company Acquired
The in-cosmetics North America awards ceremony honored Sandream Impact in the Makeup Bar showcase category for its hydrating, plumping and brightening facial mist, designed to refresh and revive skin. The cool and soothing formula was formulated with raspberry ketone glucoside and sodium hyaluronate, for whitening/brightening and anti-aging properties.
The event coincided with Sandream Impact's announcement that it had been acquired by Aakash Chemicals & Dye-Stuffs, a portfolio company of CenterOakPartners. The terms of the purchase were not disclosed. The move gives Aakash a foothold in beauty and personal care via Sandream Impact's expertise in pearlescent pigments, nutraceuticals and cosmetic actives.
6. Awards Buzz
A much-anticipated moment during in-cosmetics North America was the awards ceremony for concepts entered in the Sensory Bar and Makeup Bar showcases, as well as the Innovation Zone ingredients and Formulation Challenge.
Taking the Innovation Zone gold was Mibelle Biochemistry, for its MossCellTec No. 1 (INCI: Phytol (and) Isomalt (and) Water (aqua)). Designed to maintain cell nucleus health, the ingredient can strengthen skin against urban aggressors and climatic changes. It also has been shown to enable skin to adapt to environmental changes and improve skin moisture, even in stressful conditions.
The silver went to Sensient Cosmetic Technologies for its Natpure Fibers, a new range of natural fibers developed for natural skin care formulations. Extracted from sunflower seeds and hemp shives (depending on the grade), the fibers are designed to impart a high soft focus effect to redefine the appearance of skin by hiding small color and texture imperfections.
Taking the bronze, LipoTrue was highlighted for its Munapsys ingredient, which is reportedly the first anti-aging active able to act on both pre- and post-synaptic pathways to impart Botox-like anti-wrinkle benefits.
At the Sensory Bar, Sumitomo Seika won for its Aqupec ingredient entry in the Sensory Bar showcase. This cross-linked acrylic water-soluble resin reportedly shows excellent thickening effects even at low concentrations by neutralizing with adequate alkalis. Unlike other soluble resins, the solution is said to have a thixotropic character.
The product was demonstrated in a sample anti-wrinkle gel-cream, which exhibited a smooth texture and light feel, but also high moisture-retention abilities. It also was shown in an organic UV filter sunscreen formula with a smooth texture and light feel, plus an SPF 20 and PA++ estimated rating.
Finally, formulators from Colgate-Palmolive, Estée Lauder, Unilever, Shiseido, Swiss American CDMO and Johnson & Johnson competed against the clock and each other in the Formulating Challenge held in the Formulation Lab. Results were judged by Mintel and the Institute of Personal Care Science.
The teams were given a mystery box of ingredients and had 90 minutes to create a winning and marketable formula. The runner-up, for the third consecutive time, was Unilever, and the big winner was Shiseido. It was a hard-won victory that drew great interest from attendees and exhibitors alike.
7. Ingredient Innovations
Grant Industries presented a range of its innovations from its catalog, which includes powders such as Granpowder EDC-600 and Granpowder QSC; phenyl-modified Granresin PHQ-Fluid for long wear/shine balance; skin-feel enhancer Gransil SBG-11; Gransil Blur-X60, a soft focus powder that reportedly provides instant wrinkle blurring effects on the skin; and Gransome Heptapeptide-7, which is claimed to combat the visible signs of crepey skin.
To read more about the company's Granactive Retinoid, click here. To learn more about its GranRepair PowerBond, click here for a brief video.
8. A Botox Alternative
Lipotrue highlighted its recent innovations, including Munapsys, a botulinum toxin-like pre- and post-synaptic peptide that reportedly has strong activity against wrinkles. The material reportedly works at even low doses, representing a true beauty filter.
9. Super-light, Quick-breaking Effects for Naturals/Organics
Shin-Etsu's X-22-6695B is an emulsifying silicone cross-polymer gel swelled in jojoba fluid that allows formulators to use up to 90% water for super light, fresh, water-breaking/quick-breaking formulations. The material, appropriate for skin care, sun care and makeup, can be used as a thickening agent for organic and natural ingredients. 
The company demoed the ingredient in a nourishing night cream made a quick-breaking, soothing and nourishing night cream with a nearly 80% water phase. The technology also figured into a perfecting matte primer, a weightless formulation enhanced by Shin-Etsu's KSP hybrid silicone powders, which offer a cushiony, soft after-feel and soft focus effect.
X-22-6695B was included in an intensive whipped hand butter demo which was designed to "melt away" dry skin with its load of 18% shea butter. The result was nourishing without being heavy.
A hydro air perfecting balm for the face represented a semi solid emulsion with jojoba esters as a structuring agent, while an illuminating pearlescent-based moisturizer for the face and body, dubbed the Highlighting Shimmer Mousse, transformed from a creamy texture to a powder for a dry, silky after-feel. The anhydrous formulation could create buildable coverage, according to the company.
Finally, a Luster Lip formulation comprised roughly 30% water and 70% glycerin for a cooling sensation and high shine effect that also reportedly prevents bleeding of lip color.
10. Anti-frizz, Anti-screen Light
Gattefossé presented a range of its innovations, including the recently launched Definicire hair care ingredient, which leverages lipochemistry to mimic the beneficial conditioning and protective properties of hair sebum—without the unpleasant greasiness.
The ingredient is powered by esters found in the hull of sunflower and jojoba seeds, which are reacted with polyglycerol to improve spreading on the hair surface to maximize hydrophobicity, resistance to humidity and frizz, and boost manageability and smoothness. 
The company also highlighted its EnergiNius (INCI: Fructose (and) Glycerin (and) Water (and) Withania Somnifera Root Extract) ingredient, which defends the skin from artificial screen light, which includes blue, red and green facets.
Applications of the ingredient in formulations can reportedly boost cellular energy and dynamism, protect skin cells from screen-emitted light and restore skin vitality. The material is COSMOS-certified and recommended for use at levels of 1% in daily protective creams, night treatments, color cosmetics and energizing care.
11. Combatting Environmental Stress
MMP, Inc. presented its range of materials, including Phytosterol MM, comprising vegetal sterols that provide skin cell membrane maintenance and hydration; Green Tea EG45, a potent antioxidant rich in Camellia sinensis polyphenols and EGCG; and Cell'ential EF, a mild lipophilic AHA that stimulates cell renewal and smooths the appearance of the skin.
12. Natural Actives
Natura-Tec presented natural active ingredients including Marine RevitaLys HP, produced via marine biotechnology to stimulate cell revitalization and inhibit the synthesis of p53 protein, which contributes to the appearance of aging.
The company also offers Marine CellShield AP, which is rich in EPA and DHA and reduces mitochondrial stress by increasing cell metabolism to improve skin tone evenness and reduce the appearance of dark spots.
13. Beautiful Empowerment
DSM highlighted a number of empowerment-themed formulations for the hair and skin during in-cosmetics North America, including Hawaii-compliant sunscreen concept formulas that fulfilled the state's new regulations, banned the sale of products containing oxybenzone and octylmethoxycinnamate. Concept formulas included an all-mineral stick that rubbed on clear on multiple skin tones.
The company also offered a jelly formulation with a "memory form" texture that included its Bel-even, a patented synthetic molecule that addresses the damaging effects of stress on the skin. The in-vitro ingredient reversibly and selectively inhibits the key enzyme 11β-HSD1, which generates cortisol in the skin, a process associated with aging, and is designed to improve skin elasticity, density and hydration.
The company's natural cleansing mousse formulation offered a cloudlike texture and comprised the moisturizing material Pentavitin, which is designed for daily use to provide hydration to all facial areas. DSM claims excessively dry skin areas are already better hydrated three hours after a single application of the material.