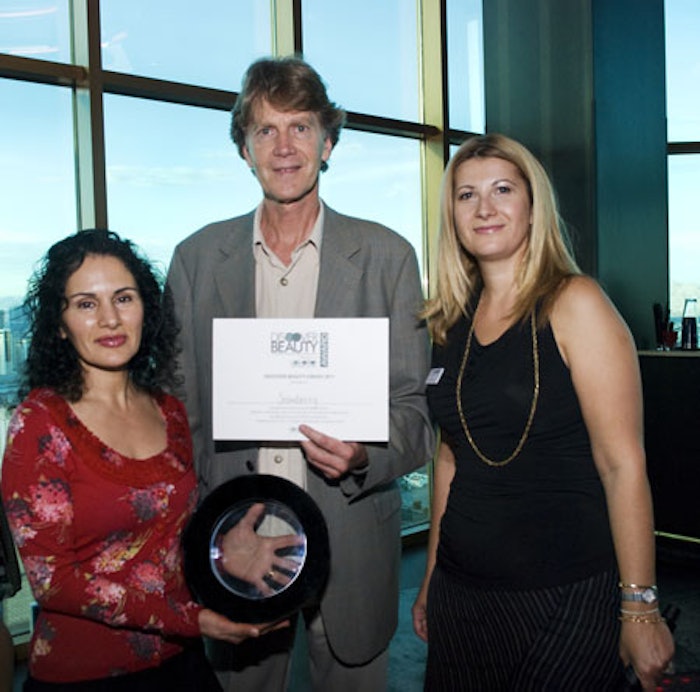 Cosmoprof North America 2011, held at Mandalay Bay Convention Center July 31– August 2, put more than 760 exhibiting companies face to face with almost 25,000 attendees that included importers, distributors and brand owners.
Seventeen brands participated in the 2011 Discover Beauty program, a Cosmoprof North America exclusive designed to assist emerging brands find the proper market while highlighting the newest trends. The one-on-one meetings between retailers such as Bergdorf Goodman, C.O. Bigelow, Cosbar, Duane Reade, Henri Bendel, HSN, Nordstrom, Skins 6|2 and Zappos aimed to give Discover Beauty brands critiques and feedback. The Discover Beauty Award went to New Zealand brand Snowberry. Judged on creativity, innovation and market readiness (with voting done by specialty retailers Bergdorf Goodman, C.O. Bigelow, Henri Bendel and HSN as well as various beauty bloggers), the winner is a natural anti-aging skin care brand featuring peptides, antioxidants, super fruits and herbal oils—including extracts from New Zealand rain forest plants cultivated on Snowberry's plantation.
International Presence
Through close-knit collaborations with countries seeking to expand their beauty trade presence, Cosmoprof North America dedicated special sections on the show floor to distinct International Country Pavilions, allowing small- and medium-sized companies from select markets to participate in the event with the objective of obtaining direct "face time" with distributors and retailers to secure U.S. distribution. Featured countries at the 2011 show included Argentina, Brazil, China, Italy, South Korea and Taiwan.
The International Buyer Program, a Cosmoprof North America exclusive and sponsored by UNIPRO, was created to unite buyers and sellers around the world with the resources, contacts and data to build business partnerships. Returning to the show for the ninth year, beauty companies showcased their products and were offered the opportunity to have pre-scheduled appointments with a group of selected importers and distributors. Overall, 560 meetings were held as part of the International Buyer Program, involving more than 200 exhibiting companies and 134 qualified international buyers.
Social Media and Trends
Earlier in 2011, Cosmoprof North America announced that four exceptional students from the Fashion Institute of Technology (FIT) 2011 B.S. graduating class would participate in the Trend Scout Program. Granted unrestricted access to the show floor, the Trend Scouts toured the show and spoke with exhibitors to discover new product launches. They reported on their findings via Twitter and Facebook posts giving the entire industry access to these new beauty discoveries while enhancing Cosmoprof North America's social media presence. Their reports were posted in real-time at the main entrance of the show floor, helping attendees identify the current trends. Cosmoprof North America will issue the first ever Trend Report based on the findings.
Cosmoprof North America 2012 will be held July 22–24 at the Mandalay Bay Convention Center in Las Vegas.