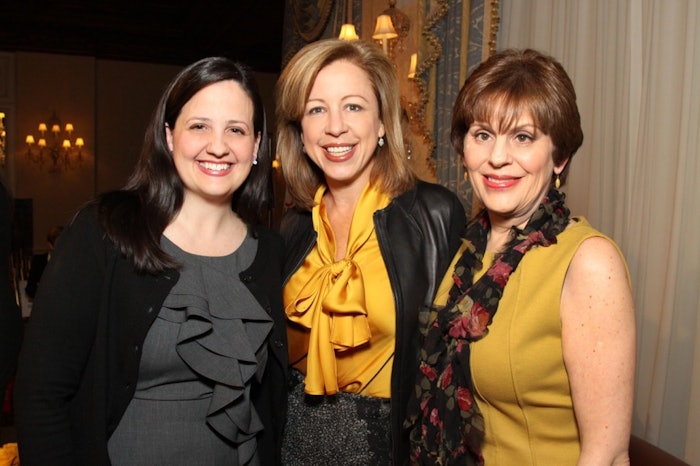 CEW's Women & Men in Beauty Series presented a panel of experts on January 19, 2012, at New York's Harmonie Club, to discuss the newest research and perspectives on the Hispanic market. Jill Scalamandre, Chairwoman, CEW, and CMO, Chrysallis, introduced the evening's guests, who represented media, manufacturing and consumer interests. She also acknowledged Shape, Givaudan, Mark, Beauty Inc., Haute Look, Univision, 24/seven and Kaplow for their sponsorship of the event.
The evening began with the official announcement of the now newly renamed series, as CEW's Women & Men in Beauty series, a nod to the inclusive nature of the presentations and future panels, which will feature beauty professionals of both genders. Introducing Graciela Eleta, senior vice president, client development group, Univision Communications, Inc.; Linda G. Levy, vice president, merchandise marketing, cosmetics & fragrances, Macy's Inc.; Alexandra Vegas, director of the multicultural business development organization, Procter & Gamble; and moderator, Jenny Fine of Beauty Inc., Scalamandre stated that the Hispanic market was a major economic driver, with $1.2 trillion spending power. In addition, she said, "The Hispanic population grew more than 40% over ten years to surpass the 50 million mark."
"The Hispanic consumer is one of the largest and most important segments," added Carlotta Jacobson, president, CEW. "We are extremely fortunate to have the opportunity to learn best practices from these industry experts in meeting the needs of the Hispanic consumer."
"The Hispanic community is 50 million strong, 23% of the population are moms and between 23-55% of the population in the U.S. is already of Hispanic descent," said Eleta, who previously served as general manager for P&G's Puerto Rico subsidiary, where she successfully launched brands like Pantene, Olay, and Swiffer, was also vice president for multicultural business development at P&G, where she developed marketing and retail strategies for Hispanic and African-American consumers. At Univision, she leads a consulting team consisting of 50 plus media veterans from media, marketing and agency backgrounds that work to help marketers develop and execute their strategies to drive sales with Hispanics, as well as assisting brands in unearthing consumer insights, analyzing category trends and assessing the competitive landscape.
She noted that the major Hispanic markets are located in Miami, LA, Houston, Chicago and New York, and this is a significant market with specialized tastes, preferences and needs. According to the reprint of Pretty Revenue Picture Ahead for Beauty Brands That Target Latinas by Peter Filiaci, published by GCI in December 2011, distributed at the presentation, its 40% growth over the past 10 years was so robust that Hispanics accounted for more than half of the total U.S. population increase from 2000 to 2010, with that growth showing no signs of slowing down. It is predicted that over the next 10 years, Latinas 18-49 will grow by another 3.2 million, and Latinas will represent one in every five women in the demographic by 2020. Clearly, the significance of the market cannot be underestimated, and beauty occupies a major space in the equation.
Beauty's Distinct Impact
According to Levy, who leads marketing customer centricity for all families of business at Macy's, "At Macy's, we over-index with the Hispanic customer, and the beauty customer is even higher. It's off the charts, and with the Hispanic customer, we have the data now to support it."
Vegas, who began her marketing career more than 17 years ago as a hair care assistant brand manager in Procter & Gamble's Caracas, Venezuela office, has been the driving force behind the growth of such top-tier brands as Pantene, Head & Shoulders, Pampers and Ace. She noted the youthfulness of this market, saying, ""It's interesting how young the Hispanic population is, with 34-35% of the Hispanic population younger than 18 years of age. With the beauty industry the Hispanic population gets involved early, as with quinceañeras." She cited the customary celebration of the 15 year-old girl's birthday in Latin culture, a coming of age for young Latinas in the community, as well as an opportunity to dress beautifully and wear makeup. "Understanding the way the brands work with the Hispanic customer is essential," she said.
Eleta agreed regarding overall attitudes, "The importance beauty has for Hispanic consumers is significant. From an early age, it's important to have the right ponytail, makeup etc. For us, outer beauty really reflects who we are. I know I'm stereotyping, but it's all right. For Caucasians, it's more about fitness and lifestyle. For Hispanics, it's all about the end, the lipstick and the blusher."
Eleta, speaking about color cosmetics, also noted the preference for natural cosmetics. She cited the use by Hispanics of lemon, Avena, or Porcelana, a skin lightening and fade cream, for the skin. "We're looking to enhance our own beauty. Brands like Trésemme and Pantene, which target frizz are big in the Hispanic market; as well as products that offer corrective measures for skin and sunspots," she said.
Latinas also over-indexed in fragrance as well. "It's off the charts for Hispanics," said Eleta. "Whether it's J-Lo or also super prestige." Likewise, she cited the male Hispanic propensity for grooming products and the concept of "vanidoso," a type of vanity for men, which is actually a positive. "Way before metrosexual became cool, Hispanic men were using moisturizing and personal care products," she said.
Retail Evolution
Levy—who has held leadership roles with prominent brands in the industry, including L'Oréal's Lancôme, Wella/Procter & Gamble and The Estée Lauder Companies —noted the Hispanic customer is very important at Macy's, and discussed the changes that have taken in place in Macy's retail strategies. "Now we know who this consumer is and it's been an evolution. When it comes to the skin care category, for example, Clinique, Lauder and Lancome, these commercials break into the Hispanic consumer market, both with a literal representation of Hispanics in their message and marketing, as well as with spokesmodels, and on behalf of Macy's we've always been in this space. But, with the beauty consumer, we're really there now," she said.
"In the areas where Spanish is spoken more predominantly, we make sure our beauty representatives speak Spanish. We're also selecting the appropriate color ranges. If it's not the right color for the consumer, you see that consumer only once, so we make sure we have the colors and products to reach the community. Throughout the store we convey this understanding of the consumer, and for fragrance, which is off the charts, it's about how we make it happen in the store."
Vegas added, "At P&G, we embrace everyone's similarities but celebrate the differences. The way you talk to the customer is key, and you need to know that with the products. For example, you can't fulfill the hair care needs of the Hispanic consumer with volume shampoo. Hair is a different category where you have to design special products, unlike with diapers, for example, since diapers are for every baby. With diapers, it's how you talk to the customer."
In response to a question about making marketing that is more inclusive, Vegas said, "The Latin market is also influencing the general market. For example, Sofia Vergara and Eva Mendes are P&G representatives, and product ranges hold appeal for a wide audience, from mass consumers seeking the value equation to prestige consumers, for whom 'me' time is important. Even though the Hispanic market over-indexes in lower income, it's amazing that in the beauty category they'll go the extra mile and get the fragrance or cosmetic product they want."
Levy responded to the need for tailoring the product assortment, saying, "Right now we know who the consumer is, and while we used to offer everyone the same stuff, we now continually look at the sell-through and have the range in cosmetics and beauty that the customers want. We are focused on making sure that the products and brands we have are there for the market." Focusing on star products for the store, Levy said, "When Paco Rabanne hit the shelves, the momentum was incredible. It's the whole 360 as you'd say at P&G, but you have to have the right model, and Paco Rabanne has heritage, which means a lot. However, the juice is the most important. We all know that fragrance sells like wildfire in South America, so we have to make sure it's right."
Eleta concurred, "There's no amount of media that can do the job if your product isn't right. You must have the products. You must build the brand equity. Many Hispanic customers may not be privy to all the terminology, i.e., product ingredients, so taking the time in store to provide education is important." Eleta continued, noting, "Celebrity endorsements are also key, and targeting the consumer in her own language is important. She feels at home with her language and culture, as well as the right color ranges. Spanish language media is less fragmented and less cluttered," she said, citing Telemundo and Spanish language magazines, and the ability to navigate the field.
"Spanish is less about acculturation and more about a bi-lingual and bi-cultural nation. The critical mass in the U.S. today is forcing that bi-lingual nature. While the Hispanic consumer understands the language in the U.S., she is able to be reached more strongly with Spanish, for example with labels and ingredients," said Eleta.
Growth Potential and the Internet
Vegas provided information about the new Orgullosa platform from P&G, which offers options for Hispanic consumers. Orgullosa, which means proud, is a platform that offers Hispanic women the opportunity to communicate with one another, share beauty tips, access beauty information in Spanish and download apps. Vegas said, "Orgullosa provides advice and access to a huge community that can help one another, and if she has lost her sense of the Hispanic community, this site offers an opportunity for her to connect with it."
Eleta added, "The key takeaway from this evening for me is the importance this market has for people in the U.S. We're seeing layoffs across the board, and it's important to focus on driving U.S. growth to where it should be. This is an important part of the significance of the Hispanic market's strength."
"We've learned we have to know how to communicate with this customer appropriately, otherwise we're insulting them," said Levy. "At Macy's, we have an application that requests preferred language for the customer. It makes no assumptions. This is our biggest opportunity for the future, to embrace the Hispanic community. No matter what happens to the economy, we've got to know how to talk to the Hispanic consumer."
"It's got to be a long-term commitment," added Vegas. "With the Hispanic population ramping up to 2 billion in the next five years, it's got to be a long term commitment."
She noted that while in Latin America there is more of the "kitchen logic," for example, the utilization of avocados and other natural products for personal care use, "There is still room for many brands," citing whitening or spot treatments an examples. Eleta said that while heritage brands are a small part of the puzzle, it's really the value for the brand that the customer receives, not always a heritage brand.
All agreed, that for the bi-cultural consumer, magazines play a big role. Vegas said, "Magazines and TV continue to be a big portion, with digital a crucial part of the mix, especially for beauty," she said. Keeping materials contextually relevant, as Eleta said, remains key.
Additional information about CEW programs and initiatives may be found at www.cew.org.