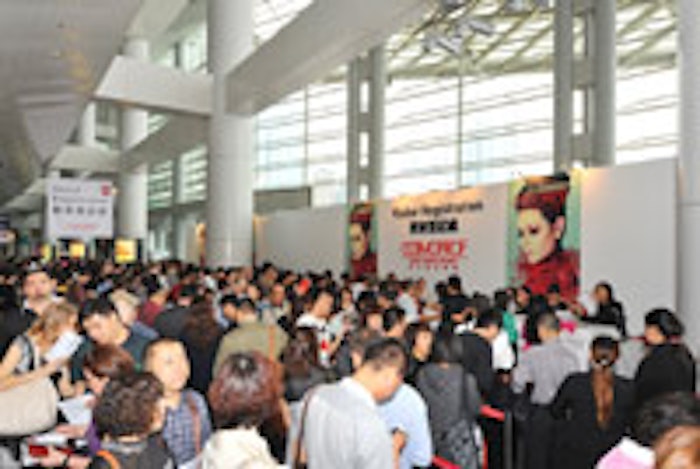 Cosmoprof Asia closed its latest event with record numbers, according to the event's organizers, and the show, held at the Hong Kong Convention and Exhibition Centre from November 14–16, was a confirmation of the identity of the Cosmoprof brand.
Celebrating its seventeenth year, the event included 74,000 square meters of exhibition space (+9% over 2011), 1,964 exhibitors (an increase of 10% compared to 2011) from 44 countries and regions, 531 first-time exhibitors, a 19% increase in participation from Europe, 23 national and group pavilions from Australia, Belgium, China, France, Germany, Hong Kong, Israel, Italy, Japan, Jordan, Korea, Pakistan, Poland, Singapore, Spain, Switzerland, Taiwan, Thailand, Turkey, the U.K. and the U.S., joined by the inaugural Canadian and Brazilian groups, and 55,386 visitors (a growth of 14% over 2011) over the three show days with a significant presence of buyers from countries such as Australia, China, Japan, Korea, Russia and the U.S.
Exhibitors were able to meet with and discuss new innovations with attendees from beauty companies such as Chanel, Coty, Estee Lauder, Johnson & Johnson, LVMH, P&G and Unilever as well as Li & Fung, Mannings, SaSa, Sephora and Watsons, and attendees were able to discover new opportunities and options in the Asian marketplace. "Cosmoprof Asia is vital to help us expand our professional distribution in Asia," said Heather Coughlin, national education manager, Amika (USA). "We are looking to expand our business as a heavy player in Asia's professional beauty market and have received a lot of interest in our brand and met several good distributors at the show."
Additionally, for the sixth consecutive year, Cosmoprof Asia organized its International Buyer Programme to facilitate direct contact between exhibitors and international buyers. Prominent buyers from Australia, China, India, Japan, New Zealand and Russia were invited to meet one-on-one with exhibitors of their choice. During the three-day event, more than 140 one-on-one business meetings took place at the International Buyers Lounge.
Educational events at Cosmoprof Asia were also informative and well-attended. The event collaborated with the Asia Hair Masters Association (AHMA) to host a series of activities including the AHMA Hairstyling Awards Final to give young stylists a shot at the international stage, and seminars on China and Japan offered the audience a better understanding of the evolution in these two leading Asian beauty markets. A preview on 2013/2014 fashion and beauty trends, as well as sessions on sustainable packaging and natural and organic beauty products, also attracted large audiences. And the 5th Cosmoprof Asia Spa Conference brought together high-caliber speakers and professionals from the spa industry.
"It's very encouraging to see yet another record-breaking edition of Cosmoprof Asia. Participants originating from 121 countries and regions testify to the truly international profile of the show and the increasing importance of the Asia region to the global beauty trade," said Michael Duck, executive vice president of UBM Asia Ltd and director of Cosmoprof Asia Ltd.
The 18th edition of Cosmoprof Asia will be held from November 13–15, 2013, again at the Hong Kong Convention & Exhibition Centre.