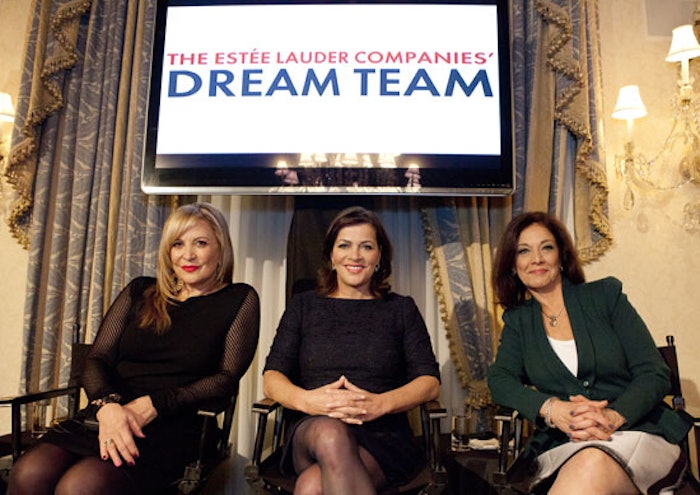 Innovation is the driver of growth in the beauty market, and a recent CEW Women and Men in Beauty Series panel left no doubt about the roles played by industry thought leaders today. In a presentation titled The Estée Lauder Companies' Dream Team: Beauty Product Innovators, held April 18, 2013, Jennifer Balbier, senior VP, global product development, Artistry Brands (overseeing MAC Cosmetics, Bobbi Brown, and Smashbox); Anne Carullo, senior VP, global product development, Estée Lauder and Tom Ford Beauty; and Karyn Khoury, senior VP, corporate fragrance development worldwide, The Estée Lauder Companies Inc.; took the audience on a journey of passion and discovery, as they discussed identifying and anticipating the regional and global desires of today's consumer.
The Modernity of the Message
"Fragrance changes have taken place in five years," said Khoury, noting, "Although the pace hasn't slowed, the modernity of the message and where and how it reaches women is key. This, as well as storytelling, is important." In addition, Khoury emphasized the importance of distinction, adding, "Never has the need been stronger for high quality. I don't believe in one dominant fragrance trend, however, a lot of innovation is coming from niche, and new definitions of sensualuty are emerging, from Orientals to new takes on the classic rose."
Carullo, who has been a driving force behind the development of cosmetic and skin care products globally, noted the changes she has seen in five years. "There's been a dynamic change, particularly in thinking globally and acting locally. We look at the world locally and leverage globally. It's been incredibly exciting."
Balbier said, "For color, we're looking at what's regionally relevant. Between MAC and Bobbi and Smashbox, you need to have that. I think there must be 10,000 colors in makeup."
In response to the impact of social media, Balbier said, "It's all about where you are and what you can buy. Five years ago this wasn't happening, but it is now." Carullo added, "It's extraordinary to be able to dig deep and understand the dynamics of what the consumer wants. On the other hand, the information can be so dense that you need to have an editing eye. There are many methods and vehicles that we use to do this, from focus groups and beyond. You need to use a very discerning eye, because you can be blinded by so much information."
"Consumer information is critical, however, there needs to be a balance for intuition. The biggest successes often come from a leap of faith, but it's also key to look to people who've been doing this for a long time," said Khoury.
Consumer Influences and Creative Processes
"You have to know who your customer is," said Balbier. For Khoury, connecting with consumers is key. "The customer wants to be part of the process. The cupboards are open now. Customers know. It's exciting to make these connective approaches. Once we wrapped our heads around it, we found a whole new level of communication," she said.
Carullo added, "We've had an opportunity to introduce our products to a whole new generation and attract them to our franchise—different ethnic groups; people from around the globe. They are speaking to us with incredible love for the brand and are totally engaged."
Balbier spoke to the creative process, saying, "It all depends on the brand. For Bobbi Brown, she has women following her everywhere. It's for real women looking beautiful. For MAC, it's about the artist, so the process is different depending on the brand."
Carullo spoke to the importance of authenticity. "Freeing your mind and looking at materials from other industries is also important. What I find interesting and exciting is finding new testing protocols. This is a way to get authentic, knee jerk responsess, and help us dissect down what it is that the customer is responding to," she said.
"It doesn't really matter what the new technology is as long as the development process is authentic, and we develop above and beyond what the customer is expecting," said Carullo. Khoury added, "Local relevance is so important. You can't read a report. You need to see the people and their responses," said Khoury. "It's more and more important that you inform the research you get with your own experience. So, you really have to be there."
In discussing what is a truth and what is a trend in the business, opinions varied. Khoury noted the importance of recognizing the game changing moment. "This can be the difference between a company that succeeds and one that's left behind." Carullo emphasized the importance of decisiveness and speed to market, while Balbier acknowledged that MAC, once a niche brand, developed a lipstick for Nicky Minaj in an approximately six-week timeframe to coincide with the launch of her Pink Friday album.
While speed and decisiveness are important, according to Carullo, she added, "I think the wheels come off the bus if you try to do that all the time, but it still can be done. It's very important with skin care, obviously, but you can get a product out in 6-12 months." In determining which products are truths or trends, Carullo said many things start out as a trend and become a truth. "I think mineral makeup [became] a truth," she said. Balbier concurred, "I think it was a trend, but the way we made it a truth was by baking it, making mineral eye shadows, and more."
Finding Blockbusters
"Given the growth of the fragrance segment, there are great opportunities. I think we're going to be seeing multi-platform fragrances, with a focus on the highest quality in the package. We are also looking at new ways to engage the consumer and connect with her pre-purchase," said Khoury. Recalling a particularly intense period of activity in fragrance, she emphasized the importance of having to think and relax her mind to come up with a new and exciting potential blockbuster.
"It's like finding a needle in a haystack," said Carullo. "Sometimes it's very difficult to find those little nuggets of white space to find the opportunity. However, you're going to see new ideas in color and textures in cosmetics." Balbier said, "BB creams were white space to all of us, and we all ran with it and capitalized on the trend immediately."
"BB is a hybrid product, and the language is so critical to describe the product's benefit. Give consumers a formula they love or get them a product they'll love, like a skin care product with multi-benefits. It's key to understand what consumers don't like about a category and then try to fill it," said Carullo.
"Innovation is great, but it's important to not lose sight of what you have and make it refreshed for new consumers," Khoury said, while emphasizing the importance of being true to the DNA of the brand. "I've also learned to trust my instincts, and I have a management team that also trusts my instincts, sometimes in spite of what the test results say. Don't be constricted by fear of failure. If you want true innovation you need to allow for that, and that doesn't happen if people are afraid of making a mistake."
Event sponsors included Shape, Givaudan, 24/Seven, HauteLook, WWD, Beauty Inc, Experticity and Kaplow.