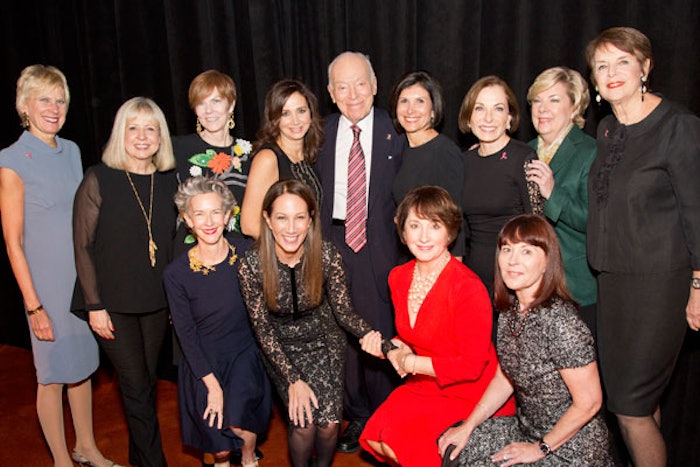 Cosmetic Executive Women held its annual Achiever Award luncheon October 17, 2014, at New York's Waldorf-Astoria. In addition to recognizing the work of the cosmetic industry's most talented professionals, in celebration of CEW's 60th Anniversary, CEW presented a special Lifetime Achievement Award to Leonard A. Lauder, chairman emeritus, The Estée Lauder Companies Inc.
"This is the first time in its history that CEW has honored a male leader at the Achiever Awards," said Carlotta Jacobson, president, CEW. "Leonard Lauder recognizes how women have contributed to make the industry what it is today. The women achievers honored here have followed in the Lauder tradition. They are determined, ambitious and creative."
Jacobson welcomed the distinguished honorees at the event, noting how proud she was to be part of "this fabulous industry," and introduced Laura Geller, founder, Laura Geller Beauty; Alli Webb, founder, Drybar; Jane Wurwand, founder and chief visionary, Dermalogica, The International Dermal Institute and FITE; Wende Zomnir, chief creative officer/founding partner, Urban Decay Cosmetics; Sissel Tolaas, smell researcher, science/art/design, Smell Re_Search Lab; IFF (which presented the Great Idea Award for fragrance innovation); and special honoree, Leonard Lauder.
Profound Respect for The Man of The Hour
Jill Scalamandre, chief marketing officer, Skin Care, Coty, and Chairwoman, CEW Board, acknowledged Leonard Lauder as a person who "helped create a community of competitors who have come together with common goals." In a tribute video, Lauder was shown to be a man who changed the paradigm, inspiring women in the industry and generously sharing his time and knowledge along the way. The video contained comments from his protégés.
Clearly, Lauder emerged as a man who pays attention to both the big picture and all the little details that go along with it, from those hand-written thank you notes noted by Catherine Walsh, Coty, in the video to walking the aisles in the stores to read the pulse of consumers today.
Lauder approached the podium to thunderous applause and a standing ovation, sharing that the Lauder Companies always "wanted to bring the best to our customers, and we wanted to be the best company in the world." He set the stage with camaraderie, joking that, "All of you have worked in beauty, but few of you have worked for your mother." He recalled how being reminded to comb his hair and be aware of his personal appearance remained as reminders of the importance of personal appearance in the beauty industry, and fondly shared his mother's rejoinder, quoting her as saying, "When sex goes out of the beauty business, so will I."
Lauder thanked all the protégés in attendance, sharing a simple philosophy for success. "In order to get there, you have to dream. I'm a dreamer," he said, remembering that he had always thought, "someday we'll be the largest in the business. You can't get anywhere without dreaming, so keep dreaming. I've been in this business for a long time and no time is more exciting than today."
He recognized the accomplishments of Fabrizio Freda, president and CEO, The Estée Lauder Companies, and the creativity of women in the industry, adding, "The power of women has never been greater than it is today, and the wealth of a company is the people who work there. You're the ones who makes the difference, so I invite you to dream and dream about where you want to be tomorrow. Wherever you are, I'll be cheering for you."
Awards and Honors
Sissel Tolaas was the winner of the Great Idea Award for fragrance innovation. Bertrand Lemont, VP global fine fragrances, International Flavors & Fragrances Inc., introduced her as a "smell artist," for whom there is no bad smell. Tolaas, based in Berlin where she founded a lab dedicated to smell/olfactory and smell-communication topics, has combined her creativity with her knowledge of chemical science, math and linguistics. Her scent research has been exhibited at New York's Museum of Modern Art and at art institutions around the world. She urged everyone to be open and explore olfaction. "I smell, I educate, I never strop learning. Be brave and get out there, ladies. Remember, nothing stinks, it is only thinking that makes it so."
Laura Geller was introduced as the "Dalai Lama of lip gloss." She graciously accepted the honor with a nod to the power of the beauty industry. "The beauty industry was life-saving for me. I love people, makeup and retail. How lucky am I that I found an industry that values my gifts," said Geller, thanking all of her vendors, partners and her team.
Alli Webb, who came up with the idea of creating a salon that only offers blowouts, was self-effacing, acknowledging she "was not worthy." She thanked the thousands of Drybar participants, employees, family and partners that have contributed to the success of Drybar.
Jane Wurwand was introduced and quoted as saying, "share your knowledge generously and it will come back to you tenfold." Wurwand, a skin therapist, educator and trailblazer, was described as someone "who takes her work seriously but not herself."
In accepting her award, Wurwand said, "This moment is not lost on me. I came here in 1983 from the U.K. and began to make my dream a reality. I also read Estée Lauder's biography, and I think it's incredible that we're here today honoring her son. I still believe that more dreams come true here than anywhere else. Write your own script big. Don't write it too small. When you look around at these incredible women you realize that we did it, and you can do it too."
The final award winner, Wende Zomnir said, "Despite the intense pigments we're known for at Urban Decay, I wasn't sure anyone was recognizing our brand, but being recognized here today is like the ultimate gold star. Just being a few feet from Mr. Leonard Lauder is amazing. He's the biggest rock star of all, right?" Zomnir thanked Carol Hamilton and her L'Oréal family, as well as her Urban Decay team.
Event sponsors were InStyle, IFF, Arcade Marketing, Beauty Inc, DSM, Mana, Nordstrom Beauty, HCT Group, Ulta, Wells Fargo, HSN, Tengram Capital Partners, WWD, RG3, Links London, Suite K, Consultancy Media and Kaplow Communications.