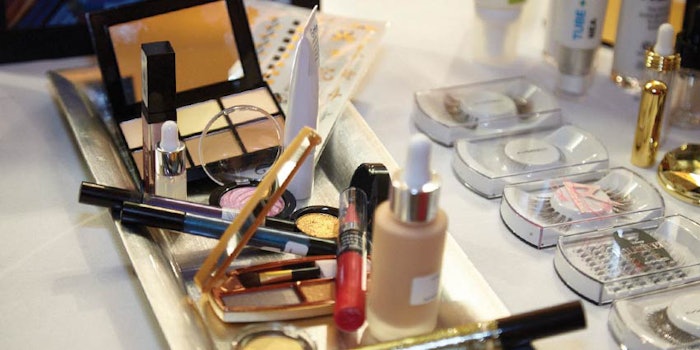 Now that the 2016 CEW Beauty Insider Award winners have been announced, its time to look at what the finalists revealed about broader beauty trends.
The CEW held its largest-ever Beauty Insider Awards demonstration, featuring more than 700 products seeking the CEW Beauty Award seal. About 2,400 attendees gathered at the Metropolitan Pavilion and Altman Building to review the these latest innovations.
Aside from the glory of crowning the winners in anti-aging, eye makeup, women's fragrance, packaging and delivery system categories, the event served to offer a picture of where beauty is going. 
While browsing the hundreds of products, GCI identified several broad trends. 
1. Indie Beauty and Contouring
CEW president Carlotta Jacobson called out several interesting trends for 2016, including entrepreneurial indie brands, of which there were 43 this year.
Shaun Westfall, managing director at Piper Jaffray, sponsor of the Indie Brand Beauty Award, noted, "Through digital and social media, brands and passionate founders have an ability to connect like never before directly with their consumers. This ability to reach consumers with their stories is empowering a new era of entrepreneurs and brand builders that will continue to change the face of the industry."
BB cream finalists included La Roche-Posay's Effaclar BB Blur and Smashbox Cosmetics' SPF 30 Camera Ready BB Water.
Other trends cited by Jacobson included contouring, which has grown to a $70 million category. Finalists in this segment included Burberry's Face Contour and NYX Cosmetics' Highlight & Contour Pro Palette.
Jacobson also cited products for big brows, including unique formats such as a brow mousse, and DIY skin peels and lip plumpers, such as finalist Clé de Peau Beauté's serum.
2. Vegan, Cruelty-free Innovation
First, vegan brands made a big splash, including Tara Smith Haircare, "a performance-based line of natural, vegan hair products that are toxin-, gluten- and cruelty-free," which presented a Base Coat Serum and Brilliant Thickening Cream in the indie brand category.
The Indie category also featured Au Naturale Cosmetics' "vegan, cruelty-free makeup that's handcrafted from fresh, locally sourced ingredients," and Velvet 59's vegan long-wear pigments.
3. Masks Cover New Ground
The masks segment highlighted several innovative finalists, including:
Iluminage Beauty's Skin Rejuvenating Eye Mask, which features "copper-infused fibers to help maintain skin's youthful appearance"
Kate Somerville's Eradikate Mask Foam-activated Acne Treatment airless-pump-dispensed gel-cream mask, comprising colloidal sulfur
Laneige's Firming Sleeping Mask, which features memory-form technology for overnight skin recovery
Olay's gel-based Regenerist Luminous Overnight Mask
Sonia Kashuk's clay-based Detox Purifying Black Mask, which contains kaolin, white tea antioxidants, aloe and other botanical active
4. Serums from Lips to Jaw
Serums also made an impression, including:
Avon's lightweight Anew Power Serum
Clé de Peau Beauté's hydrating, anti-aging and plumping Lip Serum with metal applicator and "double hyaluronic acid cocktail"
Dove's Quench Absolute Supreme Crème Serum
Estée Lauder's New Dimension Shape + Fill Expert Serum, which "adds radiance and helps define contours to lift the look of cheeks and jawline by improving visible volume and structure"
5. Dry Shampoo, BB Creams and Charcoal
The dry shampoo segment included finalists, such as Drybar's aerosol-dispensed Detox Dry Shampoo, featuring micro-fine rice powders, and Living Proof's Perfect Hair Day (PhD) Dry Shampoo.
BB cream finalists included La Roche-Posay's Effaclar BB Blur and Smashbox Cosmetics' SPF 30 Camera Ready BB Water.
Meanwhile, charcoal-powered products included Bioré's Deep Cleansing Charcoal Pore Strips and the exfoliating Pore Penetrating Charcoal Bar, Clinique for Men's detoxifying gel Charcoal Face Wash, Origins' Clear Improvement Active Charcoal Mask featuring White China Clay and lecithin, and Yes To Tomatoes' 96% natural Detoxifying Charcoal Mud Mask encased in recyclable packaging.