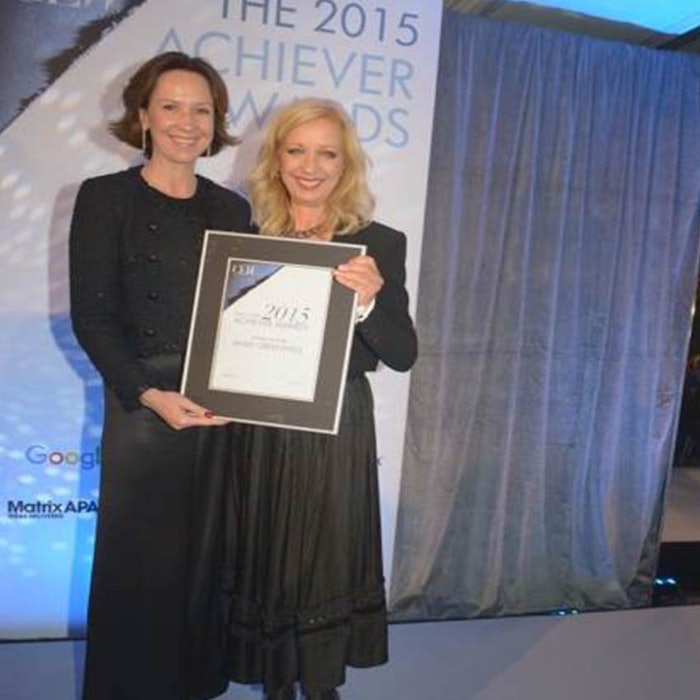 CEW UK has announced the recipients of its 14th annual Achiever Awards, held at the Jumeriah Carlton Hotel in London. As CEW UK president Caroline Neville said, "This year's Achiever Award recipients have helped shape and influence the beauty industry in different ways. It was with much pride that CEW recognized each of these people. It was a cross generational and diverse group of Achievers this year which reflects the CEW membership in 2015."
Previously: CEW(UK) Celebrates Creativity, Innovation, Enterprise

The winners were:
2015 CEW LIFETIME ACHIEVER AWARD
Makeup artist Mary Greenwell was honored for her influence on fashion and beauty.
Per the CEW: "Mary has created the looks behind some of the most iconic photo shoots of our time, working with royalty and supermodels alike. Her contribution to the makeup industry and influence on beauty as a whole is truly remarkable ... "
This year's Achiever Award recipients have helped shape and influence the beauty industry in different ways.
2015 CEW SPECIAL INDUSTRY AWARD
Stephen Quinn, publishing director of British Vogue, was recognized for his nearly 25 years in supporting beauty through media.
2015 CEW ACHIEVER AWARDS
Margaret Attwooll, general manager, Parfums Christian Dior, was recognized for her leadership.
Sarah Brown, founder of Pai Skincare, was recognized for her "hugely successful award winning organic brand" and leadership.
Vasiliki Petrou, senior vice president, Unilever Prestige, was honored as "a true visionary" with a strong passion for the beauty industry.
Geraldine Howard, chairman and founder of Aromatherapy Associates, was honored as "one of the most inspiring, passionate and loved women in the beauty industry today."
2015 CEW MEMBERS' ACHIEVER AWARD
Kyra Oates was recognized as "an up-and-coming star in the beauty industry" and "a much-respected driving force in beauty PR."
2015 CEW DIGITAL ACHIEVER AWARD
Tricia Cusden, founder managing director of Look Fabulous Forever was honored for "unparalleled prowess in the digital remit, engaging with her key consumers via her social media channels."