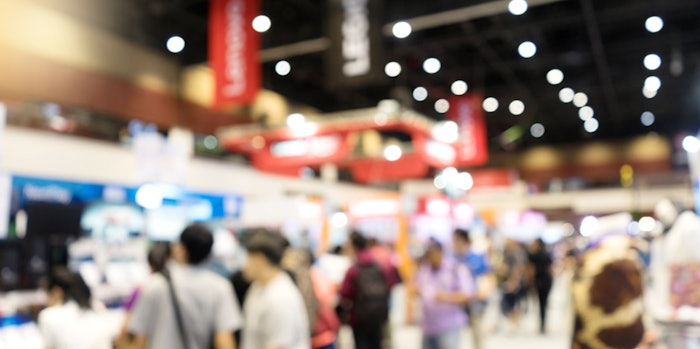 in-cosmetics Global has been rescheduled for April 5-7, 2022 in Paris. in-cosmetics Asia has been rescheduled for November 1-3, 2022 in Bangkok, and in-cosmetics Latin America has been rescheduled for November 10-11, 2021 in São Paulo, Brazil.
Previously: Luxe Pack Monaco Returns in September 2021
According to in-cosmetics Group, the decision to postpone the events "is due to the ongoing travel restrictions due to the pandemic, and by making this announcement today we hope to allow time for the situation to ease before we can unite and meet together in person."
Roziani Zulkifli, exhibition director of in-cosmetics Global, said: "Despite live events now taking place, we have to consider the international nature of in-cosmetics Global. We have seen positive signs over the last few months with successes in the vaccination program rollout, but new variants have created increased uncertainties and steady progress is not the case everywhere. We have been in continuous contact with both exhibitors and visitors, and it is clear the level of confidence to travel and attend large-scale international B2B exhibitions in the cosmetics industry is not there yet. Our primary aim is to meet the expectations of our exhibitors and visitors, and this we believe will happen in 2022."
Sarah Gibson, exhibition director of in-cosmetics Asia, said: "Thailand's COVID cases are on the rise with Bangkok and neighbouring provinces placed in the dark red zone of maximum restrictions to curb the spread of infection. The new delta variant cases are increasing across Asia with widespread travel bans and further tightening of government movement measures. We believe that the most responsible decision at this stage is to allow time for Thailand and the ASEAN region to recover, and when safe, re-unite the Asia cosmetics community in 2022."
Daniel Zanetti, exhibition director at in-cosmetics Latin America, said: "After monitoring the coronavirus situation in Brazil, we've decided to postpone our Latin America show to November, which will give the country's vaccination program a further seven weeks to boost immunity. It was a difficult decision to make as we're aware of the event's importance to the region's personal care industry and the demand for face-to-face networking. However, we believe it is the best course of action for all involved to ensure we can deliver a valuable business event to our exhibitors and attendees."