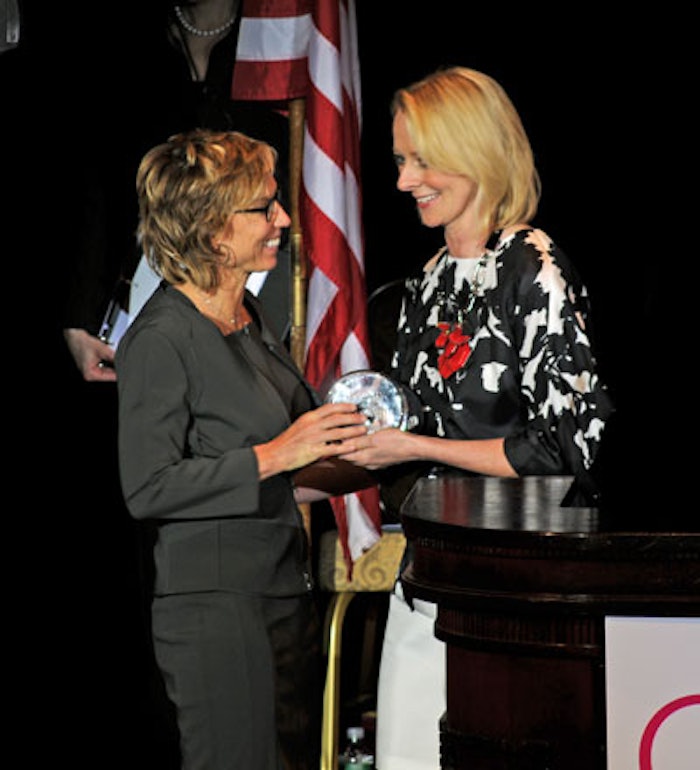 During a gala event at the Waldorf=Astoria in New York City on May 1, 2009, Cosmetic Executive Women's (CEW) Beauty Awards honored innovative beauty products. Winners are determined by more than 4,000 professionals working in the field.
"Women don't want to make buying mistakes. They're looking for performance and value. With the CEW Beauty Awards, consumers have the advice of more than 4,000 beauty experts to lead them to the best products the industry has to offer," said Carlotta Jacobson, president, CEW.
Nearly 550 entries were submitted for the 2009 award, with 140 finalists selected across 28 categories—ranging from makeup to hair care, sun to scent. Both mass products (available at the drugstore) and prestige products (available at department and specialty stores) were honored.
In addition to recognizing product innovation, the CEW Beauty Awards announced the winner of the Indie Beauty Award for the brightest new start-up in the world of beauty: NIA 24.
Other 2009 CEW Beauty Awards winners:
BATH AND BODY
Body Treatment—Mass:  Avon Products, Inc. Anew Clinical Professional Stretch Mark Smoother
Body Treatment—Prestige: Ojon Tawaka "The Ball"
Scented Bath & Body—Mass: Vickery & Clarke Natural Apothecary Eucalyptus & Peppermint Cold & Sinus Soak
Scented Bath & Body—Prestige: Fresh Fig Apricot Bath and Shower Gel
FACIAL SKIN CARE
Acne Treatment: Clean & Clear Advantage Blackhead Eraser Exfoliating Cleanser
Antiaging—Mass: Olay Regenerist 14 Day Skin Intervention
Antiaging—Prestige: Clinique Even Better Skin Tone Corrector
Cleanser & Scrub—Mass: Neutrogena Wave Power Cleanser and Deep Clean Foaming Pads
Cleanser & Scrub—Prestige: Fresh Appleseed Brightening Exfoliant
Eye Treatment—Mass: Garnier Nutritioniste Skin Renew Anti-Puff Eye Roller
Eye Treatment—Prestige: Shiseido White Lucent Brightening Eye Treatment
Moisturizer—Mass: Olay Definity Color Recapture
Moisturizer—Prestige: Estée Lauder Time Zone Line and Wrinkle Reducing Moisturizer SPF 15
HAIR
Hair Care, Style & Coloring—Mass: Avon Products, Inc. Advance Techniques Grey Root Touch-Up
Hair Care, Style & Coloring—Prestige: Living Proof, Inc. Straight Making No Frizz Styling Cream for Medium to Thick Hair
MAKEUP
Eye Product—Mass: L'Oréal Paris Double Extend Beauty Tubes Mascara
Eye Product—Prestige: Lancôme Ôscillation
Face Product—Mass: CoverGirl Simply Ageless Foundation
Face Product—Prestige: Giorgio Armani Face Fabric Foundation
Lip Product—Mass: Avon Products, Inc. Pro-To-Go Lipstick
Lip Product—Prestige: YSL Rouge Volupté Silky Sensual Radiant Lipstick SPF 15
Men's Grooming
ZIRH Holdings LLC Drenched
SCENT
Men's Scent: PUIG USA Prada Infusion d'Homme Eau de Toilette Spray/Fragrance Supplier: Givaudan
Women's Scent—Mass: Avon Products, Inc. Bond Girl 007/Fragrance Supplier: Firmenich
Women's Scent—Prestige: Harajuku Lovers Fragrances "G"/Fragrance Supplier: Fragrance Resources
SUN
Sun Product—Mass: Aveeno Continuous Protection Sunblock Spray SPF 70
Sun Product—Prestige: Clarins Delicious Self Tanning Cream
 CEW also launched the awards' biggest retail program to date, collaborating with six national partners in 2009. Consumers are given instant shopping access on www.cew.org with "buy now" links to CVS/pharmacy, Sephora, ULTA, Beauty.com, drugstore.com and Bloomingdale's. This list of retailers will also showcase the 2009 Beauty Award Winners with custom promotions online and in stores.