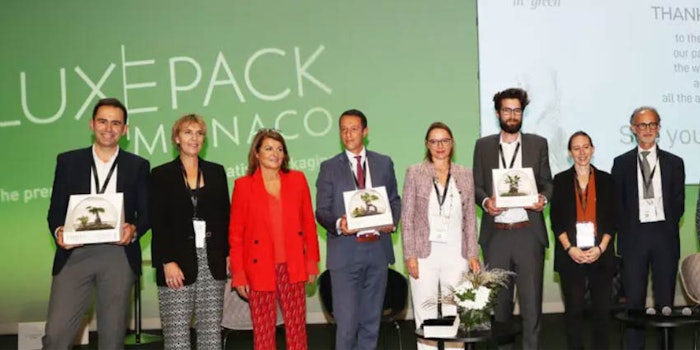 The 2021 Luxe Pack Monaco event brought the luxury packaging industry together to focus on sustainability and eco-conscious efforts in design and packaging. There were 450 exhibitors at the event showcasing their efforts in packaging reduction, recycling and reuse.
Related: Luxe Pack New York 2021 Highlights Sustainability
According to Luxe Pack, there were 7,680 visitors at this year's Monaco event, including an increased presence for French and Spanish companies. The event featured mono-material innovations, refillable packaging and 100% recycled materials.
One of the highlights of the event featured The Carnot Appui Technique et Scientifique (CARATS) network presenting new materials for the fashion and luxury industries, including the flax fiber composite, bio-based materials with innovative aesthetic standards and laser technology effective on all surfaces.
The Luxe Pack Green Awards celebrated sustainability in a variety of categories. Spanish company Estal was chosen in the eco-designed packaging solutions category for its collection of Rude bottles made from 100% recycled wild glass.
Pochet Group won the people's choice award for its Odyssée refillable lightweight glass jar.
ICMA was awarded in the Corporate Social Responsibility approach category for being the first European company in the paper and cardboard sector to obtain B-corp status at the end of the certification process.
Seven conferences are available to watch on the My Luxe Pack platform. All exhibitor offers presented at Luxe Pack are accessible outside of the event.
Marion Trossat, purchasing and packaging development director, Interpafums, says, "Luxe Pack 2021 was, once again, intense and rewarding. In the end, a lot of us met up this year, and we were all delighted to be able to finally see each other in person again. Despite all the problems that we are all currently experiencing, such as shortages of raw materials, price increases, and transport issues, I felt that there was a great deal of open listening and information sharing with both our partners and our colleagues. We feel that this fair helps us to better understand situations and to move forward in the same direction together. Like every year, we are also delighted to discover new innovations, even if they are increasingly focused on CSR, which has become a priority."