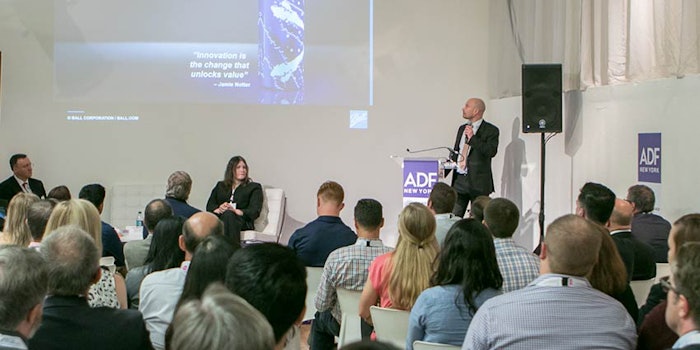 ADF & PCD New York 2018 is partnering with the Pentawards for special sessions as part of its two free conferences.
The Pentawards conference sessions will be delivered by past winners of the awards. Speakers and talks will include:
Mark van Iterson, global design director, Heineken—"Packaging Trends: What Now, What's New and What's Next?"
Matthieu Aquino, vice president, global beverage design and brand experience PepsiCo—"Cross-Industry Innovation"
Laurent Hainault, founder, ForceMAJEURE
Jonathan Ford, founding partner and CEO, Pearlfisher
Sam O'Donahue, owner and creative director, Established
Programming will also include: 
A workshop with Marianne Rosner Klimchuk and Sandra A. Krasovec of the Fashion Institute of Technology will explore the ways in which products and brands can connect with consumers, and the session "Growing Green," during which BETC Design founder and CEO Christophe Pradere will discuss how eco-packaging can drive sales among millennials.
As part of the conference's sustainability content, Aerocan director of global innovation and business development Jason Galley will consider the benefits of metal as an alternative to plastic. Adam Gendell, associate director at Sustainable Packaging Coalition, will discuss industry trends, regulatory changes and the latest sustainability developments from the packaging sector.
Brad Barron, executive vice president, business development and operations at Alternative Packaging Solutions will showcase Minimist, a non-aerosol, propellant-free dispensing system with a self-pressurizing mechanical engine.
Scott Carpenter, vice president of marketing and partner innovation at formulated solutions, will present "Pressurized Packaging, Beyond Sprays," discussing new packaging technologies, formulation and processing techniques broadening the world of aerosols.
Antal Gyorgy Almásy, chemical engineer and R&D director at AeroService will present NanoSalt Aerosol, the company's dispenser system for optimized delivery of nanoparticles designed to reduce sodium in the human diet through health applications.
Ofer Nir, vice president of marketing and business development at Veloz will discuss "Unleashing the Power of Digital Decoration for Mass Production" through Velox' digital direct-to-shape decoration solution.
Household & Commercial Products Association president and CEO Stephen Caldeira will look at wider market trends, consider legislative and regulatory priorities and consider how a potential change in Congressional leadership could lead to a divided government, as well as the implication of these elements to the industry.
ADF & PCD New York 2018 is a dedicated event for the aerosol, dispensing, perfume and cosmetics packaging and design community in the Americas. This year's event will be held Sept. 5-6, 2018 at the Altman Building & Metropolitan Pavilion in New York City.